What Is Jenni 'JWoww' Farley's Business Heavenly Flower?
Most of the Jersey Shore: Family Vacation cast has business ventures outside of the show. From Mike "The Situation" Sorrentino's fitness supplements to Pauly DelVecchio's hair products, the roommates have created opportunity from their celebrity. Recently, Jersey Shore fans have noticed another roommate has started a new business venture. Jenni "JWoww" Farley is teasing her retail store Heavenly Flower on social media. Many fans are wondering what "JWoww's" business is going to offer. Here's what we know.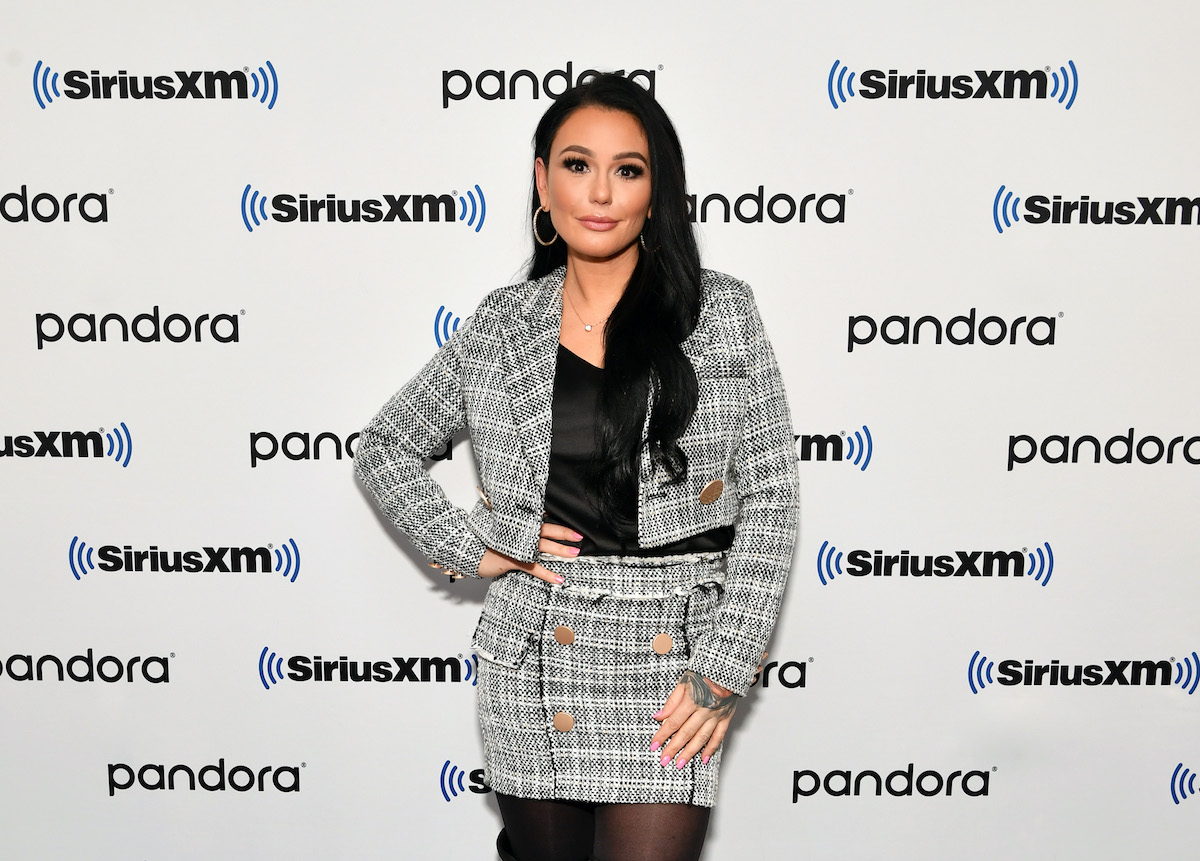 Most of the 'Jersey Shore: Family Vacation' stars have clothing businesses 
The Jersey Shore roommates have become more than reality TV stars. Now, many of them are fashion moguls. "The Situation" and Lauren Sorrentino have their own clothing lines, the Sitch Shop and LS x Lauren, respectively. Plus, Nicole "Snooki" Polizzi started her boutique, the Snooki Shop, in 2018. Today, Polizzi runs two brick-and-mortar locations as well as an online store. That's not Polizzi's only business venture. She and Deena Cortese started Meatball Merch, which offers Jersey Shore fans "meatball-inspired" clothing and accessories.
Outside of Meatball Merch, Cortese started a "mommy-and-me" clothing line, Christopher John. Her collection offers "coordinating clothes for the whole family." What's more, Vinny Guadagnino also has his own line of clothing available at the Vinny G Shop. Fans have seen the "Keto Guido" sport most of his clothing line on the show. Now, Farley is joining her Jersey Shore: Family Vacation roommates with her own fashion business. 
What does 'JWoww's business Heavenly Flower offer? 
At the end of December 2020, Farley created the Heavenly Flower Instagram account. Now, it seems the reality TV star is gearing up for a launch, as her social media presence is growing. Farley has been sharing posts from the Heavenly Flower account, piquing fan's interest in the new business venture. 
According to the shop's social media pages, Heavenly Flower will offer apparel, clothing, and goods for babies and kids. The accounts are still fairly new, so in terms of a description, they read: "Coming Soon." In one post, Farley encourages other brands to get their name in the spotlight, adding how a "big announcement" is coming soon. Fans can expect more information about Farley's business in the coming weeks. At this time, it looks like Farley is doing something similar to Cortese and offering clothing for moms and daughters. 
'JWoww's business is named after her daughter Meilani Alexandra Mathews 
The inspiration for "JWoww's" business Heavenly Flower came from her daughter. Ironically, Meilani's name was inspired by a professional athlete. "Many of you already know where our daughter's name comes from and the meaning of it, 'Heavenly Flower,'" Farley shared on Instagram in 2016.
Professional surfer Bethany Hamilton inspired Farley's daughter's name, which she celebrated in that same post. "Well, when the inspiration for your first born's name is making an appearance 40 mins away, you load up the family and seize the opportunity to go meet and introduce your daughter to that inspirational person and her family." All these years later, it looks like Hamilton continues to inspire Farley.