Why Jennifer Aniston Thought She Accidentally 'Insulted' Dolly Parton When They First Met
One might assume that whenever someone meets the great Dolly Parton for the first time, they get nervous and say the first thing that comes to mind. That's precisely what happened to Friends star Jennifer Aniston.
When the two met in person a few years back, Aniston was instantly starstruck. However, their meeting didn't go as the actor had planned as she thought she might have accidentally offended the singer after revealing a fun fact about her family.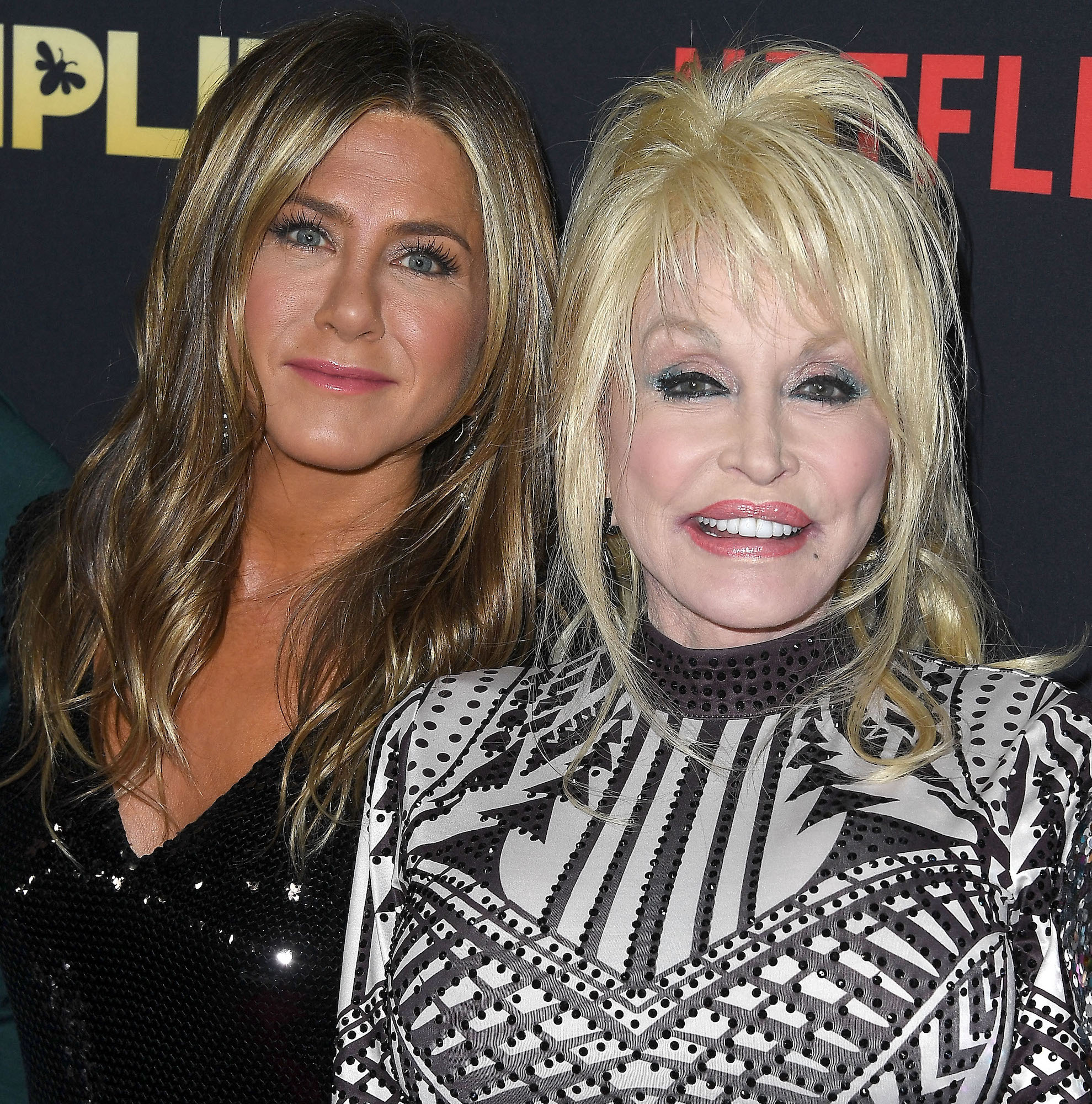 Jennifer Aniston talked about her dog when she and Dolly Parton first met
In December 2018, Aniston appeared on an episode of Jimmy Kimmel Live!. There, she discussed her Netflix film, Dumplin', and what it was like working with Parton on the project.
Aniston revealed the singer came onboard after allowing her music to be used in the film. Parton then co-wrote six songs for the movie, which the actor says would not have happened if the country music legend turned down the opportunity.
RELATED: Jennifer Aniston and Dolly Parton Got Tequila From Sandra Bullock During a Hilarious Interview
"She was only supposed to write one song and she ended up writing six," she said. "The movie wouldn't have been made if she said no."
When asked if she knew Parton before signing on to do the film, the Friends star shared that she and the hitmaker go way back.
"I met Dolly about seven years ago at the Tower Bar. I sent her and a friend that she was sitting with a glass of champagne," Aniston recalled. "I went up and met her that night cause I loved her since I was little. You know, sang into a hairbrush singing Dolly Parton."
As for what she said to Parton, the actor revealed that she began the conversation by sharing a little-known fact about her canine companion.
"I told her that I named my dog after her," Aniston said.
Kimmel then asked if Parton took the reveal as a compliment.
"Yesterday Dolly and I were doing press and somehow that came up," the actor explained. "And then she said — it kind of came out that she was like, 'I know when she said I named my dog Dolly after you, I don't know how I felt about that.' And I was like, 'Oh, God, I've insulted her.'"
Jennifer Aniston made up for her 'insult' by inviting Dolly Parton to her home for dinner
Since her first encounter with Parton didn't go as she had hoped, Aniston made up for her apparent insult by inviting the multi-Grammy winner over to her home for dinner.
In November 2018, the 9 to 5 star opened up about the "wonderful" meal, sharing that Aniston did not disappoint in the slightest.
"She asked if I would come up to her house. I just love her to death. My husband loves her dearly, so he was more excited than I was about Jennifer Aniston and me being involved with her in any way," Parton told People. "We went up there and I got a chance to meet [Aniston's dog] Dolly, another blonde, so that was sweet."
RELATED: Why Is Dolly Parton Talking About 'Dumplin,' the New Netflix Movie?
She added, "We had a wonderful dinner at Jennifer's house. Of course, you know, she's very health conscious so we had a good variety, nice desserts and wine served very beautifully. It was a wonderful night. It gave me a chance to take that back home and all my sisters and my nieces and my husband. You know what it was like to have dinner with Jennifer Aniston."