Jennifer Aniston and Sandra Bullock Talk About Dating the Same Guy
Besties Sandra Bullock and Jennifer Aniston recently sat down for a conversation headed by Bullock for an article in Interview magazine. The BFFs covered topics including women in Hollywood today, Aniston's work on The Morning Show, and a certain guy they both dated in the 90s.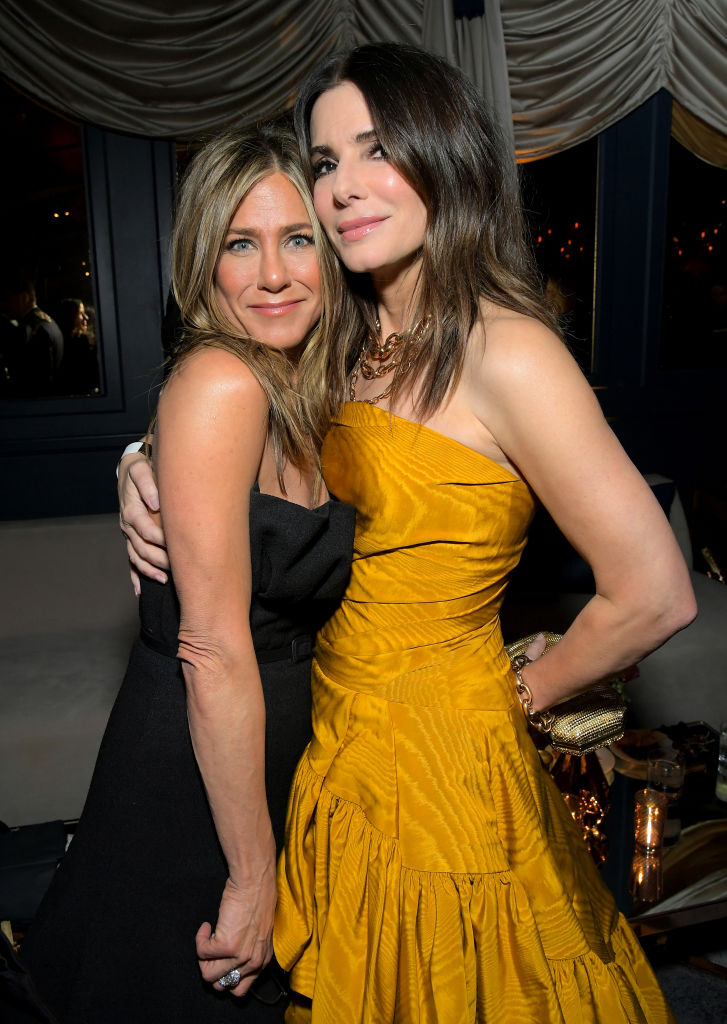 Donovan and Bullock
Bullock met actor Tate Donovan in 1990 when they worked together on the film Love Potion No. 9. The actress apparently fell hard for Donovan and was shaken by their breakup in 1994.
"I adored Tate so much," Bullock said in an interview with Vanity Fair in 1995. "It's like they say, there's one person in your life, and Tate and I are closer than any two people I've ever experienced in my life. There's nobody that means more to me, and I know for a fact that I mean the most to him, in that certain way. I can't explain why things worked out the way they did. We both know why it happened." 
In a sit down with Barbara Walters in 1996, the subject of Donovan was brought up again. "Everybody has one that is apart from all the rest… He brought out everything in me that was good, that was bad, that was suppressed," she said, revealing that Donovan was the first person she didn't hold at arm's length.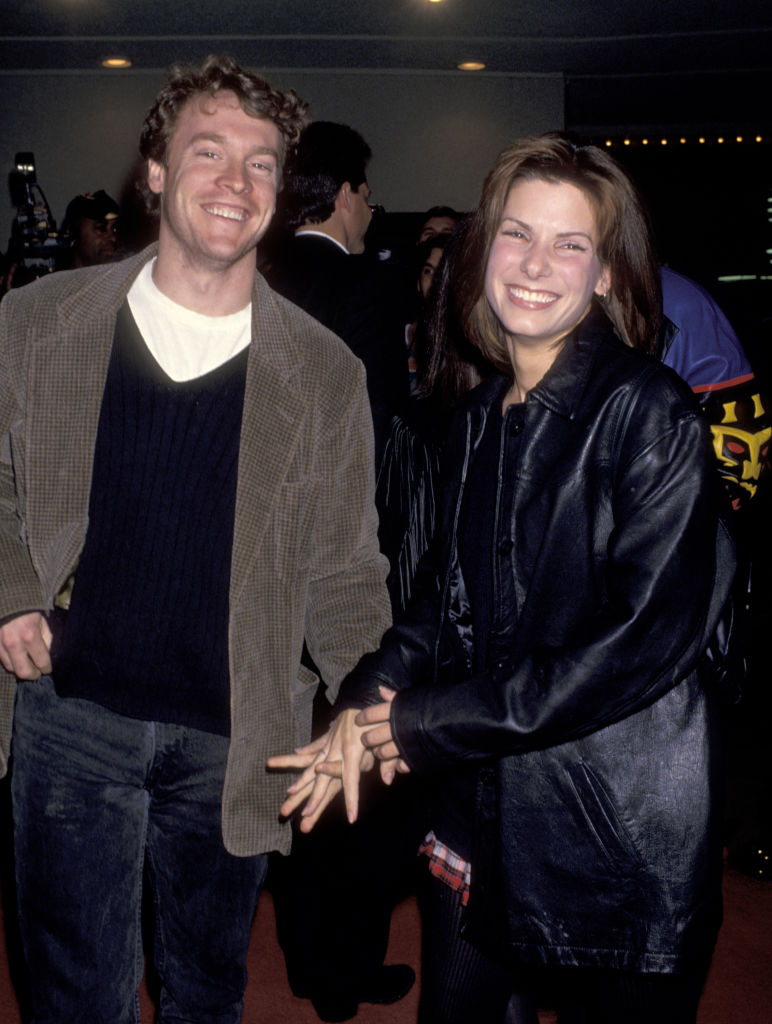 When Walters asked Bullock if she was over her relationship with Donovan, she seemed to still be in a healing phase. "I don't think you ever get over something that is honest… It takes a lot for me to fall [in love]," Bullock shared. "A lot. And knowing him was the greatest gift to myself and to my personality—and to my work, in sort of opening the door."
The journalist also brought up the rumors that circulated blaming the breakup of the couple on Bullock's rising fame while Donovan was still a struggling actor. "Never in a million years do I think that success is what pushed a love away," Bullock said. "That's not it at all. And it doesn't go away. It stays in its very special place… We both made mistakes and you've got to go on."
Donovan and Aniston
Aniston also seemed pretty smitten with the actor when they were set up by friends in 1995. "He's so real, so honest, so kind and considerate," Aniston said. "He's all these things meshed into one perfect guy."
The former O.C. actor admitted he wasn't aware of Aniston's budding celebrity at the time, saying he "didn't know who she was… I'd never seen Friends.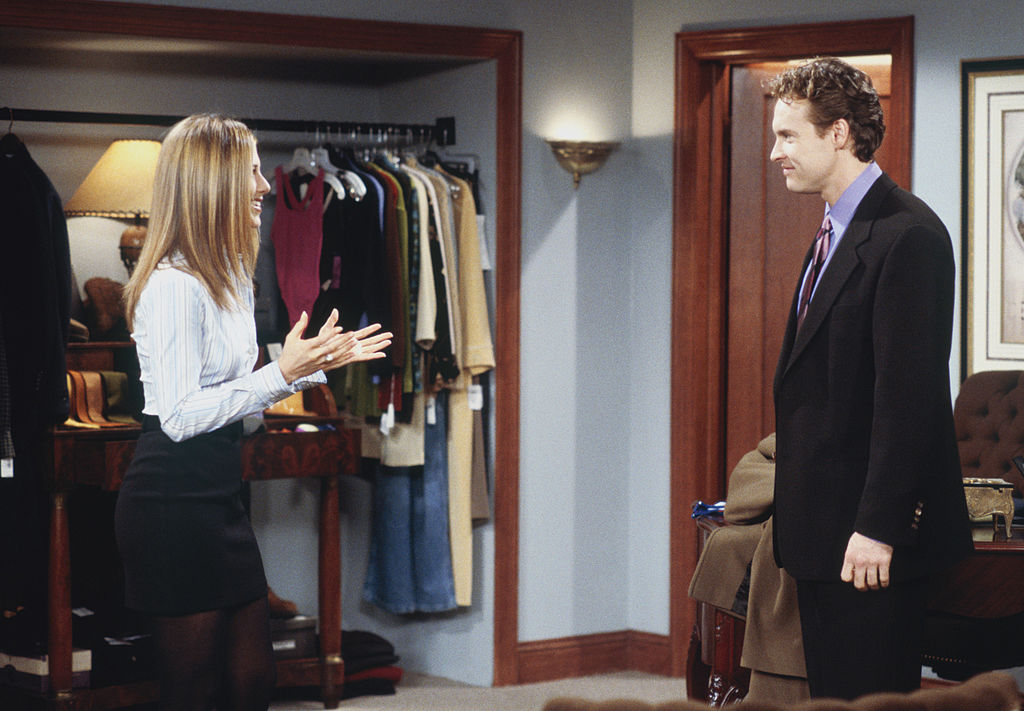 Still smarting from his experience of dating someone uber famous in his relationship with Bullock, Donovan reportedly broke it off with Aniston after three weeks. "Literally, our second date, there were video cameras everywhere, and I was like, 'I'm out of here,'" Donovan revealed, yet the couple soon got back together.
The Argo actor eventually landed a six-episode role on Friends as Aniston's love interest during the show's fourth season, but the timing was less than perfect since he and Aniston were in the process of going on a permanent break. "I was just happy to be on the team. The only bummer was Jennifer and I were breaking up at the time," he told Us Weekly in 2018. "And so that was tricky to sort of act, and act like we are just meeting each other, and falling in love, or whatever, interested in each other, when we're sort of breaking up. That was just tough."
Aniston and Bullock
In the recent interview conducted by Bullock, the actress recalled meeting Aniston for the first time and credited Donovan with their introduction. "We were introduced by our former boyfriend," Bullock remembered. "I say 'our' because you and I both partook of this one human being… We both partook of Tate [Donovan, the actor]."
"We both partook of Tate," Aniston concurred.
"Who was a very patient human being, given that he dated us both," Bullock interjected, with The Morning Show star adding, "He seems to have a type."
Bullock outlined the type for readers. "Talented. Funny. Kind. Introspective. Generous," the Bird Box actress listed. "Lovers of architecture, lovers of interior design," Aniston noted.
While neither Bullock's nor Aniston's relationship with Donovan worked out, the two women are now enjoying a solid friendship with plenty in common other than dating the same actor.