How Do Jennifer Aniston And Brad Pitt Feel About Their SAG Awards Reunion?
Actors Jennifer Aniston and Brad Pitt are both having big moments. And they had one together, which rocked the internet. Here's what the stars said.
It's hard to believe that we kicked off the 2020s with a moment of pure '00s nostalgia, but here we are. At the Screen Actors Guild Awards on Jan. 19, Brad Pitt and Jennifer Aniston gave the internet the reunion we've been craving for 15 years. So how did the actors themselves react? Here's what (at least one of them) had to say.
Jennifer Aniston and Brad Pitt were married in the '00s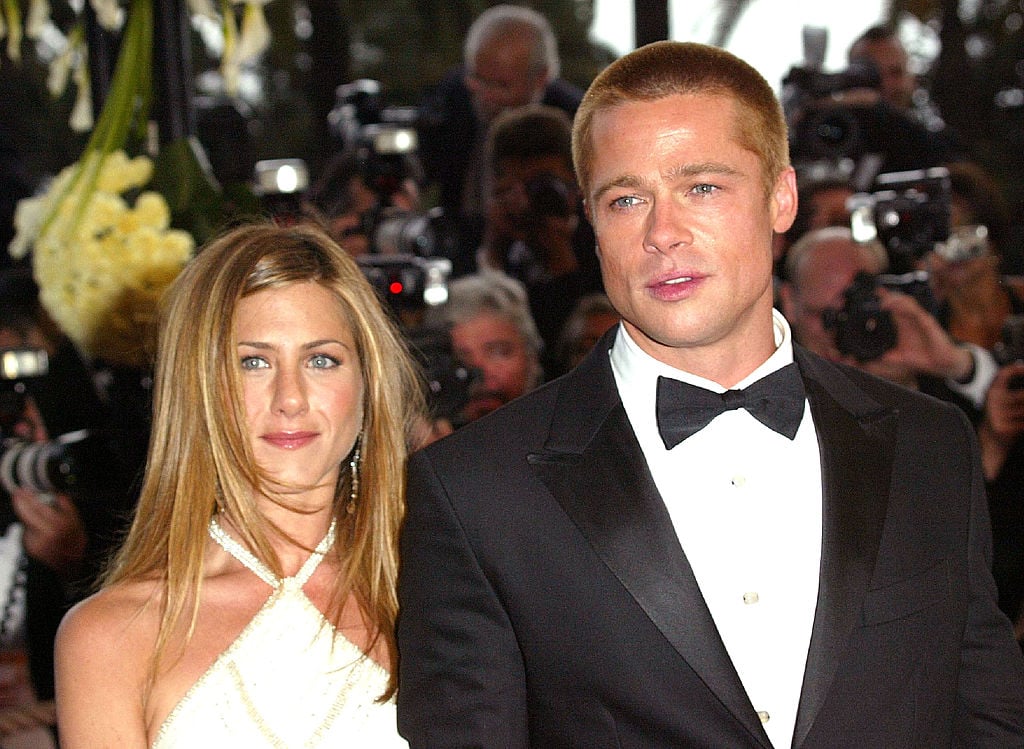 Few celebrity couples defined the first half of the '00s like Pitt and Aniston. They got together in 1998 and, given the former's hot film career and the latter's rise to fame as a member of the cast of Friends, were soon all anyone could talk about.
Aniston and Pitt were married in 2000. Just five years later, they separated, and a divorce followed. Despite subsequent marriages to actors Justin Theroux and Angelina Jolie, respectively, many fans never really let go of their love for the pairing that was Brad and Jen.
They reunited at the SAG Awards in 2020
Neither Aniston nor Pitt has spoken ill of the other over the years. And they've crossed paths, certainly, but not in a way that really mattered to fans (i.e. where the paparazzi was able to catch them). But all of that changed on Jan. 19, 2020, when they went to the SAG Awards.
The two A-listers, who both attended as nominees, encountered one another backstage, and the press was right there to capture their meet up. The Twitterverse essentially exploded with Gen X/Millennial nostalgia. It was almost too good to be true.
Both Aniston and Pitt won awards
At the SAG Awards — which are given to actors, by actors — Pitt received the award for Outstanding Performance by a Male Actor in a Leading Role in a Motion Picture for his part in Once Upon A Time In Hollywood. And like his Golden Globes speech before it, he cracked the audience up.
At one point, Pitt made a dig about himself, saying, "Let's be honest, it was a difficult part. [I played] a guy who gets high, takes his shirt off, and doesn't get on with his wife. It's a big stretch." During the laughter, the camera cut to Aniston, who clapped and smiled at the remark.
He watched her get her award backstage
After receiving his award, Pitt had to go backstage. That's where he was when Aniston got her own Actor. She received the honor for Outstanding Performance by a Female Actor in a Drama Series for her role in the Apple TV+ series The Morning Show.
Of course, the members of the media covering the show were on hand to catch Pitt as he stopped and watched Aniston on a monitor. While she gave her speech, he smiled quite a few times as she spoke about growing up watching Laverne and Shirley and thanking her co-star and long-time friend, Reese Witherspoon.
How do Aniston and Pitt feel about seeing one another?
Clearly, both actors were happy to support one another. When Aniston herself made it backstage, she spoke about winning an award alongside her ex-husband. And she even echoed Pitt's sentiments from his own speech.
"We've all grown up together," she told Extra. "It just feels like a really fun night to celebrate and cheer each other on." She added that as busy working actors, "it's nice to come out…and sort of celebrate your friends and their work and inspire each other to keep going…and like [Brad] said, it's back to work tomorrow!" Maybe not the response we were hoping for, but still good to hear.