Jennifer Aniston and Courteney Cox Can't Get Enough 'Friends' Bloopers
The Friends cast is still as close as ever. Here's what Jennifer Aniston said about watching old Friends episodes and laughing at bloopers with Courteney Cox.
Courteney Cox and Jennifer Aniston's friendship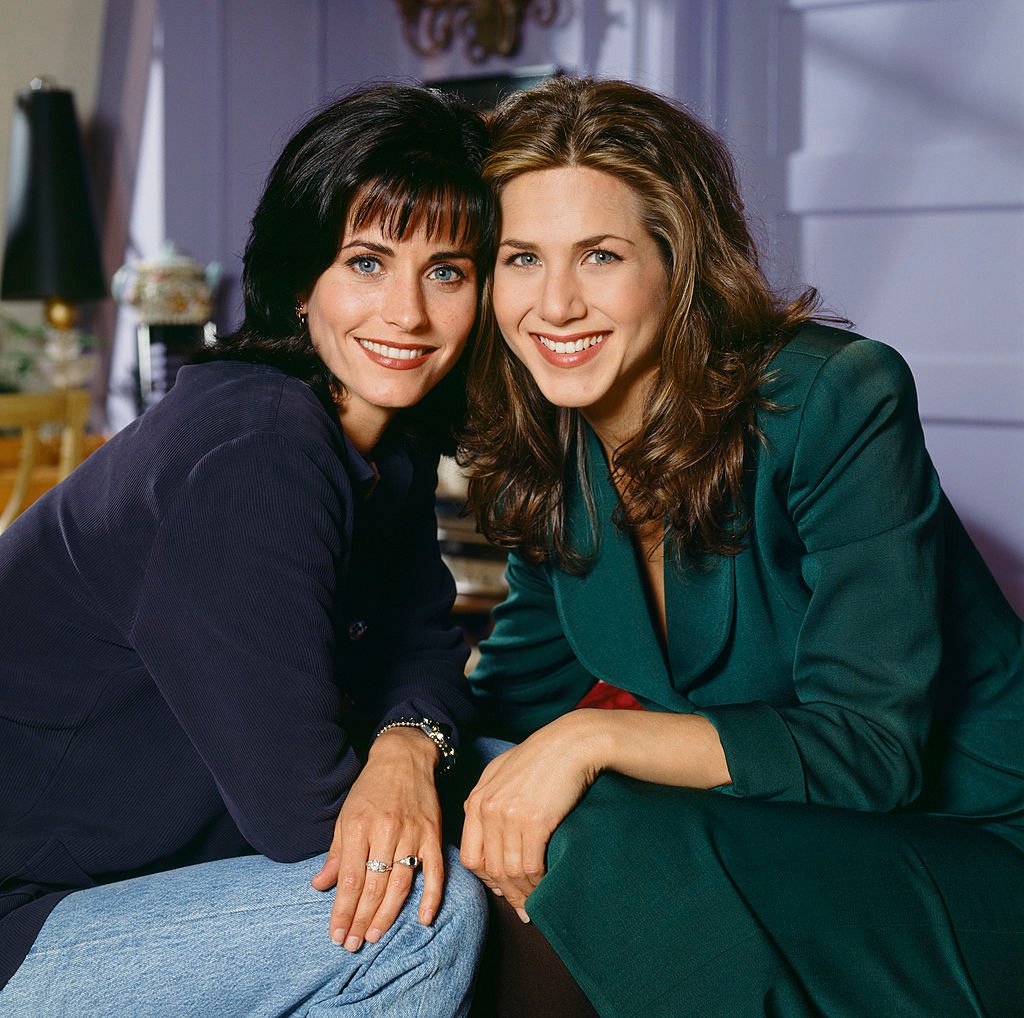 Cox and Aniston maintained a close friendship after Friends ended. Their friendship on the show spilled into real life. Jennifer Aniston is the godmother to Courteney's Cox's daughter, Coco. Furthermore, Aniston and Cox were each other's maids of honor. Lisa Kudrow is also part of this friendship. They maintain a group text among the three of them so they can stay in touch.
"Lisa, Jennifer and I all have a text chain, but to me it's too much pressure," Cox tells Us Weekly. "I'm not into the group text chain. I really don't like it. And then you have something funny to say and you say it but then you send the text and they don't get it."
Jennifer Aniston and Courtney Cox get a kick out of 'Friends' bloopers
During a Variety interview with Lisa Kudrow and Aniston, Kudrow asks Aniston if she has been watching Friends since the coronavirus made staying home necessary. "Can I ask you something, Jennifer?" says Kudrow. "So, since we've been in quarantine or staying home, have you watched Friends?"
Aniston says she still loves watching Friends and she is delighted when she comes across old episodes. She says one day she and Cox saw bloopers of themselves online and they spent time together laughing at their mistakes. Here's what Aniston says about that moment:
I love it. I love stumbling on a Friends episode. This one time I was with Courteney, and we were trying to find something to reference, an old Friends thing. And then we stumbled on — there's bloopers online — and we sat there at the computer like two nerds watching these bloopers laughing at ourselves.
The best 'Friends' bloopers
Friends is full of hilarious bloopers. Some of the best ones involve the cast members laughing uncontrollably and causing the rest of the cast to start laughing. Aniston says in her Variety interview that Kudrow often apologized to the audience when she broke character. She just couldn't control herself whenever a cast member said something funny or if her character Phoebe said something she thought was funny. Here's what Aniston had to say:
Here's what I love, is when I watch an episode, I'll usually remember where we broke [character] during the scene. You and I would always get into these fits of laughter because you had this wonderful ability to — you were about to hit your punchline, and you would do this adorable thing where you would break.

You would say the punchline, and you would always turn to the audience and say, "I'm sorry, it's really funny." You did have an ability to giggle, to break during the punchline. Because you as Lisa also thought it was funny, what Phoebe was saying. Which was so endearing.
Read more: 'Friends': What Lisa Kudrow Really Thinks About Phoebe
Follow Sheiresa @SheiresaNgo