Jennifer Aniston is Checking In With One Famous Ex During Her Coronavirus Quarantine
Jennifer Aniston and John Mayer may have broken up years ago, but that doesn't mean she can't enjoy his music. Aniston, who is currently abiding by stay at home orders, apparently tuned in to listen to Mayer's recent Instagram Live broadcast, and she even felt the need to leave a comment, so everyone knew she was there for it. Her digital appearance left fans wondering if sparks would once again fly between the former couple, but that doesn't appear to be the case. Aniston makes it a habit of maintaining friendly relationships with most of her past loves.
Jennifer Aniston tuned in for John Mayer's recent Instagram Live event
Mayer took to Instagram Live to share some thoughts and have a chat with his fans during the Coronavirus lockdown. Broadcasting from his home, Mayer talked about several topics, but Aniston only felt the need to comment while Mayer was talking about Bill Withers. Mayer stated that 100% of what Withers had to say was useful, while only about 4% of what he has to say is worthwhile.
Aniston commented with three laughing emojis, before going quiet once again. A quick Twitter user grabbed a screengrab before the story disappeared. The internet has been debating the complexities of the comment ever since. While some believe Aniston was throwing shade, others believe she was just showing support for her former flame. Aniston has not commented on the meaning behind her comment.
When did Jennifer Aniston and John Mayer date?
Aniston and Mayer were first linked at the Oscars in 2008. According to InStyle, Aniston admitted that, at the time, she knew very little of Mayer's music, but sparks flew. They reconnected a week later and ended up dating through 2008.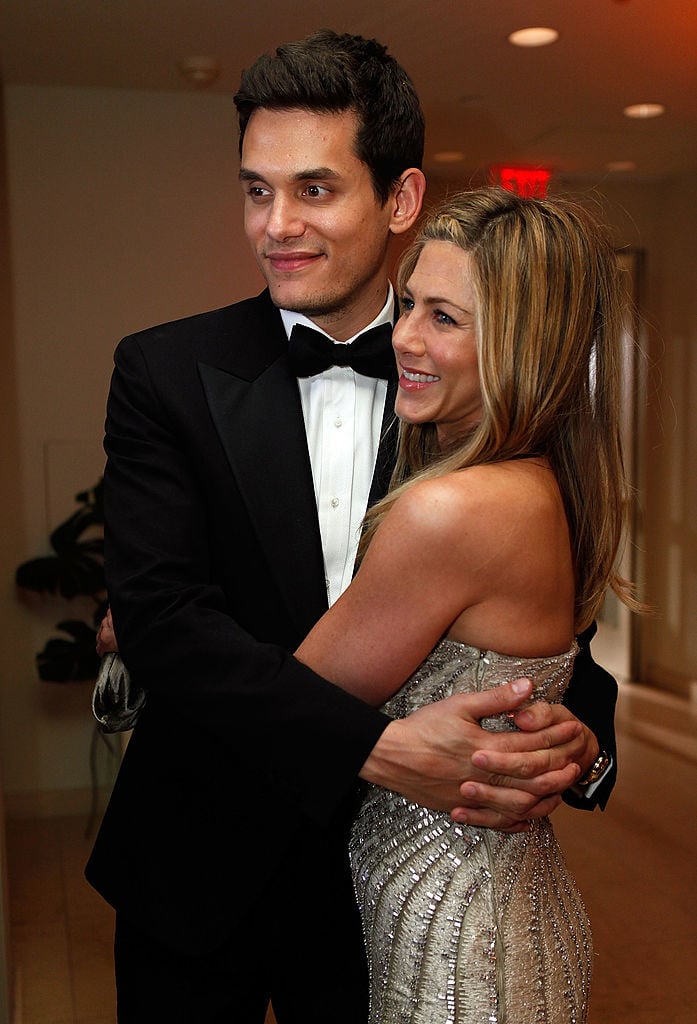 The pair publicly split, then got back together briefly in 2009, before calling it quits for good. Since then, though, they've both spoken publicly about one another. Aniston's statements have been far more sensitive than Mayer's sentiments. Fans lambasted Mayer for suggesting that Aniston was too old for him. Aniston, who turned 51 in February, is eight years older than Mayer.
Did they get back together in 2019?
In early 2019, rumors began to swirl that Aniston and her former flame were seeing each other again when Mayer made an appearance at Aniston's 50th birthday party. For reference, Aniston's ex, Brad Pitt, was also on hand. In February 2020, rumors once again flew that the pair were seeing each other when the duo was spotted leaving the same restaurant minutes apart, according to Marie Claire. The second the old flames were spotted in the same vicinity as one another, talk of a reignited romance began.
There was clearly nothing to the rumors. In fact, it's now believed that the former couple met up briefly and shared dessert with other friends before parting ways. Aniston has a knack for remaining friendly with her old loves. She has maintained a friendship with both of her ex-husbands, and several other men that she's been romantically linked to.