Jennifer Aniston and Justin Theroux Weren't Alone on Their Honeymoon
Jennifer Aniston and Justin Theroux did not have a traditional celebration of their marriage to one another.
Jennifer Aniston is not only one of the most famous celebrities around, but she is also one of the most surprising. Aniston lives a somewhat private life, and although we occasionally get a glimpse into the star's personal affairs, for the most part, she keeps quiet about what goes on behind closed doors. This means that when personal information does get leaked, it can be the last thing that fans would expect, and when Aniston married Justin Theroux, that is exactly what happened. Although everyone knew when the couple got engaged, thanks to that massive diamond ring that Aniston was sporting on her hand, Marie Claire reports that they caught everyone off-guard when they married in a surprise backyard ceremony in 2015. As if that wasn't enough, it turns out that Jennifer Aniston and Justin Theroux weren't exactly alone on their honeymoon.
Jennifer and Justin got married under the radar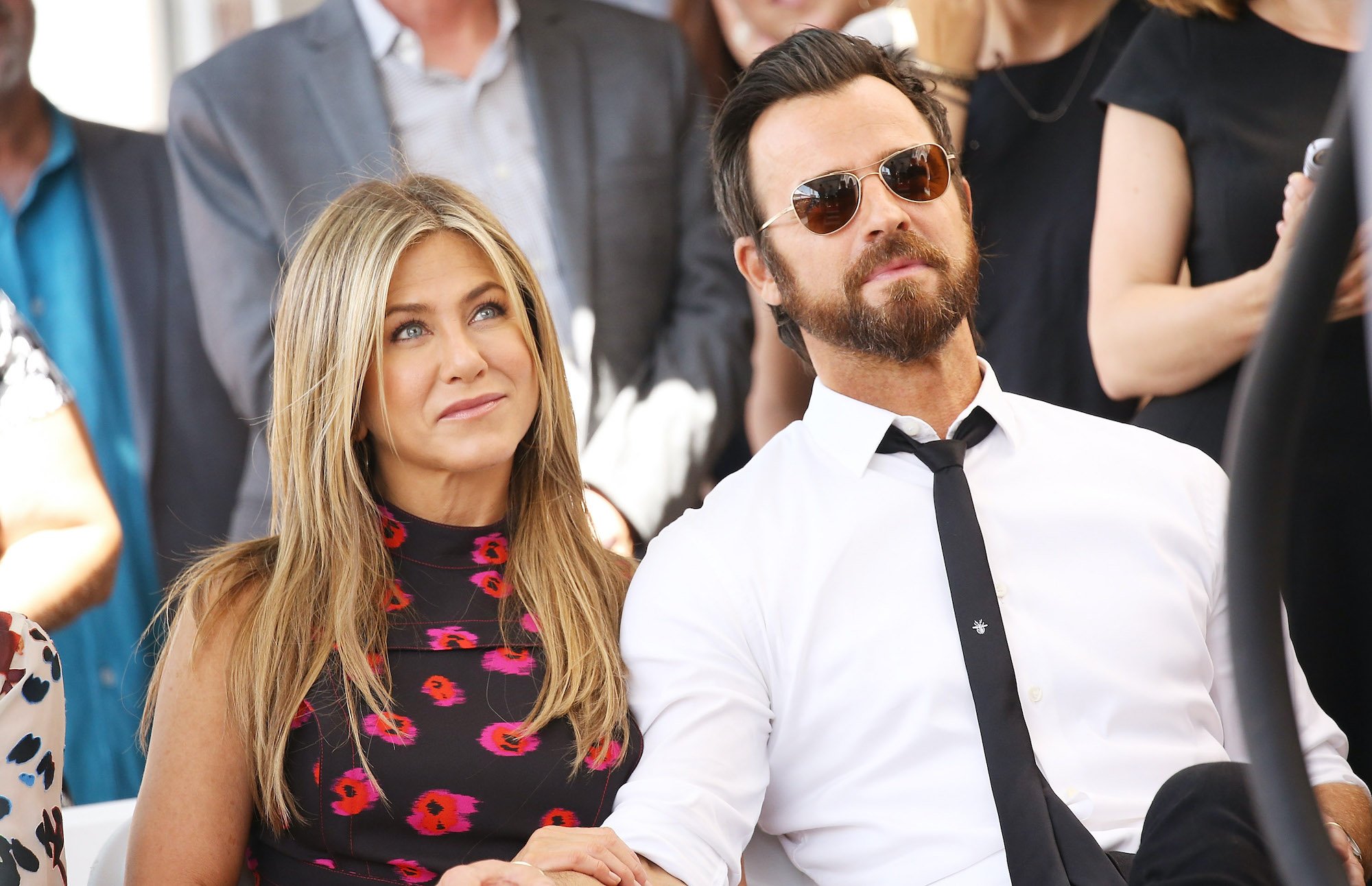 Aniston tends to keep things under wraps, and in the past, she has expressed her feeling about being hounded by photographers and everyone knowing about her personal business. When she and Theroux announced that they were planning to tie the knot, millions of fans began to speculate about the big day. However, while most people certainly would have jumped at the chance to know exactly when it was happening so that they could try and catch a glimpse of all the excitement, according to Entertainment Tonight, that's not the way things went down. It was a few years ago when the world was surprised to hear the news that the couple were officially husband and wife — they had actually tricked everyone by inviting them to what they said was a birthday party for Theroux — but it was really their wedding. 70 guests, including Lisa Kudrow and Ellen DeGeneres were in attendance, and Aniston herself said that she and Theroux had "struggled with the best way to tie the knot under the intense media speculation."
Jennifer Aniston and Justin Theroux weren't alone on their honeymoon
No matter how big or extravagant a wedding is, the newly hitched couple usually look forward to spending time alone on their honeymoon. However, Aniston and Theroux did things a little differently. Money Inc. reports that the couple wasn't alone, and in fact, their honeymoon was quite the event! They headed off to Bora Bora and decided to invite friends including Courtney Cox, Jason Bateman, and Chelsea Handler to come along with them. Sounds like an amazing and fun thing to do, but why did Aniston and Theroux bring people to their exotic honeymoon destination with them? Theroux said that "We had thought about it; we could just do a normal honeymoon, or we could go with some friends, keep the party going, relax, and have fun. It was really special, it was really beautiful."
Jennifer and Justin were always a bit non-traditional
Aniston and Theroux, while they were married, tended to do things their own way, no matter what anyone had to say about it. Not only was their wedding a surprise, but according to Nicki Swift, they even had an ordained friend officiate the ceremony. They also celebrated other important events with a group of friends, such as their first wedding anniversary. While Aniston and Theroux always made sure to spend a certain amount of time alone, they were non-tradition in the sense that they didn't mind close friends tagging along when it felt right. Although it sounds like everyone had a wonderful time, sadly, the marriage came to an end when Theroux and Aniston called it quits in 2017.
RELATED: Jennifer Aniston and Justin Theroux Reunited for This Tragic Reason