Jennifer Aniston Keeps Running Into Her Famous Exes
Jennifer Aniston can't seem to go anywhere in Hollywood without tripping over someone she has dated. While the world is busy speculating about a potential love connection between Aniston and her ex-husband, Brad Pitt, she met up with a different former love for an intimate dessert. Aniston was reportedly spotted sharing a sweet treat with her old flame, John Mayer. So, is romance in the air or is Aniston just so fabulous that all of her former lovers want to stay friends? It looks like the latter might be right.
Jennifer Aniston and John Mayer met up for dessert
Aniston and Mayer have everyone talking after a Feb. 7 meet up at the Sunset Tower Hotel. The pair weren't getting a room, though. They were enjoying some dessert before parting ways. The meetup wasn't just the two of them either, insists Page Six. Mayer was apparently out and about with Andy Cohen when the pair decided to head over to the Sunset Tower Hotel to meet up with Aniston. Aniston, reportedly, was dining with Amanda Anka. Anka, who is best known for her work on Buffy the Vampire Slayer, is the co-producer of The Morning Show.
An insider told Page Six, that the pair had a friendly chat and discussed Aniston's 51st birthday before they slipped out separately. It is not the first time that Aniston and Mayer have met up. In fact, he was on-hand to help her ring in her 50th birthday in February 2019. Pitt was also a guest at her 50th birthday party.
Is something romantic going on?
While it might seem like romance is in the air for Aniston, insiders insist that the pair are just excellent friends. The former couple has apparently kept up with each other ever since their 2009 breakup, and they have nothing but respect for each other. In fact, Aniston seems to remain close with most of the men she's dated in the past.
Aniston and Pitt's relationship has been a source of speculation ever since she ended her marriage to Justin Theroux, and Pitt divorced Angelina Jolie. Aniston also remains friendly with Theroux, who gave his ex-wife a shoutout on Instagram for her 51st birthday. Aniston's take on relationships might be the reason why she remains so close for so long after the "love" ends.
In a sit down with Vogue in 2008, Aniston said, " Whoever said everything has to be forever, that's setting your hopes too high. It's too much pressure. And I think if you put that pressure on yourself—because I did! Fairy tale! It has to be the right one!—that's unattainable." She has echoed the sentiment in the years since and has long insisted that the ending of all of her relationships have been amicable. While many stars say it, for some reason, we believe it when it comes from Aniston.
Why did Jennifer Aniston and John Mayer break up?
While most people remember Aniston's two marriages, she and Mayer dated pretty seriously for about a year. The couple met in 2008 at a party for the Academy Awards and were together pretty consistently for a year before they called it quits. Mayer was lambasted for comments he made in Playboy that suggested Aniston was too old for him. Mayer famously said, "In some ways, I wish I could be with her. But I can't change the fact that I need to be 32."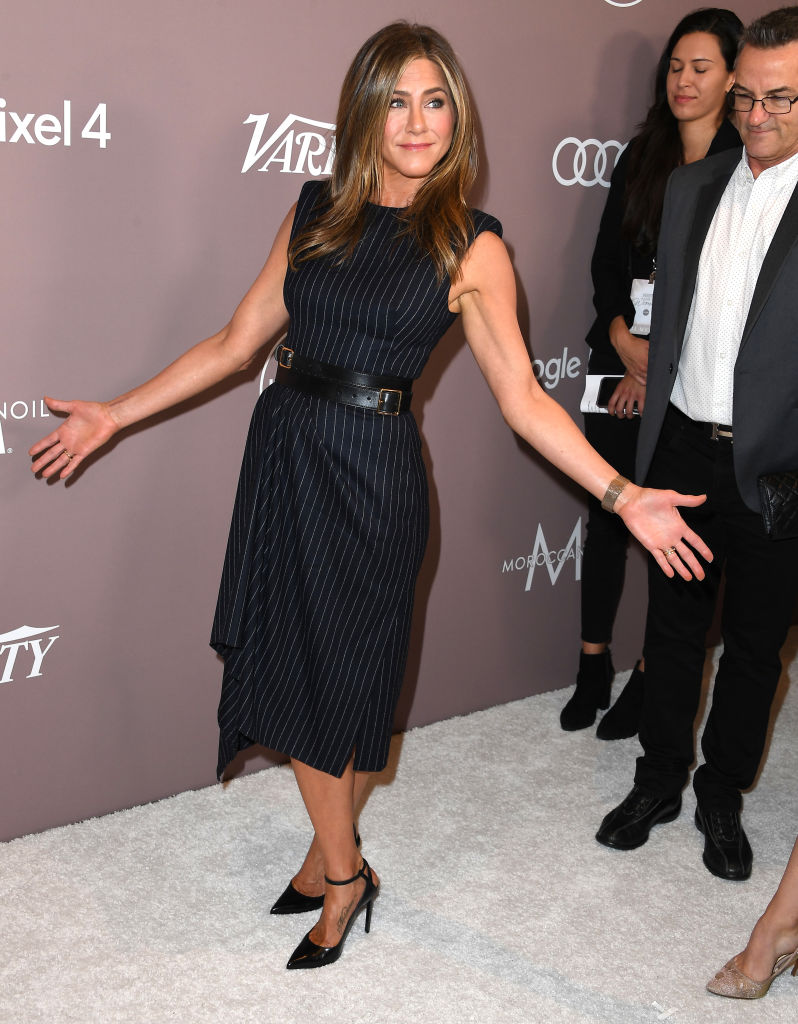 While most people assumed Mayer ended the relationship due to Aniston's age, it looks like the pair merely connected at the wrong time in Mayer's life. While Mayer's much older now, and has been pretty shy about his personal life, it doesn't look like romance is about to bloom, although both seem to absolutely adore each other.