Jennifer Aniston Says She Felt 'Unsafe' Growing Up
Superstar Jennifer Aniston is gearing up for the second season of her Apple TV+ series The Morning Show, which she stars in and executive produces along with pal Reese Witherspoon. Between her streaming show, film projects, and continued rumors of a Friends reboot, the actress continues to be one of today's busiest celebrities.
Aniston has spoken in the past on her parents, who were also in show business. In a recent interview conducted by BFF Sandra Bullock, the former sitcom star shared some insight into her upbringing.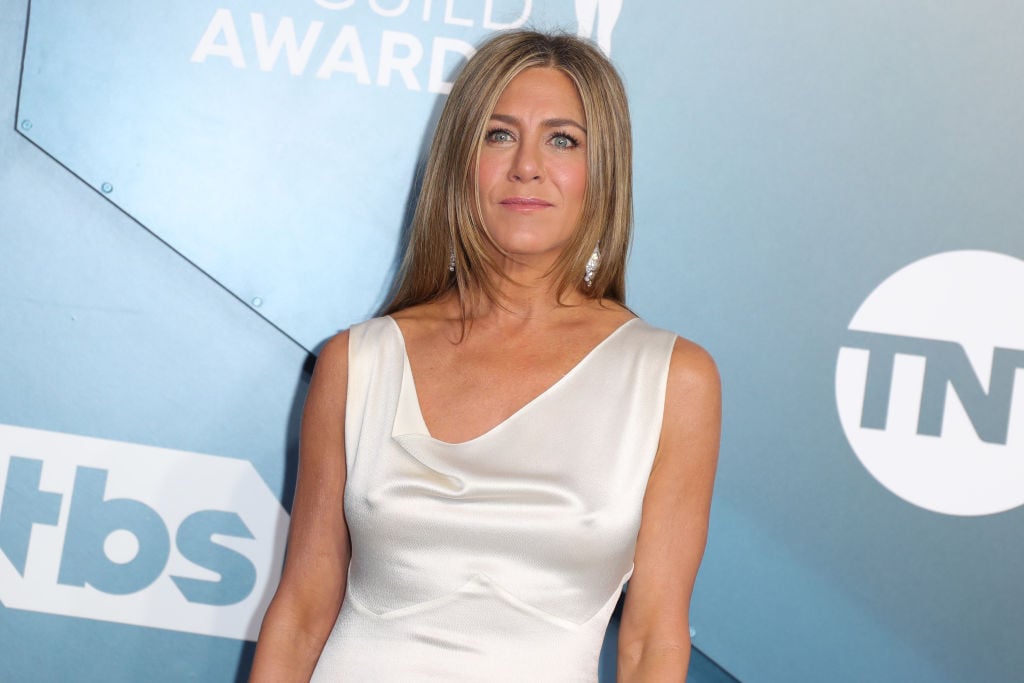 Similarities to 'Dumplin' character
In the 2018 Netflix film Dumplin', Aniston pulled double duty as the movie's producer and star. Playing a former pageant queen whose daughter Willowdean enters a beauty competition to make a statement about what beauty truly is, Aniston's character struggles to accept her plus-size child.
People reports that Aniston saw commonalities between her character and her own mother, Nancy Dow. "One of the reasons I really loved the mother-daughter aspect of it was because it was very similar in a way to what my mother, and our relationship, was," Aniston said.
Aniston shared that since her mom was an actress, appearing on shows such as The Beverly Hillbillies and The Wild Wild West, she felt her mother had certain requirements of her to which she didn't measure up.
"She was a model and she was all about presentation and what she looked like and what I looked like," Aniston said, again noting the similarities she picked up on with Dumplin'. "I did not come out the model child she'd hoped for and it was something that really resonated with me, this little girl just wanting to be seen and wanting to be loved by a mum who was too occupied with things that didn't quite matter."
Dow passed away in 2016, though the Huffington Post reported that the two had reconnected in 2005 after a decade of no contact. "She was critical," Aniston revealed. "She was very critical of me. Because she was a model, she was gorgeous, stunning. I wasn't. I never was. I honestly still don't think of myself in that sort of light, which is fine."
Growing up
Aniston's father, soap opera star John Aniston, was married to Dow from 1965 to 1980. The two divorced when Aniston was 9 years old. In their interview when Bullock asked Aniston how she keeps her positive persona without letting discouragement weigh her down, Aniston referred to her childhood.
"I think that it comes from growing up in a household that was destabilized and felt unsafe, watching adults being unkind to each other, and witnessing certain things about human behavior that made me think: 'I don't want to do that,'" Aniston shared. "'I don't want to be that. I don't want to experience this feeling I'm having in my body right now. I don't want anyone else that I ever come in contact with ever to feel that.' So I guess I have my parents to thank."
Despite living in a tumultuous environment, Aniston was able to channel the negative energy into something productive. "You can either be angry or be a martyr, or you can say, 'You've got lemons? Let's make lemonade.'" she told Bullock.
Season 2
Now working on Season 2 of The Morning Show, Aniston shared that she is relishing the work rather than the result. "I think there was no attachment to a result, and I think that's a real key to success in life, to not worry about the landing, but enjoy the experience," she explained. "We were focused on making something really great and interesting and a bit daring, and trying to be as honest as we could. But I think it's about not having an attachment to the outcome."
Aniston is now just enjoying the ride of her new series and finding contentment in creating. "I've never been that person pacing around on opening night saying, 'What is the box-office?'" she said. "I try to put it away when it's done. We were having a writers' meeting yesterday, and I was saying, 'I feel so proud to be a part of something that people say so many nice things about.' It's so rare."
Season 2 of The Morning Show is expected to be released in November.