Jennifer Garner Writes a Touching Note to Prince Harry and Meghan Markle: 'Thank You'
Prince Harry and Meghan Markle have stayed away from social media ever since they stopped using their Sussex Royal Instagram account at the end of March (when they left the family to start a new life). But fans knew Archie's first birthday was in early May, and they couldn't help but wonder whether Meghan and Harry would release a new photo for his big day.
Meghan and Harry decided to read a book with Archie for his first birthday as part of the Save With Stories campaign — celebrities read children's books on social media to help raise awareness for kids who need meals without school in session. And Garner wrote the sweetest note to the couple as a thank-you.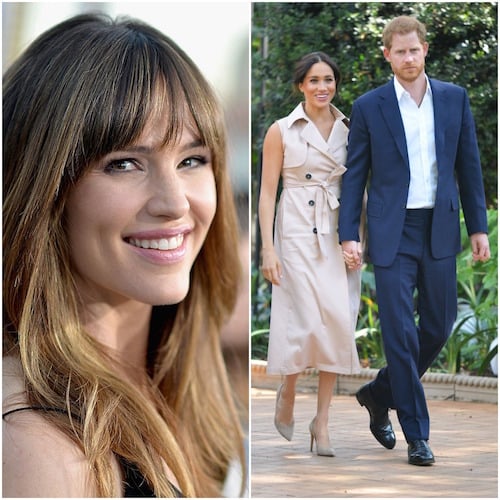 Harry and Meghan opted not to release traditional photos of Archie for his birthday
In the royal family, it's tradition to release new photos of young kids on their birthdays. Those who follow Prince William and Kate Middleton's Kensington Royal account might have noticed that William and Kate released new photos of Charlotte and Louis for their recent birthdays.
Harry and Meghan have opted not to follow royal tradition for the majority of their marriage. Ever since the two wed back in 2018, they've been doing most things outside of royal protocol. And now that they're no longer official members of the family, they chose to do something a little different for Archie's birthday.
Harry and Meghan turned Archie's birthday into a charitable cause
Though Meghan and Harry aren't using their Sussex Royal Instagram account anymore, they still managed to show Archie to the world on his big day. The couple partnered with Share Our Stories, and Meghan read Archie the book "Duck, Rabbit" while Harry filmed.
Meghan and Harry's fans loved the video. It was a way for the couple to show off their little boy while also giving back to the world during the ongoing COVID-19 crisis. But some people still took issue. The couple's post received some negative comments, mostly directed toward Meghan. And best-selling author Emily Griffin publicly expressed her distaste for the duchess' reading style. Griffin later apologized for the criticism but didn't deny her dislike for Meghan.
Jennifer Garner wrote a thoughtful note to the couple on Instagram
Jennifer Garner and Amy Adams partnered to bring Save With Stories to life a couple months back. Garner, who has three kids of her own with ex-husband Ben Affleck, thought it would be a sincere way to raise awareness that there are children around the world who are without food due schools being closed and parents being out of work.
When Meghan and Harry partnered with the charity for Archie's birthday, Garner took to Instagram to express how thankful she was for what the couple had done. "We are humbled and grateful that you chose @savewithstories to mark this special day," part of the Garner's Instagram note read. "Thank you for this joyful and meaningful shift in perspective."
Garner reposted the video to her own Instagram account, and other celebrities, such as Mindy Kaling, expressed their appreciation. Though there was still some negativity, it was clear that Meghan and Archie brightened most of the world's day with their read.