Jennifer Garner's Movie '13 Going on 30′ Featured a Jennifer Lopez Cameo
Jennifer Lopez and Jennifer Garner have more in common than Ben Affleck. Both appeared in the hit movie '13 Going on 30' --well, sort of.
Jennifer Lopez has had multiple high-profile relationships in the past. In 2022, she got engaged to Ben Affleck for a second time. The pair broke up over a decade ago, shortly before he began dating another Hollywood Jennifer: Jennifer Garner.
These romantic entanglements likely amused fans when they re-watch the romantic comedy 13 Going on 30. Lopez made a surprise appearance in the movie and shared screen time with Garner. However, the cameo is not what some people would expect.
The Jennifer Lopez cameo in Jennifer Garner's 13 Going on 30′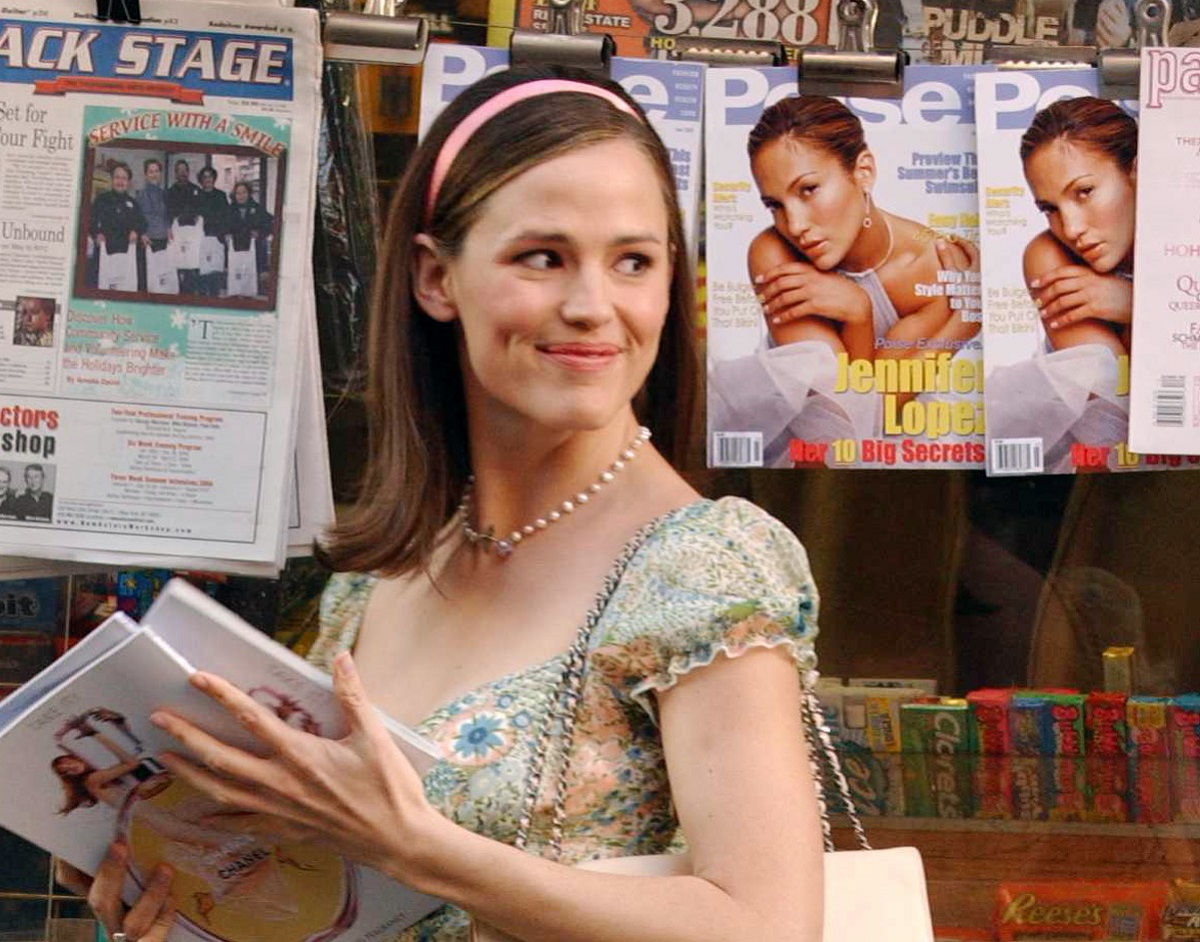 Jennifer Garner starred in the hit romantic comedy as Jenna Rink, a teenager who wishes to be an adult. She gets her wish, only to find being "30, flirty, and thriving" isn't all it's cracked up to be. 
For fans of the film, it often makes its way back into the pop culture lexicon. Even Ariana Grande makes her love of the flick known. But even those who've seen it repeatedly may not have noticed Jennifer Lopez's sort-of cameo. 
While Lopez does not show up in person, viewers can spot a photo of her. According to Bustle, she is on the cover of both Poise and Sparkle magazine. A Getty Images photo shows a shot of Garner on the set while Lopez's cover photo is behind her.
Jennifer Garner and Ben Affleck married after his split with Jennifer Lopez
While Garner was filming 13 Going on 30, Lopez was in a relationship with Affleck. Lopez and Affleck got engaged. Affleck and Garner met years earlier on the set of the film Pearl Harbor, but romantic feelings emerged during Daredevil.
The two actors portrayed love interests in the superhero film. Affleck once admitted that he fell in love with her after she helped him with his career struggles. Some even think Garner flirted with him while they were with other people.
In 2004, Garner divorced her husband Scott Foley — right around the time Affleck and Lopez canceled their engagement. Garner and Affleck began dating soon after 13 Going on 30 came out, and they married in 2005. 
Garner and Affleck remained married for several years and had three children together. While they appeared happy together, in 2015, they announced their reparation.
Jennifer Lopez and Ben Affleck got back together and co-parent with Jennifer Garner
In 2021, Lopez and Affleck picked up where they left off. Today, the three celebrities found a way to co-parent their combined five children. They have gotten familiar with each other's kids, with Lopez and Affleck celebrating Halloween as a family.
Lopez quickly became friendly with Affleck and Garner's children. According to Yahoo, she formed a close bond with Affleck's youngest son, Samuel. Garner has mentioned that she does not mind her kids spending time with Lopez.
In fact, fans spotted Garner hanging out with Lopez's daughter Emme. The three stars have been vocal about their respect for each other as parents. Affleck even praises his ex for how she puts the children first.