Jennifer Grey Confirms That Patrick Swayze Hated His Iconic 'Dirty Dancing' Movie Line
They had the time of their lives. But that doesn't mean Patrick Swayze and Jennifer Grey didn't have their share of hurdles while filming the iconic 80s movie Dirty Dancing. Grey confirms that Swayze hated a line from the movie and didn't want to deliver it in a new interview.
The quote is one of the most iconic lines in American cinema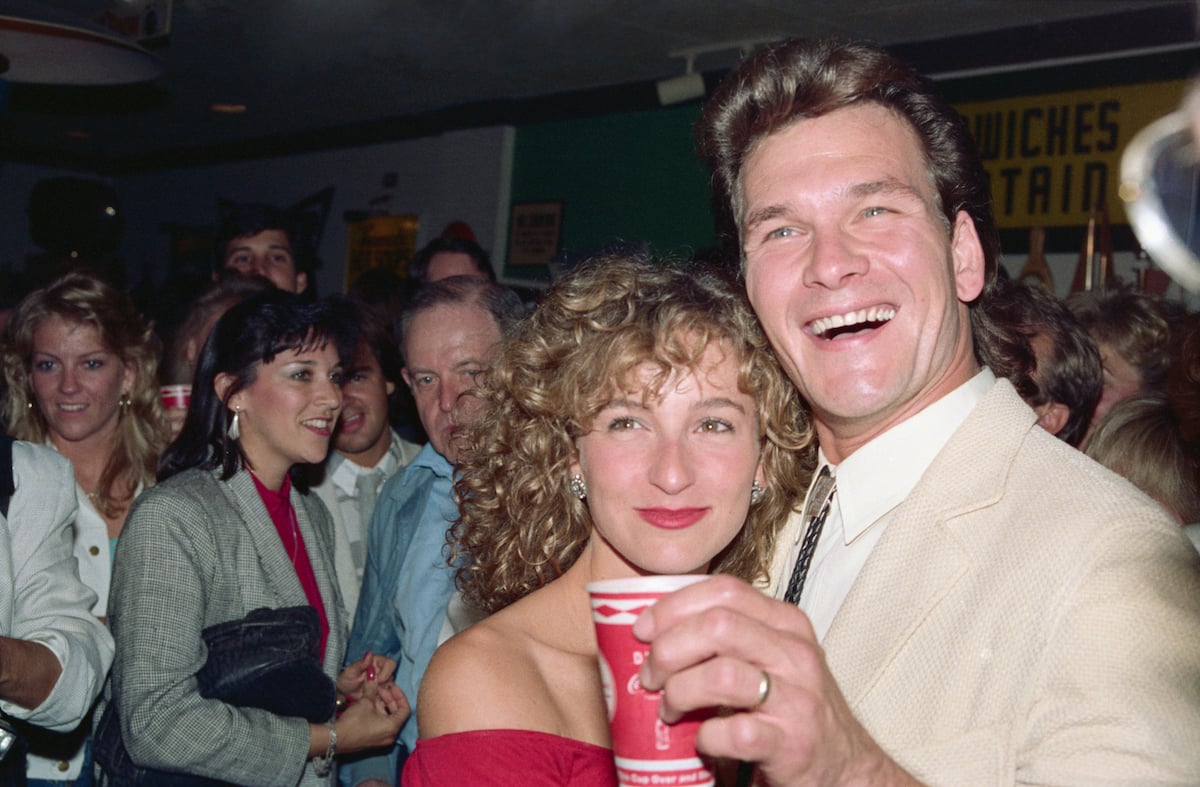 In the surprise 1987 summer hit, Johnny Castle utters an unforgettable line. "Nobody puts Baby in a corner," he says resolutely, eyes smoldering.
The line came directly from screenwriter Eleanor Bergstein, and according to co-star Jennifer Grey, Swayze didn't want to say it. Grey starred opposite the late actor as Frances "Baby" Houseman in the abortion drama that dealt with serious themes through dance. Swayze died in 2009 of pancreatic cancer.
"Patrick didn't want to say it, and I didn't blame him!" said Grey in a September 2021 interview with Yahoo! Entertainment. According to the site, Grey is correct, because Swayze famously called the line "corny" in his 2010 autobiography The Time of My Life. Her statements corroborate numerous accounts of the actor balking at the line.
Still, Grey explains that he made the best of the unwanted inclusion. As a result, the line became iconic.
"He did really great by it," she told Yahoo! "For some reason there are certain things that feel bad when you're doing them, [but] you have no idea how they'll resonate in the world. [That line] means so many things to so many people: There are so many ways that we put ourselves in the corner or we think other people are putting us in the corner, and unless we agree with them that we belong in the corner, then they really can't — they don't have that kind of power. But you have to be able to recognize that you don't belong there."
The 'Dirty Dancing' movie dealt with serious themes related to the recent Texas abortion law
Grey also said the movie's subject matter remains relevant; abortion is front and center in the film. Professional dancer Penny (Cynthia Rhodes) experiences illness caused by a medically unsound abortion. Consequently, Baby must learn to dance and cover for her.
In 1987, Dirty Dancing was ahead of its time. Therefore, it touched off a national discussion. Grey told Yahoo! that she felt it is "bizarre" that 34 years later, the issue endures.
"We were dealing with abortion in the movie, because it was a time when people couldn't have a legal, safe abortion," she said, referring to the recent Texas abortion law. "The idea that we're unfortunately dealing with this again now is bizarre."
Jennifer Grey said the 'Dirty Dancing' movie reboot will be about ' corners' 
The actor is executive producing a reboot of the resonant 80s hit, and she says it will have to bring something new to the table. It goes back to that meaningful, albeit "corny" line that Patrick Swayze tried to avoid.
"[The new film] has to have something fresh and it has to be about real stuff," Grey said in the interview. "[It has to] empower you to realize that you'll never find yourself back in that corner, or that if you do, you know how to get yourself out again. There's always a corner to be put in or to allow someone to put you in."
Grey added that the "corner" reference is relevant to virtually everyone, and it's a reminder that
you can always get yourself out.
"The question is, how many times can you just decide: 'There's that corner again. I'm going to get myself out,'" she said.
RELATED: 'Dirty Dancing:' Jennifer Grey Had 5 Minutes To Prove She Could Play a Character Who Was 8 Years Younger