Jennifer Hudson Once Described Beyoncé as 'Timid' and 'Normal'
Beyoncé may be one of the greatest live performers in history but her 'Dreamgirls' co-star says Beyoncé is quite shy off stage.
Jennifer Hudson may not have won her season of American Idol but she proved just how much of a star she is with her performance in Dreamgirls. Hudson starred alongside Beyoncé in the musical drama and swept award season. Though many believe Hudson outshined her co-star, the two maintain a friendly relationship. Hudson once gave a behind-the-scenes look into who Beyoncé is off-screen.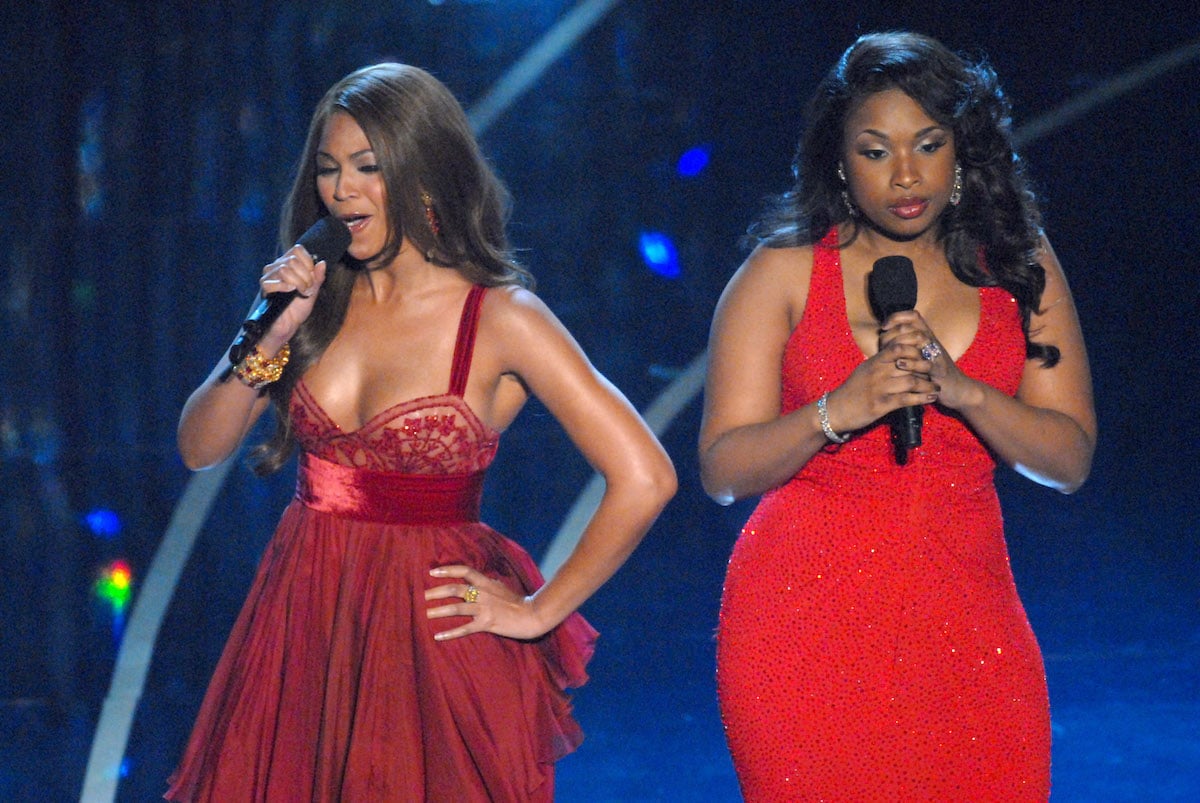 Jennifer Hudson and Beyoncé in 'Dreamgirls'
Hudson and Beyoncé starred opposite in the 2006 musical drama Dreamgirls. The story is a fictional account of the rise of the Motown supergroup The Supremes. Hudson starred as Effie White, allegedly inspired by Supremes member Florence Ballard. Beyoncé starred Dina Jones, inspired by Supremes frontrunner Diana Ross.
As the story goes, the group grew up in the inner city with dreams of becoming singers. In the film, White starts as the group's lead singer, and she is known for her big voice and an even bigger personality. She begins a romantic relationship with the group's manager and record label owner, Curtis. But the mix of business and pleasure creates conflict.
Related: Beyoncé Couldn't Stand Rumors She Was Jealous of 'Dream Girls' Co-Star Jennifer Hudson
Curtis sees Jones as the one who could take the group to the next level and achieve crossover success. Just as in real life with Ross and Motown owner Berry Gordy, Gordy views Ross as having better crossover appeal than Ballard due to her softer and more pop-esque voice and overall look. Jones and Curtis begin an affair as he pushes her to the front as the lead singer.
The conflict begins with Jones and White. White is kicked out of the group and begins drinking heavily. She also has trouble getting another record deal. Curtis blackballs White by turning her ballads into pop hits for the group. Jones later uncovers the truth and reunites with White and divorces Curtis.
Jennifer Hudson on Beyoncé's personality
Both Hudson and Beyoncé were nominated for Academy Awards for their performances in the film. Hudson took home the award for Best Supporting Actress in 2007.
While their on-screen characters may have feuded, the two women got along nicely off-screen. During the 2007 award season, Beyoncé beamed with pride over Hudson's critically acclaimed performance. Many assumed Beyoncé' to be jealous of Hudson receiving so much attention. But Beyoncé insisted otherwise. 
"She pulled it off and she's incredible," Beyoncé told ABC News at the time. "She's sweet, and she deserves it…she's gifted. I just hope she maintains that same sweetness."
Of their alleged feud, Beyoncé said, "It's just so unfortunate that once again, the media is stirring up things and it's because we're women. You don't hear Jamie is jealous of Effie. You hear that I'm mad and why would I be mad?"
Related: How Did Beyoncé and Jennifer Hudson Get Along While Filming 'Dreamgirls'?
Hudson has also spoken fondly of Beyoncé, calling her "sisterly" in an interview with Cosmopolitan, as reported by Entertainment Tonight. She's also given a little insight into who Beyoncé is behind the scenes. Though Beyoncé shines on stage transforming into her alter ego "Sasha Fierce," Hudson says Beyoncé is much more reserved. 
She told Magic Radio, "She's so normal…very timid, very sweet, quiet and just a person," Hudson said. "It's not the goddess that we know her to be, it's just this beautiful sweet girl."
Hudson and Beyoncé reunited at 2018 Coachella where they snapped a few photos.