Jennifer Lopez and Alex Rodriguez Fight Over This 1 Surprising Thing
There was a time in the late 1990s when Jennifer Lopez's love life was a frequent source of tabloid fodder. The superstar's dating history is filled with high-profile romances and several engagements.
It seems that the singer has now found love with former MLB megastar Alex Rodriguez. The pairing of A.Rod and J.Lo has delighted fans and seems like a source of joy for both celebrities. There is, however, one thing that the pair fights about — and it's probably not what you expect. 
Jennifer Lopez and Alex Rodriguez have found love
Neither Lopez nor Rodriguez is enjoying the level of fame that they had at the peak of their careers, but perhaps that has allowed them the time and space to find happier relationships. The pair had actually met years earlier back in 2005 when both were married.
A quick handshake at Yankee Stadium left Lopez feeling a "weird electricity," according to Harper's Bazaar. In February 2017, the pair reunited by chance at a restaurant.
Lopez recounted to Ellen DeGeneres that she "was having lunch somewhere and I saw him as he passed by. Afterwards, I went outside, and for some reason I felt like tapping him on the shoulder." Rodriguez followed up with a text asking for dinner. The rest, as they say, is history. 
The pair mad a red carpet debut in May 2017 and shared social media pics of their kids hanging out together. In March 2019, the couple got engaged while vacationing in the Bahamas. While all eyes have been on the pair to see when the wedding bells will ring, they say they're in no rush. Rumor has it that a 2020 wedding was planned but that the pandemic but a hold on the occasion. 
Jennifer Lopez and Alex Rodriguez argue over this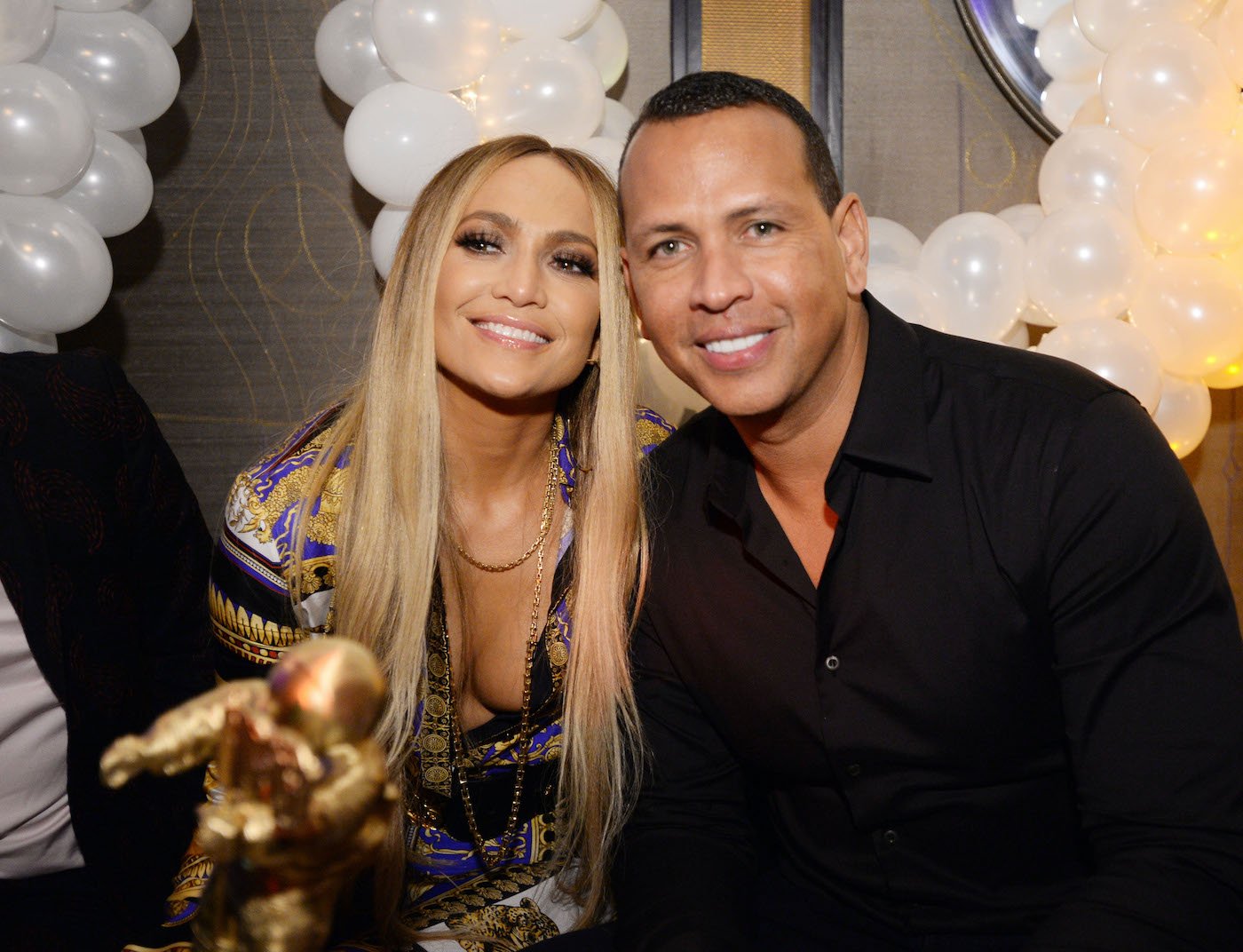 E! News reports that Lopez and Rodriguez get into "petty fights" just like non-celebrity folks. With regards to the beauty products in her line, Lopez told E! News' Daily Pop that Rodriguez loves "all of them." He's such a fan that they have light fights over them.
"As we were trying all of the products, he was always like, 'What are you doing? What are you using? Let me get two. Give me some. Give me some! Don't be cheap, come on.' I'm like, 'It's a sample! I have to try it for five days. Like, leave it alone!' And we would be fighting over the products," Lopez says about Rodriguez. 
As for her inspiration for her beauty line, which is making its debut on Jan. 1, Lopez says its how she's always asked about her skincare. "Everywhere I've gone over the past 20 years, the number one question I get asked is, 'What do you do for your skin?'" she explained. 
What is Jennifer Lopez's skincare secret?
Lopez claims her beauty secrets come from the women in her family — her mom, her aunts, her grandmother. And her secret sauce is olive oil.
"Olive oil was the secret beauty ingredient for hydration, for your skin, for your body like when you were very dry, for your hair," Lopez said. "It works amazingly well for hydration and to smooth the skin and to give it a glow. So when I went in for the first time with my team, I said, 'Listen, I think we need to start with olive oil.'"
As for her skincare routine, there's more to come as her line launches. But Lopez loves a good morning bath.
"First of all, I love a bath," Lopez said. "I know a lot of people don't do baths in the morning, but I love starting the day with a bath. I love putting in my oils, and my salts, and my emollients … then getting out and doing all the moisturizing."