Jennifer Lopez and Shakira's Super Bowl Performance Sparks Debate on Body Positivity and Double Standards
Those who have not heard about the debates sparked in the aftermath of Jennifer Lopez and Shakira's Super Bowl Halftime Show may just be living under a rock — a blissfully quiet rock.
Social media, news outlets, and water-cooler chats alike are bringing out the best and worst opinions of their performance and the political messages it contained.
Overshadowing even the strong political message, however, is the discussion about how much skin the two showed, and whether it was appropriate for network television.
Are people really outraged over Jennifer Lopez and Shakira's performance?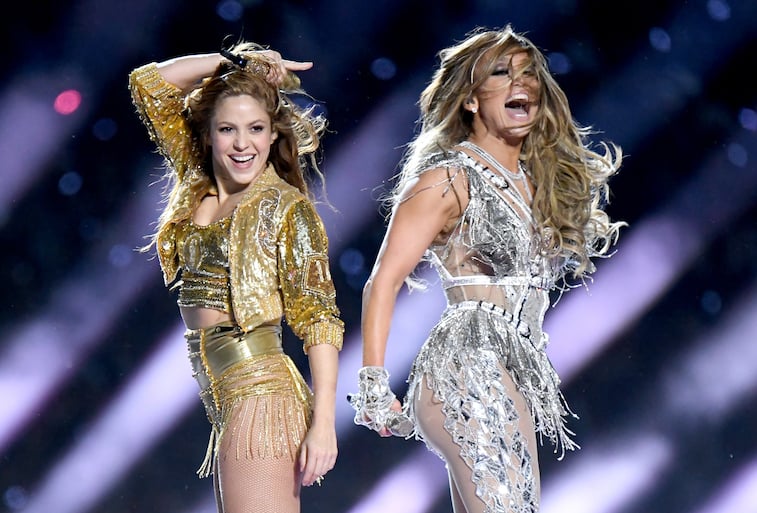 More and more we live in an era of socio-political bubbles, and controversies really bring that into stark relief. While some may have social media feeds full of those praising the performance, others may have friends and followers that found it offensive.
So what's the deal? Why are some people so outraged about the performance? Dave Daubenmire, a former high school football coach from Ohio who fancies himself a "Defender of the Christian Faith" on Twitter, has gotten media attention far surpassing his 634 followers for his viewpoint.
In a video to his followers, he claimed he wanted to sue Pepsi, the NFL, his local cable company, and, as he put it, "as many people as we want to" for "pandering pornography" or "contributing to the delinquency of a minor."
He readily admits he's not a lawyer and doesn't know what charges to pursue. That much is clear.
It'd be tempting to believe this is a fringe point of view, and while the lawsuit may be, his overall opinion is not. Many social media users agree or share similar opinions.
The organization One Million Moms has already gotten over 46,000 people to sign their petition that seems to have no real goal other than to tell the NFL and the Commissioner that they are "disgusted" and ask for more "family-friendly" shows in the future. In the petition they call Shakira and Lopez's performance "extremely vulgar and nothing more than a striptease."
The majority of responses over the halftime show are positive
Despite the conservative backlash, responses to the show by the media and fans alike have been largely positive. Countless publications have shared pieces in support of the duo, like Danielle Campoamor of NBC New's piece: "Jennifer Lopez and Shakira are sexy moms. And there's nothing shameful about it."
As for how the singers themselves are handling it: Shakira has not yet made a public statement on the backlash, but Lopez has been open and vocal about her opinion.
Lopez told Variety in a live interview, "I think that's just honestly silliness," and went on to say she can't let in the opinions of a "small faction" of people that want to be negative.
She concludes her response by expressing what a positive experience it was, how it was a celebration of women and of Latino culture, and how it tells little girls: "You're strong. You're beautiful. Everything about you, be proud of it."
Lin Manuel Miranda, a fellow Latino of Hamilton fame, told AP Entertainment that Lopez, "Checked all the boxes and she made us so proud."
Country singer Shania Twain, who performed the halftime show in 2003, approved as well saying: "They're out there showing what a healthy, strong, confident woman looks like."
How does Jennifer Lopez and Shakira's performance compare to other performances?
One of the most disgusting aspects of the backlash is the sharing of various "crotch shots" of Shakira and Lopez during their performance, supposed proof of how inappropriate they were.
Those in support of the singers have taken to the internet in response, sharing memes showing similar still images of cheerleaders, gymnasts, and ballerinas to point out the hypocrisy in shaming the singers.
There are also plenty of memes showing a shirtless Adam Levine from last years halftime show next to Shakira and Lopez, wondering where the backlash was for him.
To be sure, there was some backlash about Levine at the time, with over 50 FCC complaints filed over his exposed nipples, however, the complaints were mostly satirical. Their aim was to point out the hypocrisy of how poorly Janet Jackson was treated after her wardrobe malfunction during her performance, later known as "Nipplegate."
Let's face it, the reality is Super Bowl performances, and pop performances in general, have been and will continue to be sexy. So the question that the latest uproar has brought firmly into the collective consciousness is this: Who gets a pass, and who gets blasted, and why?