Jennifer Lopez Says Her 'Hardest Work' Involves Co-Parenting With Marc Anthony
Jennifer Lopez and Marc Anthony focus on co-parenting their children. Here's what J.Lo says about her "hardest work."
Jennifer Lopez works hard to maintain her superstar status and make sure she stays at the top of her game. However, she also works hard to make sure things go smoothly with her co-parenting relationship with ex-husband Marc Anthony. Here's what Lopez shared about their relationship.
Jennifer Lopez and Marc Anthony on co-parenting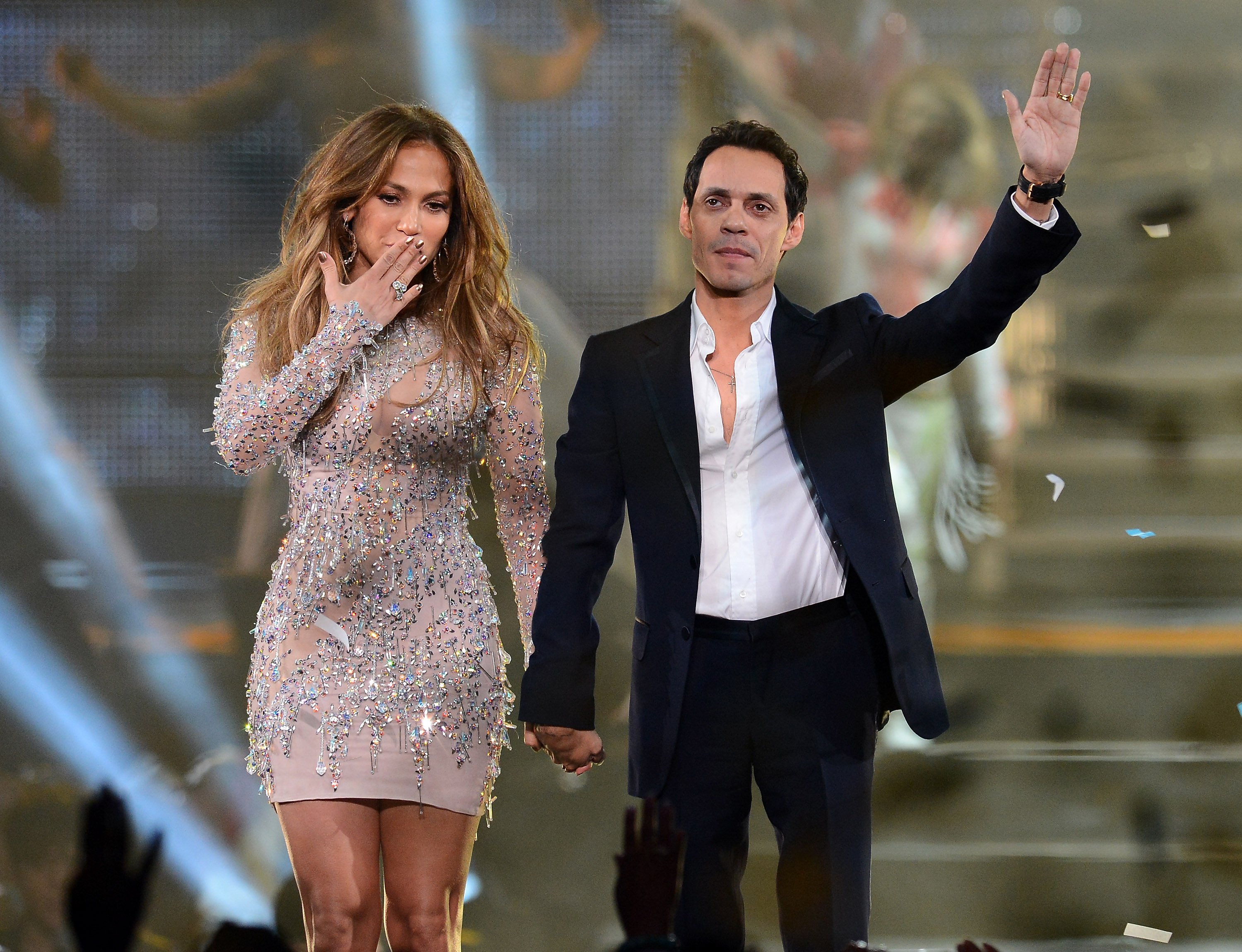 Lopez and Anthony were married in 2004 and divorced in 2014. Although the former couple faced relationship challenges, they mastered the art of co-parenting. Back in 2019, Anthony posted on Instagram, sharing a picture of him, Lopez, and their daughter, Emme, holding hands.
"Nothing but love between us," posted Anthony. He made sure to tag his famous wife in the post. Anthony and Lopez stayed friends after their split. During a 2017 interview with Kelly Ripa on Live With Kelly and Ryan, Lopez says she and Anthony are like "best friends."
Lopez says they got along so well that Anthony was in the process of helping her make her Spanish album. She was worried that she and Anthony would start fighting again if they worked together, but she says everything went well. "Honestly, I think it has even helped our relationship," she tells Ripa. "It's even better; we're just in a really great place. And the kids get to spend time with the two of us more together and see us working together. It's good for them; it's good for us. It's just good for the whole family."
Jennifer Lopez says her 'hardest work' is co-parenting with Marc Anthony
Emme and Max Muñiz, Lopez and Anthony's twins, were born in 2008. After the couple divorced, Lopez   says her focus was on co-parenting the children. Lopez says it's the "hardest work" she does. It was tough at first for her to reach a place of forgiveness after divorcing her second husband. However, she learned to work through things.
"When my marriage ended, it was not easy to find forgiveness," Lopez tells W magazine in 2016. "It wasn't the dream that I had hoped for, and it would have been easier to fan the flames of resentment, disappointment, and anger. But Marc is the father of my children, and that's never going away. So, I have to work to make things right. And that is, by far, the hardest work I do."
Would Jennifer Lopez and Marc Anthony ever reunite?
During her interview with Ripa, Lopez was asked if she would ever reunite with Anthony. The singer emphatically said "No." Lopez says she wouldn't remarry Anthony because they're fine the way things are.
"We're really good the way we are," says Lopez. "We're always going to be great friends. I'm always going to be there for him; he's always going to be there for me. We share something very special in the kids and we know that. We're there for them and that's the main thing."
Right now, Lopez is dating actor Ben Affleck. They reunited after ending their relationship in 2004. Would Lopez get married again? She tells the Today show she isn't sure, but she still believes in love.
RELATED: Jennifer Lopez Received a Precious Gift from Ben Affleck
Follow Sheiresa Ngo on Twitter.