Jennifer Lopez Lost Her Stake in the Miami Dolphins After a Divorce
Celebrity ownership of a sports franchise is nothing new in this day and age. Sometimes, these celebrities put down a minimal amount of money for a ceremonial role with a franchise. This was the case with Jay-Z.
Other times, it is merely an investment where the celebrity's role is barely noticeable. Jennifer Lopez once had this role with the Miami Dolphins that she had to part with after a divorce from her musician husband Marc Anthony.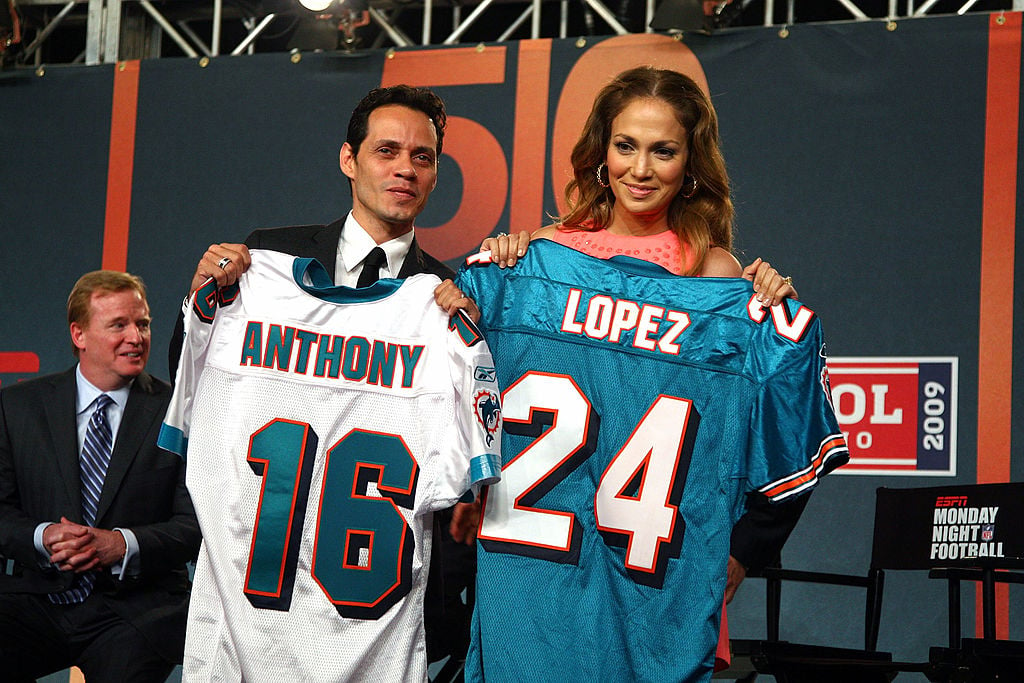 Jennifer Lopez and Marc Anthony 
According to MTV, Lopez and Anthony met at a 1998 Broadway show that Anthony starred in. From there, a friendship sparked up that lasted many years before it became romantic.
After a slew of public relationships with Diddy, Chris Judd, and Ben Affleck, however, things got romantic between the pair, and a relationship was born. 
Lopez was looking for a long-term relationship, and Anthony was fresh off a divorce from his first wife. The pair sparked it up and got married in 2004 just a week after Anthony's divorce was final in 2004. The couple did not go public, however, for several months. After a performance at the 47th Grammy Awards in 2005, however, everything changed. 
The pair were spotted everywhere together. They performed duets and appeared on red carpets around the world. Lopez was not only a wife to Anthony but a mother to his daughters. The seemingly inseparable pair starred in the 2007 movie El Cantante. In 2008, they welcomed twins Emma and Max to the world. 
In 2010, Lopez became a judge on American Idol, where Anthony often joined her as a mentor to the singers. The pair launched a fashion line that same year. After Lopez showed up at the BAFTA Awards alone, however, speculation flew around that the couple broke up. They later announced their separation and ensuing divorce. 
During that divorce, one particular asset that they shared may have gone unnoticed. 
A family investment
According to silive.com In 2009, Marc Anthony and Jennifer Lopez were introduced as minority owners of the Miami Dolphins in 2009 at a ceremony alongside fellow pop star Gloria Estefan. There, Anthony spoke about how excited he was to have such an opportunity. Although he was part of a high-profile relationship with a pop superstar, he let it be known that the couples' investment was not for mere publicity. 
"I'm not doing this as a singer; I'm not doing this as an actor," Anthony told the crowd. "(It's) just because I love football. Steve and I, our visions are in sync, and this is a great, once-in-a-lifetime opportunity to be a part of Steve's vision."
Although the pair are both New York natives, the itch to buy a team was too much, and the local teams were not selling. Anthony joked that the hardest part would be getting the blessing of Lopez's father, a Jets fan. Anthony also joked that by buying into the team, Lopez owned the majority share of his share. 
After the pair divorced, the shares remained in Anthony's name. This may not have been the end of Lopez's career as a team-owner, however. 
Jennifer Lopez at bat?
Lopez may have moved on from her relationship with Anthony, but it doesn't mean that she's done with sports. Now in a relationship with baseball superstar Alex Rodriguez, the new couple has plans to get into the sporting world.
Initially, these plans involved the New York Mets, but after Rodriguez failed to get a group together to buy the team, it could go elsewhere, according to Forbes. 
Whether Lopez was along for the ride or a substantial part of the discussions, her connection to sports ownership goes understated. If she and Rodriguez find a team to purchase, it will be fascinating to see what kind of role she takes within the team.