Jennifer Lopez's Rock & Roll Hall of Fame Outfit Featured a Sequined Bra and Thong Inspired by Carrie Bradshaw — and Fans Are Obsessed
Jennifer Lopez's Rock & Roll Hall of Fame induction ceremony performance outfit was inspired by Carrie Bradshaw.
When she's not optimizing her skin-care routine or managing her thriving fragrance empire, Jennifer Lopez still finds her way into the spotlight. Lately, the tabloids have been covering her rekindled relationship with Ben Affleck. But J. Lo isn't simply a tabloid story or a makeup endorser. For the past three decades, she has sung, danced, and acted her way to an impressive $400 million net worth. Even in her early 50s, Lopez is still turning heads on the red carpet. A recent outfit choice by Jennifer Lopez for a Rock & Roll Hall of Fame induction ceremony performance has sent fans into a frenzy. And many have pointed out her resemblance to Carrie Bradshaw from Sex and the City.
Lopez performed at the Rock & Roll Hall of Fame induction ceremony for LL Cool J
In late October 2021, Lopez performed alongside multi-talented star LL Cool J as he was inducted at the 36th annual Rock & Roll Hall of Fame awards. (Lopez isn't eligible until 2025 based on her first musical release). After the past year and a half, fans were clamoring to see something exciting as celebrities finally started to bring back their full fashion looks.
And J. Lo didn't disappoint.
Lopez showed up (and performed) in an outfit that reminded fans of HBO's hottest show at the turn of the century.
Jennifer Lopez wore an outfit inspired by Carrie Bradshaw for the Rock & Roll Hall of Fame induction performance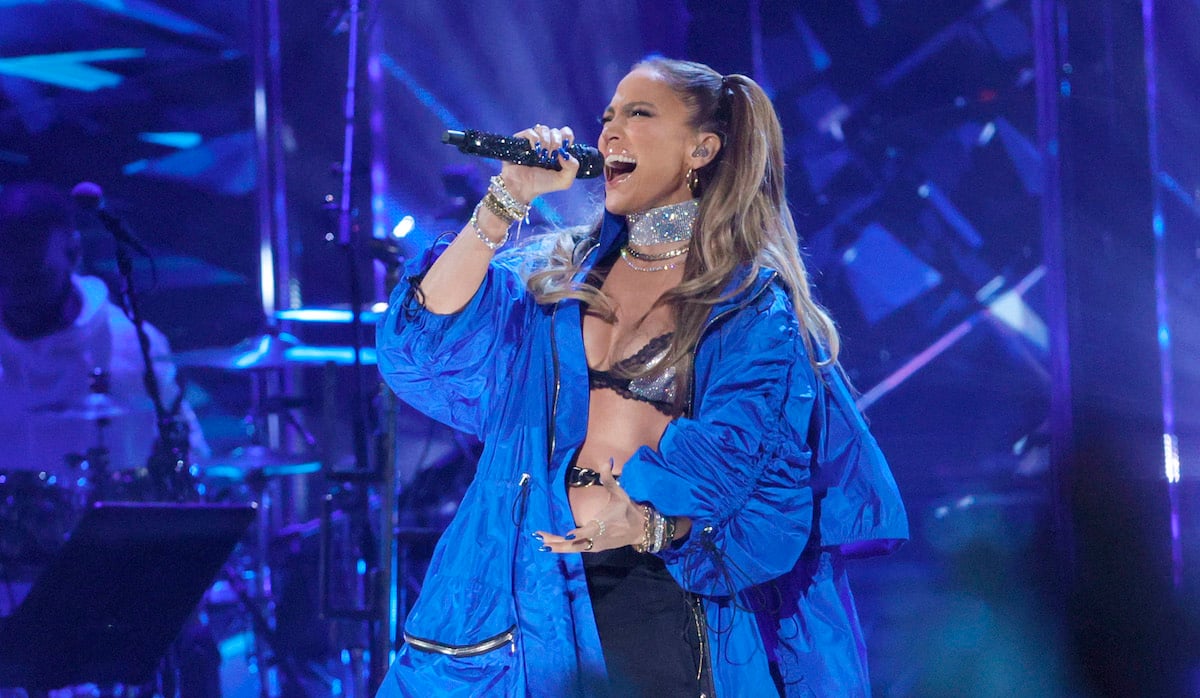 Yahoo! recently published a recap of Jennifer Lopez's Rock & Roll Hall of Fame outfit, and it's clear that she was watching Carrie Bradshaw in 1999 just like everybody else. She wore a sequined bra top with a blue coat along with a belt and a visible thong rising to the top of her hips. With low-cut athletic pants (she's a dancer, after all), plenty of the thong was visible and fans could tell it was a throwback to Sex and the City.
The hit HBO series took brave steps when it came to experimenting with fashion, and nearly every time they hit it out of the park. But the one costume that Sex and the City's stylist hated when she saw it on screen was very similar to the one J. Lo was wearing at the Rock & Roll Hall of Fame induction ceremony.
"She was wearing a skirt and a crop top," stylist Patricia Field said of Bradshaw's outfit, "and I threw a belt around her naked waist. Even when I did it I was hesitant, but I think Sarah Jessica liked it, so I went ahead and kept it on. But when I saw it later I thought it was just obnoxious. I should have slung the belt a little lower."
Sex and the City ran for 94 episodes (and two movies), and J. Lo could have picked any of the show's outfits to imitate. To Field's chagrin, it was the bizarre naked-belt look. But fashion doesn't always make sense, and what looked awkward and "obnoxious" on Sarah Jessica Parker 20 years ago looks great on Lopez today.
Fans loved J. Lo's look
Lopez served up the look on Twitter the night of the event and comments came flooding in. While Twitter accounts will seemingly disagree with anything, the vast majority of the fans loved the look. "Gorgeous," "stunning," "beautiful" — if it's a compliment, J. Lo probably got it with this outfit.
Plenty of fans also pointed out the resemblance to some of Aaliyah's music video wardrobes. Whether the look was a direct reference to Carrie Bradshaw or Aaliyah (or both), it's clear that it worked.
The time of celebrities using Zoom to connect to award shows is thankfully ending, and the competition to dominate the red carpet is returning. Though the Rock & Roll Hall of Fame induction isn't a fashion event on par with the Academy Awards or the Met Gala, celebs that want to go the extra mile can use it to flex a little — and Jennifer Lopez's outfit flexed a lot.