Jennifer Lopez Once Threatened Ricky Gervais Over Golden Globes Joke
Ricky Gervais is often unfiltered when it comes to celebrity roasts. His scathing takes on the world of Hollywood make the Golden Globes a must-see for some, despite it being at the expense of some of the fans' most beloved entertainers. Some celebrities take Gervais' jokes in good sport. For others, Gervais' commentary might hit too close to home. Jennifer Lopez fell into the latter.
Confronting the comedian, Lopez let Gervais know there would be serious consequences if he made her the butt of one of his jokes. A tactic that Lopez claims might have worked.
Ricky Gervais doesn't really hold a grudge against celebrities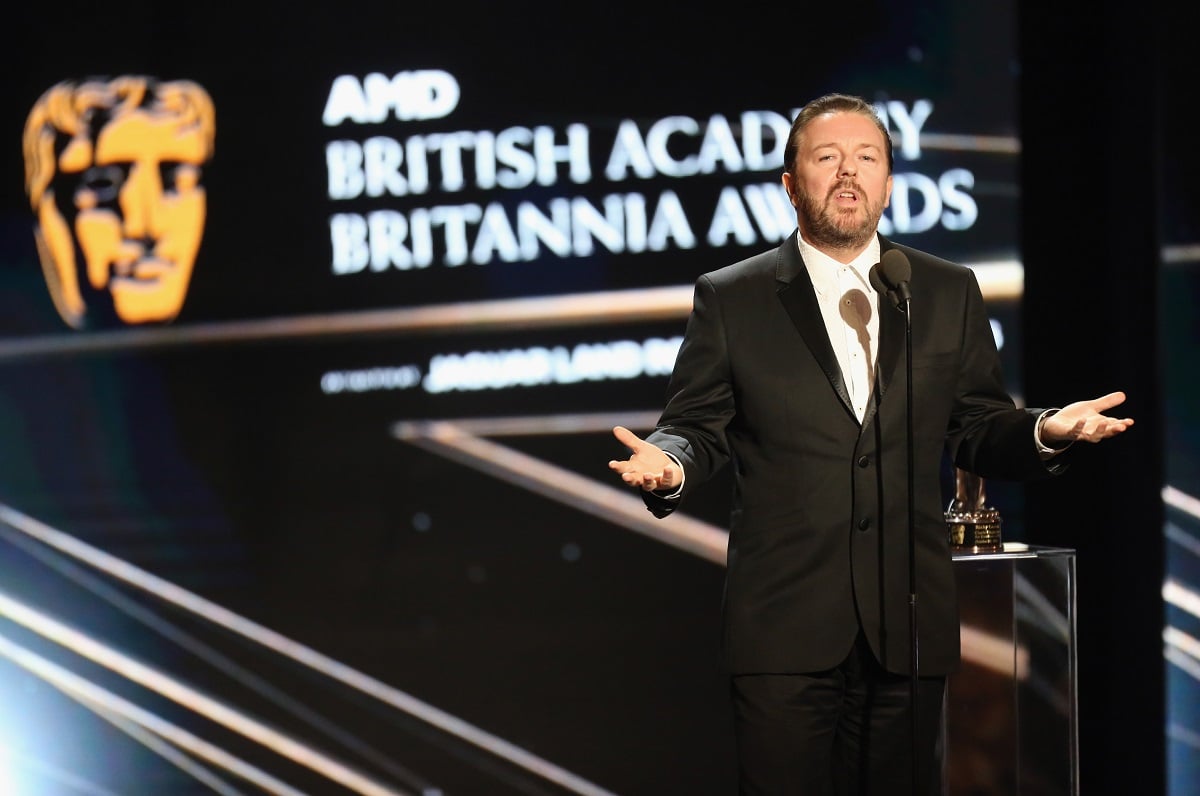 Although the Golden Globes is a special event, to some it might feel a bit more special whenever Ricky Gervais is involved. His blunt, crass, and relentless humor never ceases to catch our favorite celebrities off guard. Much of his subject matter often involves criticism of celebrities and celebrity culture. But despite how personally some of Gervais' jokes may hit, the comedian insists there's no malice behind his words.
In an interview with Independent, Gervais confides that his jokes are all in the name of good fun.
"I've got nothing against anyone being a celebrity or being famous," Gervais said.
However, he has been critical of some aspects of celebrity. For instance, he referenced how certain stars handle the pandemic to convey how out of touch he feels celebrities can be.
"I think people are just tired of being lectured to," Gervais once said. "Now celebrities think: 'The general public needs to see my face. They can't get to the Cinema – I need to do something.'"
Gervais may have taken shots at many of his contemporaries at the Golden Globes, but the original Office star doesn't believe he has a target on his back because of it.
"I think that's the mistake people make: they think that every joke is a window to the comedian's soul – because I wrote it and performed it under my own name, that that's really me," Gervais said. "And that's just not true. I'll flip a joke halfway through and change my stance to make the joke better."
Jennifer Lopez, however, didn't take too kindly to the comedian's particular brand of humor. In fact, she took certain measures to make sure Gervais didn't bring her up on stage at all.
Jennifer Lopez once threatened Ricky Gervais over Golden Globes joke
Jennifer Lopez didn't want to be mentioned or referenced in one of Gervais' comedic rants, and she let Gervais know it. According to The Hollywood Reporter, Lopez was fully aware of Gervais' reputation. Since Gervais hosted the Golden Globes while she was in attendance, Lopez anticipated the comedian would go after her.
So the Hustlers star took the comedian to the side and threatened him to make sure that wouldn't happen.

"He's very gutsy, it takes a lot of guts to get up there and make the comments he made and go for that type of comedy," Lopez said. "I'm sure in his mind it was all in good fun. But in the room, being in the room it was like, eek."
Lopez saw Gervais while she was getting ready backstage, then proceeded to tell him off.
"Then, when I go backstage to present, I'm backstage with Alec [Baldwin], we're about to walk out, and Ricky shows up. I say, 'Listen! I will kill you, you understand, I am from New York, my husband fights, we both fight, we will beat you up after the show…with a couple of bleep bleeps in there."
It's unclear if the tactic worked or not. The Hollywood Reporter notes that Gervais did make a crack at Lopez, but it was so tame that Lopez didn't mind the jab. Whatever the case, she was sure Gervais took her threat seriously.
"I scared him," she said.
Mel Gibson admitted Ricky Gervais got under his skin
Lopez wasn't the only actor who wanted to kill the Golden Globes host. Gibson revealed at one point he couldn't wait to get his hands on Gervais. At the 2016 Golden Globes, Gervais made a crack at the Braveheart actor. Although at the time Gibson acted civilly to Gervais, according to the Daily Mail, Gibson was actually furious with the comedian.
"I remember after the last experience with Ricky, I wanted to strangle him," Gibson revealed.
The Oscar-winner revealed he much prefers Fallon hosting the Golden Globes, noting that Fallon was a pretty harmless host when compared to the sharp-tongued Gervais.