Jennifer Lopez's Golden Globes Gown Is Getting Compared to a Christmas Gift on Twitter
People on Twitter have some strong feelings about Jennifer Lopez's gown she wore to the Golden Globe Awards ceremony on Jan. 5, 2020. 
The actress, dancer, and singer — is there anything she can't do? — who attended the event as a nominee in the Best Supporting Actress category for her role as Ramona in Hustlers, walked the red carpet with her fiancé, Alex "A-Rod" Rodriguez. Ultimately, she lost out to Laura Dern for Marriage Story but what audiences remembered from the evening was J. Lo's gown.
She wore a custom Valentino gown embellished with a gold and emerald green bow and finished the look with jewelry by Harry Winston, according to WWD. While Lopez had her signature J. Lo glow, Twitter users couldn't stop comparing her gown to a Christmas present.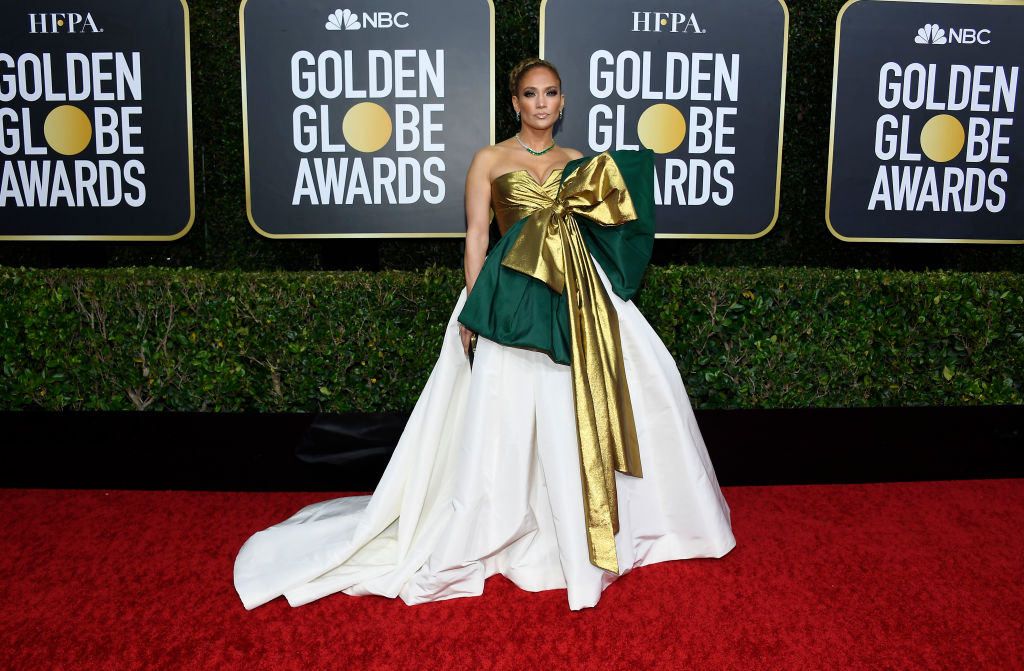 Fans think J. Lo missed the mark at the Golden Globes
Lopez has walked many red carpets and usually shuts them down, but not even she can win every single one. The Golden Globes happened to be one where she missed the mark, according to Twitter.  
Twitter users compared Lopez's Valentino gown to a Christmas gift. 
"Who wore it better, J.Lo [sic] or my Christmas present?!" Fashion Foie Gras tweeted.
"#Jlo looking like a forgotten Christmas gift under the tree," another person wrote. 
Others, who were the first to say they usually love Lopez's red carpet looks, just couldn't get on board with this one. 
"I absolutely ADORE #Jlo and she's always on point her style is flawless… [sic] Well usually flawless cause this to me is a massive crime against fashion," one Twitter user wrote before adding, "The whole look her hair, wrinkled Christmas dress just doesn't work."
Another felt the gown looked like it had been the result of a craftstore mishap. 
"Jennifer Lopez looks like she tripped and fell backwards through a Michael's," TV writer, Chase Mitchell, tweeted.

Another Twitter user felt the gown resembled an outfit seen on Bravo's Project Runway. 
[The] "outfit looks like something Project Runway designers made in an Unconventional Materials or Upcycling challenge using old Christmas gift bows," they wrote. 
Another person attributed the outfit choice to pockets. "[I] don't know why except maybe it has pockets," they tweeted.
Going off of the Christmas gift comparison, some were quick to point out the similarities between J. Lo's gown and a holiday sweater worn by Ryan Reynolds. 
Others said Lopez is a gift, why not dress like one 
While the general consensus among Twitter users seemed to be that J. Lo resembled a Christmas present in a bad way with her Valentino gown, some liked it because Lopez is a present to us all.  
"J. Lo [sic] knows she is a GIFT #GoldenGlobes," one person tweeted while another person wrote, "Wrapped up like a present because she is a gift." Similarly, yet another tweet likened the gown to arriving without gifts to a holiday party: "When you show up at Christmas with no gifts bc you ARE the gift!" 
Check out 10 of J. Lo's best red carpet moments from the last decade while we wait to see what she wears to the next event this awards show season. Plus, read the heartwarming note A-Rod wrote her on Instagram following her Golden Globe loss.