Jeremy Renner's Arms Help Fans Identify Which MCU Movie This Photo Came From
Jeremy Renner is one of the biggest names in the world of entertainment. Renner's defining role is as the super-archer Clint Barton/Hawkeye in the Marvel Cinematic Universe (MCU), which he is a member of Earth's mightiest heroes The Avengers.
While Hawkeye does not have the extra-human powers of his fellow Avengers, he is still considered a fan-favorite character. Part of the reason for the character's popularity comes from the actor who plays him's ripped body. Renner is known for his excellent physique, specifically his muscular arms. Renner's arms are so noticeable and memorable, that some fans are able to differentiate between Avenger films just by looking at them. 
Who is Jeremy Renner?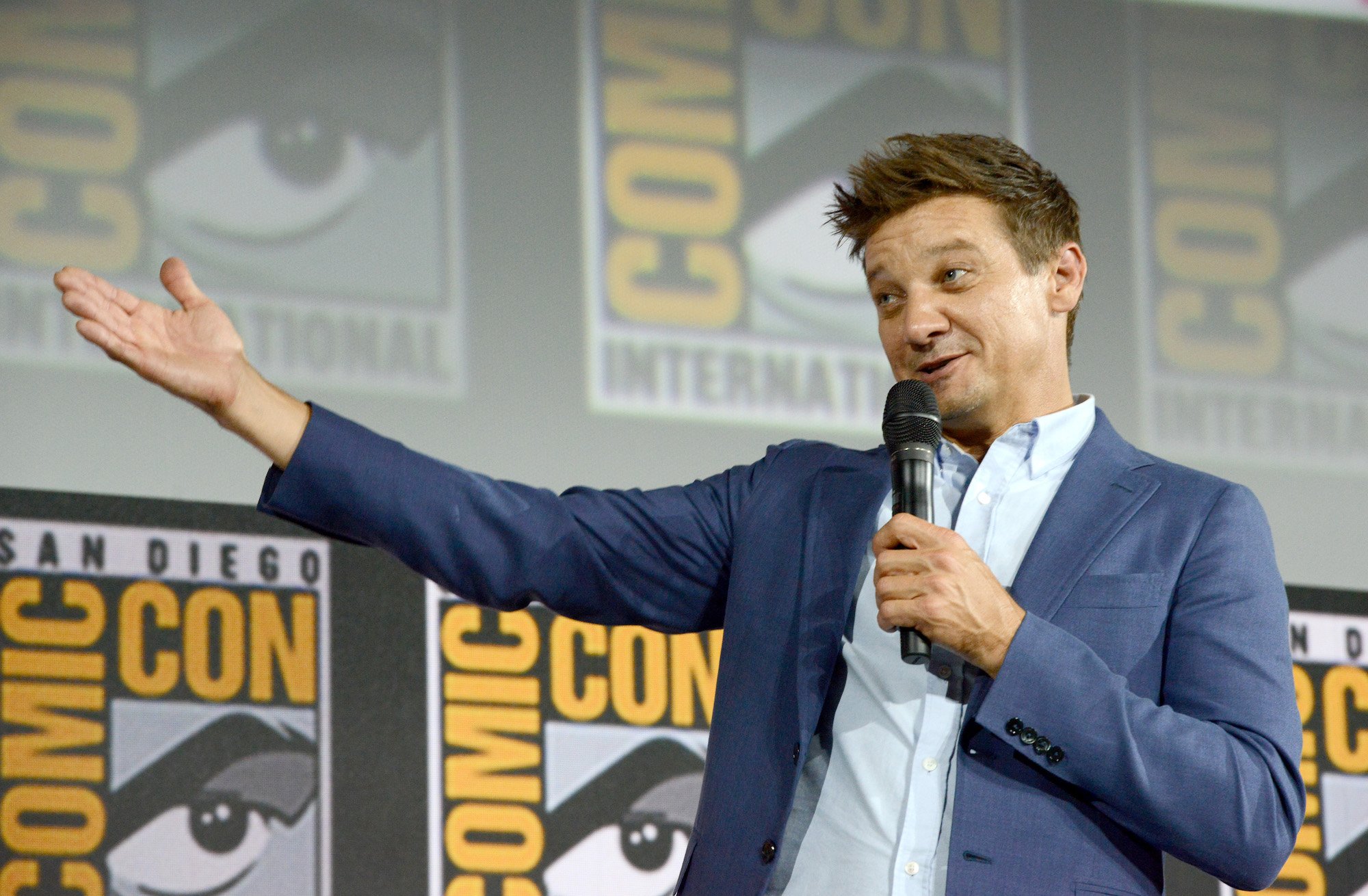 While Renner is mostly known for his role as Hawkeye, he has had a successful career before and following his time in the MCU.
Renner's first roles were in smaller films such as Dahmer, in which Renner played the infamous serial killer Jeffrey Dahmer. The actor then began to receive roles in larger films such as S.W.A.T. and The Assassination of Jesse James by the Coward Robert Ford. Renner has been nominated for two Best Supporting Actor Oscars, one for The Hurt Locker and one for The Town. Other films that Renner has acted in include Mission: Impossible: Ghost Protocol, The Bourne Legacy, American Hustle among many others.
The controversial actor has recently been in the news for his comments concerning women, his alleged substance abuse, and his now-infamous Jeremy Renner app. This controversy has led many fans to wonder about Renner's future in the Marvel Cinematic Universe. 
Who is Renner's character Hawkeye in the Marvel Cinematic Universe?
RELATED: Why Jeremy Renner's Hawkeye Will Be the Next MCU Hero to Die, According to Fans
The first appearance of Clint/Hawkeye in the MCU was in a brief appearance in Thor, as he is dispatched by S.H.I.E.L.D. to protect the hammer Mjolnir from the god of thunder Thor (Chris Hemsworth).
Hawkeye's more prominent role is in The Avengers' series of films, as he is a member of the original team alongside Tony Stark/Iron Man (Robert Downey Jr.), Steve Rogers/Captain America (Chris Evans), Bruce Banner/Hulk (Mark Ruffalo), Thor, and his best friend Black Widow/Natasha Romanoff (Scarlett Johansson). Natasha and Clint's relationship is pushed to the extreme in Avengers: Endgame, as the two struggle to decide which will sacrifice themselves to retrieve the Soul Stone. Clint is also one of the few Marvel characters with a happy family life, as he has a wife and several children.
While rumors of the actor's possible exit from the MCU have begun to pick up steam, he is set to star in the upcoming Disney Plus original series Hawkeye. The series is set to focus on the passing of the torch from Renner's version of the character to Kate Bishop's Hawkeye, who will be played by Hailee Steinfeld.
Fan's obsession with Renner's large arms
Fans of Renner have a particular fixation on the actor's arms, specifically his massive biceps in the first Avengers film. Some fans are so well-versed in Renner's beefy biceps that they can tell which Avengers film a picture is from just by looking at his arms.
On a Marvel Studios Reddit thread, fans of the series and of Renner discussed a throwback picture featuring the original Avengers team as well as their original foe Loki (Tom Hiddleston).
While it may appear to most that the picture was from 2012's The Avengers, Internet super-sleuths figure out that the picture is actually from the more recent Avengers: Endgame.
These fans were able to tell because of the way Renner's arms looked, which could be considered a superpower in real life. Marvel fans will have the chance to see Renner's arms and the rest of his body at least one more time in the upcoming Hawkeye show, which is set to premiere on Disney+ sometime in 2021.