'Counting On': Jinger Duggar's husband Jeremy Vuolo Just Officiated a Celebrity Wedding
Jeremy Vuolo is a pastor who is married to Jinger Duggar, one of Michelle and Jim Bob Duggar's daughters. Vuolo and Duggar recently moved to Los Angeles, California from Laredo, Texas, and they have made many friends along the way. But one country singer is now thanking Vuolo for officiating her wedding.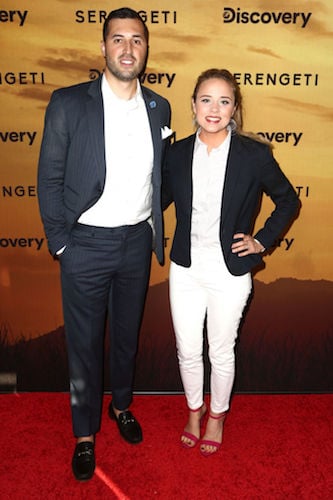 Duggar and Vuolo have been spending more time with friends than ever
Ever since Duggar and Vuolo wed, they've formed very strong relationships with friends because both of their families live far away. Vuolo grew up in Pennsylvania, and Duggar is from Arkansas. Once the two landed in Texas, they made a close group of friends in their neighborhood, and now that they're in California, they have only met more new people. It seems to have been good for them, though, since they now have a group of friends to spend time with rather than only having each other. Plus, it's allowed Duggar to branch out and meet people beyond those she was surrounded by growing up.
They've recently become close with country star Gabby Barrett
Gabby Barrett was a contestant on season 16 of American Idol. She ended up placing third on the show, behind Caleb Hutchinson and Maddie Poppe, though she has arguably had the most successful career out of the three of them. Since appearing on the show, Barrett has become a well-known country singer, with songs such as "I Hope" and "The Good Ones." She is a Sirius XM Highway Find, and her music is often played on country radio stations. Duggar has posted photos enjoying nights out with Barrett in the past, and the couple recently attended Barrett's wedding for a very important reason.
Vuolo just officiated Barrett's wedding to Cade Foehner
In early October, Barrett married her fiancé, Cade Foehner, who she met while on American Idol. Foehner didn't make it as far on the show as Barrett did, and the two mostly kept their relationship under wraps while the show was on. However, in hindsight, it's clear there was a spark between the two from the show's beginning. Since Duggar and Vuolo have become good friends with Barrett and Foehner, they attended the couple's gorgeous Texas wedding. And surprisingly, Vuolo was asked to officiate their wedding. It was likely a huge honor for Vuolo, since Barrett has made quite a name for herself in the country music industry recently.
Duggar and Vuolo have led a much more modern life than Duggar's family members
Duggar and Vuolo posted a photo with their daughter at the couple's wedding, and the image made the two look like an extremely modern couple. Since marrying, they've created a more modern life than any of Duggar's siblings, and they've branched out to meet many new friends and try new things. Duggar now wears pants and tank tops, and she and Vuolo are always out exploring their new neighborhood and checking out fun events that aren't necessarily religion-focused. They also seem to be raising their daughter differently than Duggar was raised, so they are clearly branching out from Duggar's extremely sheltered childhood.