Jerry Seinfeld Handles Hecklers in an Unusual Way — and It Works
Jerry Seinfeld began his career doing stand up comedy and he still does it to this day. Here's how Seinfeld deals with hecklers at his shows.
Standup comics have to be tough enough to withstand audience reactions and criticism. Before Jerry Seinfeld had a hit TV show, he did stand-up comedy for years. Here's his method for dealing with the disrupters.
'Seinfeld' star got his start in stand-up over 40 years ago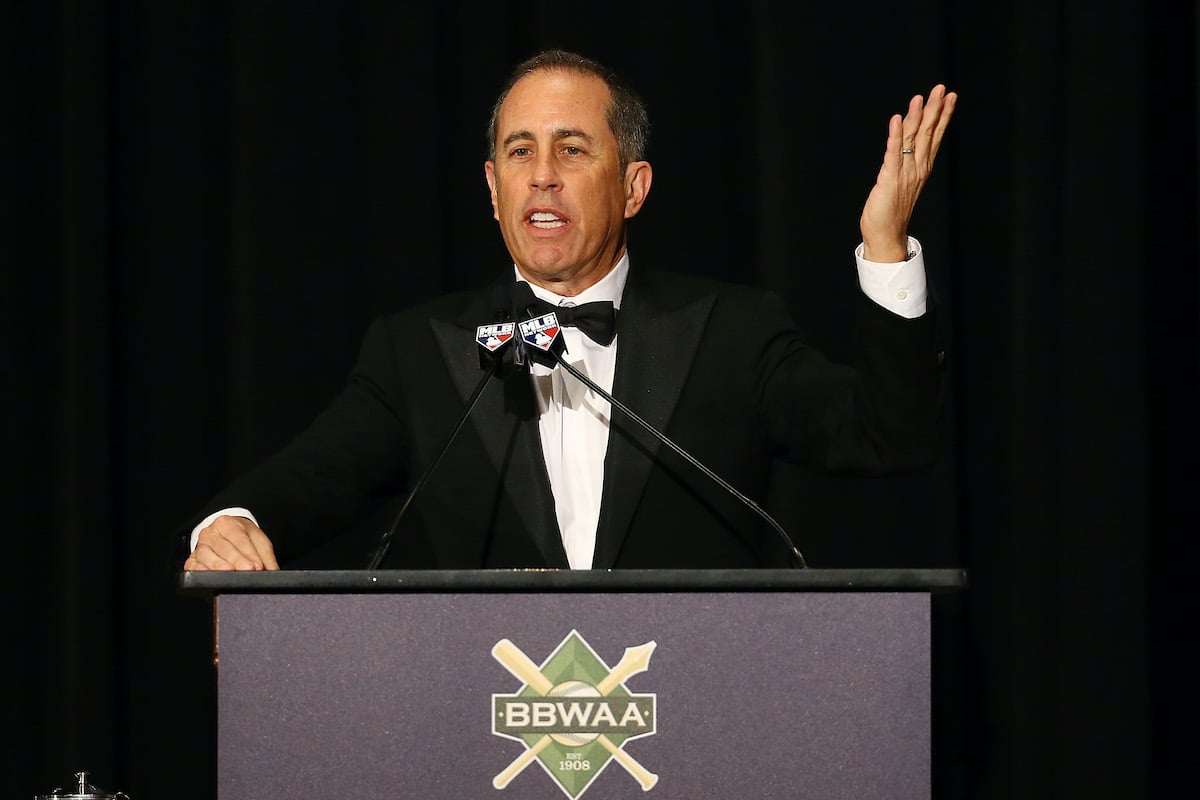 In 1976, a wide-eyed Seinfeld began working his way up the comedy show ranks. The comedian, who's known for making humorous commentary about every day and mundane things, got his big break on The Tonight Show in 1981.
Throughout the 1980s, Seinfeld continued working gigs and making a name for himself. By the time friend and fellow comedian Larry David was ready to put a sitcom together, Seinfeld was ready.
The show ran for nine seasons and finished its series finale as the highest-rated show in the U.S. at that time. Seinfeld remains among the top 10 shows in TV history with phrases used to this day.
Following Seinfeld fame, the star continued working in projects like David's Curb Your Enthusiasm, he voiced animated features like Bee Movie and maintained a sporadic touring comedy circuit.
His latest, 23 Hours to Kill, released in May. Seinfeld also fronted Comedians in Cars Getting Coffee, which concluded — at least for now — after 84 episodes.
"We really have to take our cue from the audience and what they feel comfortable with," Seinfeld said via Variety in May.
"I don't think if you're going into a theater and it's only one-quarter full and everybody's got 10 feet, between them, I don't know if that's worth doing. For me, I'm gonna wait till everyone does feel comfortable gathering. I'm happy to wait, I don't want to compromise the experience."
Here's how Seinfeld deals with heckles at his shows
Some comics ignore hecklers, while others get angry and order them out. Seinfeld has a different approach. During a Reddit Q&A, the star fielded many fan questions, including how he deals with this type of situation.
"Very early on in my career, I hit upon this idea of being the Heckle Therapist. So that when people would say something nasty, I would immediately become very sympathetic to them and try to help them with their problem and try to work out what was upsetting them, and try to be very understanding with their anger," he wrote.
"It opened up this whole fun avenue for me as a comedian, and no one had ever seen that before. Some of my comedian friends used to call me — what did they say? — that I would counsel the heckler instead of fighting them."
He continued: "Instead of fighting them, I would say 'You seem so upset, and I know that's not what you wanted to have happen tonight. Let's talk about your problem' and the audience would find it funny and it would really discombobulate the heckler too because I wouldn't go against them, I would take their side."
Seinfeld still finds comfort in doing standup
When another Redditor asked Seinfeld for a behind-the-scenes moment, he didn't fail to deliver.
"I do kind of like in the documentary I did in 2002, called Comedian. There's one point where I'm performing at Governor's in Levittown at the absolute height of Seinfeldmania," he said.
"And the club owner comes in the dressing room and says to me 'I need you offstage by 9:15.' And I said 'what?' And I was performing there to create a new act. It was kind of a big deal that I would come to that small club, and the owner of the club just treated me absolutely the same as everybody else, and I just thought that was so funny."
Seinfeld said that's exactly why he wanted to return to standup in his post-Seinfeld life.
"As the star of your own TV show you don't get treated like that but as a standup performer, you do get treated like that. It was hilarious and absurd. But standup is a life of just brutal reality which is the opposite of the life I had been leading in LA and that I missed."
He continued, explaining how he coped with the end of Seinfeld.
"It's kind of the same answer. Going back into doing standup was very grounding because there's no faking standup. There's no coddling in standup. There's no preciousness in standup," he said.