Jerry Stiller's Son, Ben Stiller, Was Never a Fan of TV Sitcoms or Live Comedy
Jerry Stiller was an actor, comedian, and author, most well-known for his role as Frank Costanza on Seinfeld, and Arthur Spooner on King of Queens. His son, Ben Stiller, announced his father's death due to natural causes on May 11, 2020, via Twitter.
Growing up as the son of two comedians, it comes as a shock that Ben Stiller could not see himself ever performing in a TV sitcom or a live comedy performance.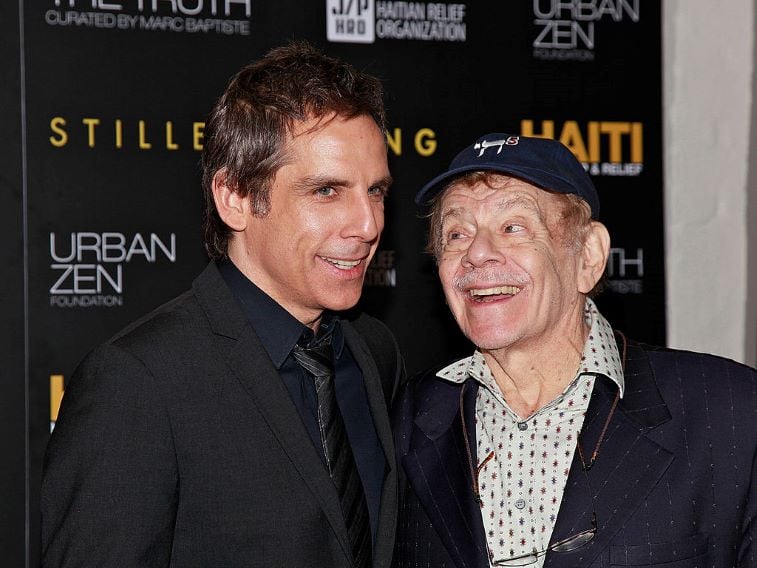 Ben Stiller had a unique upbringing with Jerry Stiller and Anne Meara as parents
The actor grew up with his sister, Amy, and two famous comedian parents — Jerry Stiller and Anne Meara — on the Upper West Side of Manhattan. However, they didn't spend a lot of time at home. Ben Stiller describes his childhood as unusual.
"In some ways, it was a show-business upbringing—a lot of traveling, a lot of late nights—not what you'd call traditional," Stiller told Parade.
The brother and sister pair watched their parents live on The Ed Sullivan Show more times than they can count. They relaxed at the Chateau Marmont pool with Tony Randall and remembered hugs from Rodney Dangerfield.
He was often on set during his parents' appearances, including The Mike Douglas Show when he was six-years-old.
Ben Stiller shuddered at the thought of performing live like his father, Jerry Stiller
"I'd see them go out there, live, on TV, and it was like every performance was an audition, Ben Stiller recalls. "I've done a few live performances myself, on awards shows and all, but that was pressure. That was a hard gig."
Ben Stiller prefers the scripts and opportunities for various outtakes in movies, over live performances. Throughout his career, the 54-year-old actor has starred in, directed, or produced over 50 films.
Some of the most well-known movies include Zoolander, The Cable Guy, There's Something About Mary, the Meet the Parents trilogy, Dodgeball, Tropic Thunder, the Madagascar series, and the Night at the Museum trilogy.
For Jerry Stiller's son — Ben — TV sitcoms are too 'predictable'
Although Jerry Stiller became famous early on for his live comedy performances, his later life revolved around TV sitcoms. He won the American Comedy Award for Funniest Male Guest Appearance in a TV Series for his portrayal of Frank Costanza in Seinfeld. The comedian played that role from 1993 to 1998.
He was about to retire when Kevin James — who plays Doug Heffernan — insisted he needed Stiller to have a successful sitcom with King of Queens. Stiller agreed and portrayed Arthur from 1998 until 2007.
Ben Stiller, on the other hand, was never a massive fan of TV sitcoms.
"It's not that the people who work on them aren't talented or creative, but there's just something about that world that's so predictable," Ben Stiller told Parade.
Although Jerry and Ben differed on the type of comedy they liked to perform, it's evident that his father influenced Ben's choice of career.