'Jersey Shore' Alums DJ Pauly D and Mike 'The Situation' Sorrentino Did Not Coin the Term 'GTL' — Here's Who Did
'Jersey Shore' roommates DJ Pauly D and Mike 'The Situation' Sorrentino were not the ones who created the term 'GTL.'
MTV's Jersey Shore roommates dominated reality TV from 2009 to 2012 with six straight seasons of fist-pumping. However, Paul "DJ Pauly D" DelVecchio and Mike "The Situation" Sorrentino did not coin the famous line, "GTL."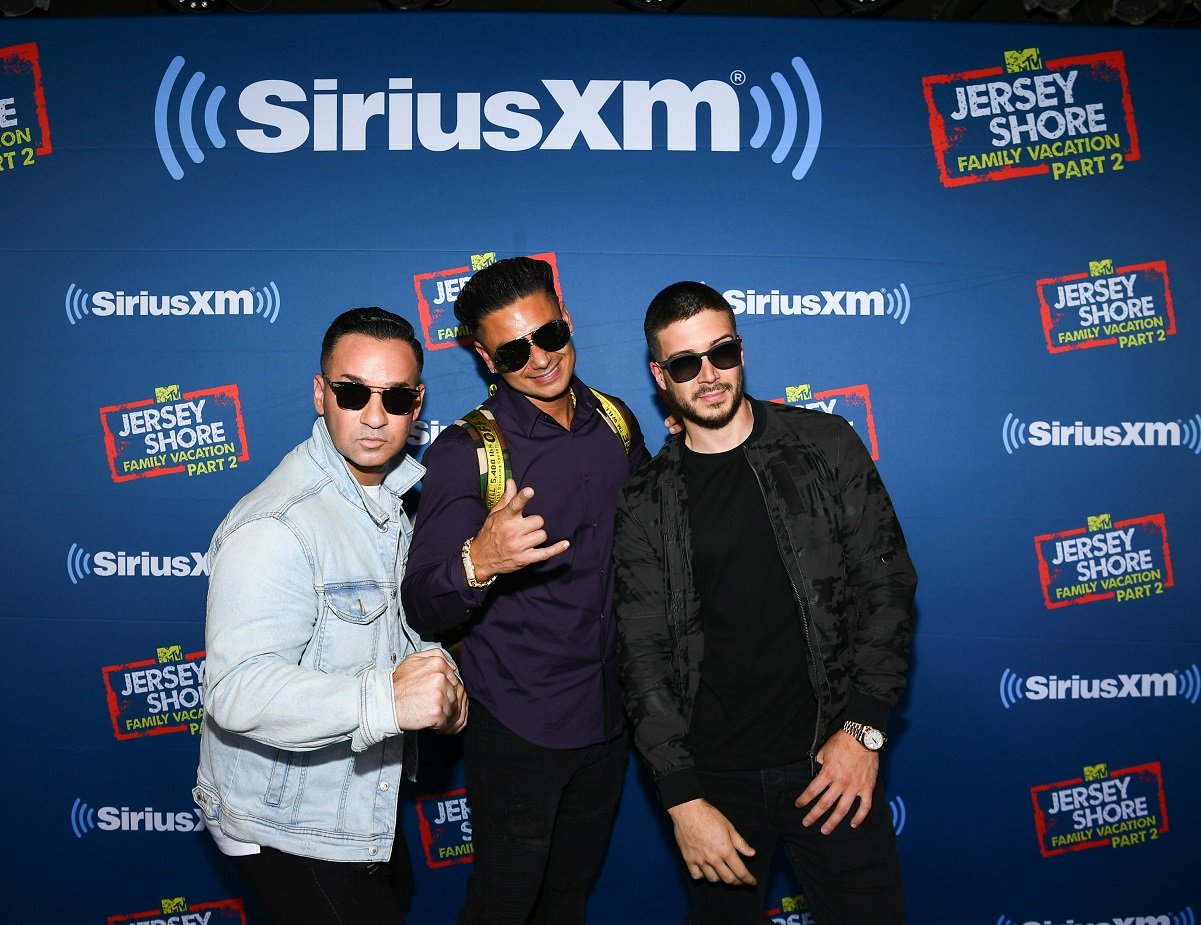 Is 'Jersey Shore' a scripted series?
Many viewers criticize reality TV shows like Jersey Shore as "scripted. However, alums and executive producer SallyAnn Salsano know the truth.
"I think it's the first time you had a cast live their life unapologetically," Salsano told Vulture. "Even when I was doing The Bachelor, a girl would get too drunk at the rose ceremony; then they'd cry about it for the whole next week. These guys would be like, 'Well, that was a disaster. All right, today is a new day.'"
The roommates agreed with Salsano. Although the producers limit the cast's choice of activities to certain places, the Jersey Shore cast was always in charge. They chose to hit up Karma, "beating the beat up."
"We don't have a script," DJ Pauly D explained to Bustle. "Never had a script for 10 years, not even a little bit. Not even a little bit."
Who coined the 'Jersey Shore' term 'GTL'?
Although Mike "The Situation" Sorrentino is given credit for coining the term "GTL," he isn't the one who discovered it. The producers stumbled across the name while watching footage of the roommates daily. 
"At first, I remember panicking in the control room," Salsano explained. "I'm like, 'For f*ck's sake, all I have is four guys getting their goddamned laundry done, going to the gym, and tanning. That's not a TV show.'"
There were 42 cameras in the house and down the boardwalk in Seaside Heights, New Jersey, to capture every moment. So, the roommates never had any privacy.
"We were writing on a dry-erase board — because we always were like, 'Okay, so-and-so went here, so-and-so went here' — and every day we'd write 'gym, tanning, laundry.' Then we got lazy and just started writing 'GTL,'" the producer admitted.
Pauly D noticed the acronym 'GTL' on the producers' whiteboard
"We started summarizing the day's shoots on whiteboards and just started writing GTL for short, and Pauly was in front of the camera like, 'GTL? What's that?''' Salsano continued.
As fans will remember, Pauly D can make any catchphrase blowup. Some of his other iconic lines include "T-shirt time!" and "Cabs are here."
"My number one priority in life is to look good and to be healthy," Pauly D said during his time in Miami with Jersey Shore. "How we do that is of course gym, tanning, laundry. The number one thing is the G — that's the gym."
The four men adopted the term for their "gym, tanning, laundry" routine, and the rest of "GTL" is MTV history.