'Jersey Shore': Angelina Larangeira and the Other Roommates on TikTok
Angelina Larangeira is active on TikTok, but so are many of her 'Jersey Shore: Family Vacation' co-stars — find out who.
Jersey Shore: Family Vacation star Angelina Larangeira is on TikTok. The reality star reminded her Instagram followers about the account, which she first posted to in February 2020. Find out which of the other Jersey Shore cast members are on the video-sharing app.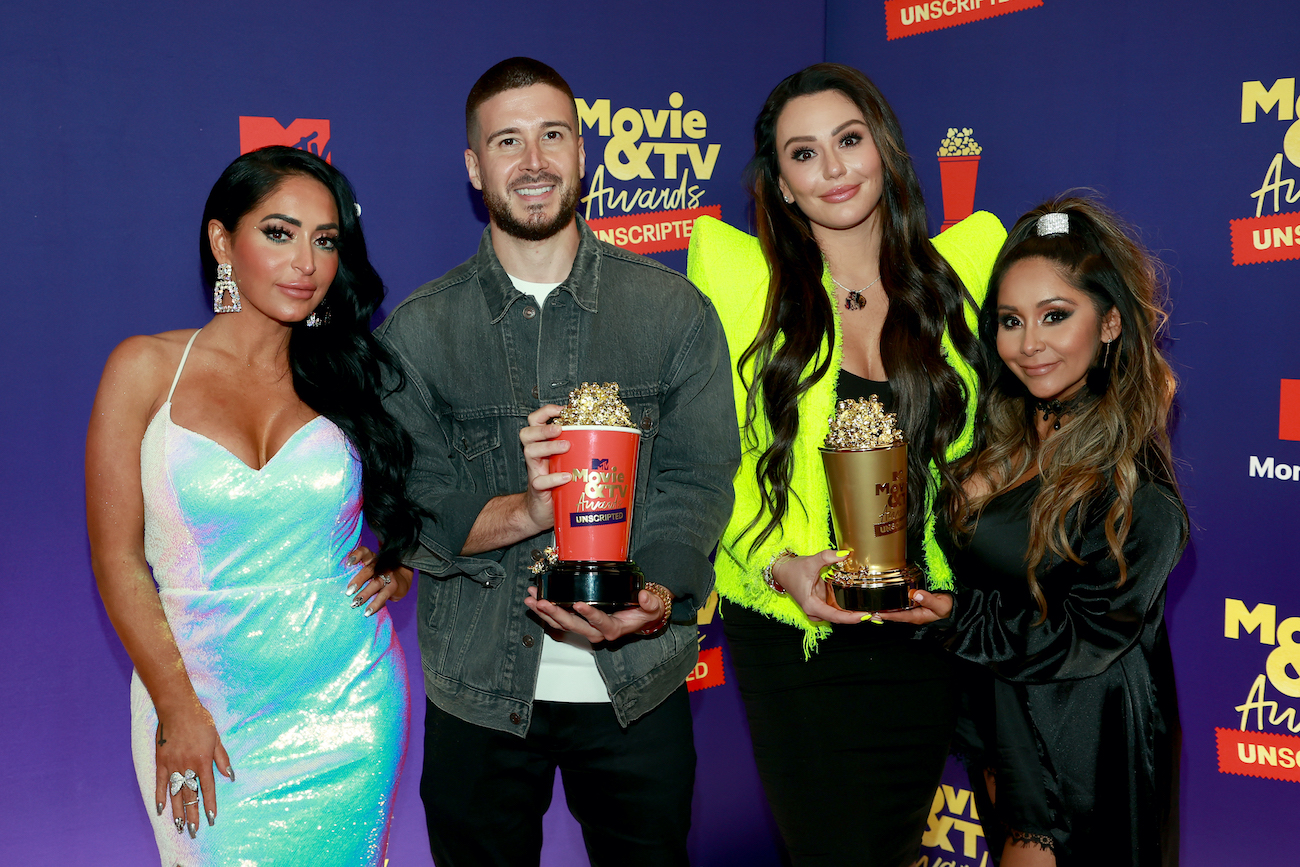 Angelina Larangeira addresses 'haters' in TikTok post 
On Jan. 18, 2022, the reality TV star reminded her Instagram followers that she's on TikTok by posting a screenshot of her account. She also posted a new TikTok video the same day.
"For all the haters lol I will take it," Larangeira wrote in her caption. In the video, Larangeira shows off her look of the day.
"Alexa, play a song that reminds you of me," says the audio, which proceeds to play Cardi B's "WAP." It's unclear who Larangeira is addressing when she says "haters," but she does use Jersey Shore and Jersey Shore Family Vacation hashtags, leading us to believe it's directed at fans. Thanks to the new season of JSFV, many have been speculating about the state of Larangeira's marriage.
Larangeira's relationship with Chris Larangeira has been a hot topic on Jersey Shore: Family Vacation. In season 5, Larangeira visits a divorce lawyer, who inspires Larangeira to set a deadline. If the couple can't work things out, their marriage could end in divorce.
The same day Larangeira shared her TikTok reminder, she hinted at a "new roommate" in her Instagram Stories. "Bestie and new roommate," Larangeria wrote over a photo of her and Double Shot at Love Season 3 contestant Jovanna Del Plato.
It's unclear what she means by the term, but Jersey Shore fans presume it has something to do with her marriage. "I think Ang and Chris are done!" says a fan on Reddit. "Also, Chris removed his bride and groom emojis … in his bio." At this time, there is no hard evidence proving this fan's speculation. 
Angelina Larangeira's 'Jersey Shore' TikToks 
Many of Larangeira's TikTok posts use the Jersey Shore and Jersey Shore: Family Vacation hashtags. Some posts are directly related to the show, like this TikTok video from April 2020 where the reality star spins around New York City and features a promo for JSFV in the background. 
Most of the Jersey Shore roommate's posts have to do with glam. But Larangeira has also posted duet TikToks, like this one with Charli D'Amelio. Now that JSFV is back with new episodes, fans can likely expect more TikTok posts from Larangeira and her co-stars.
'Jersey Shore' stars on TikTok
Larangeira isn't the only Jersey Shore: Family Vacation star on TikTok right now. Mike "The Situation" Sorrentino, DJ Pauly D, Jenni "JWoww" Farley, Nicole "Snooki" Polizzi, Deena Buckner, and Vinny Guadagnino are also posting regularly to the video-sharing app. 
Sammi "Sweetheart" Giancola is also on TikTok. She's not involved with Jersey Shore: Family Vacation, but Giancola occasionally causes some fans to think she'll be back. This is especially true when the former reality star uses an audio clip from the MTV series in her TikToks.
See more from Larangeira and the rest of the Jersey Shore: Family Vacation cast in new episodes airing Jerzdays at 8 PM ET on MTV.