'Jersey Shore': Angelina Pivarnick Has Hooked Up With Every Roommate Except One
The Jersey Shore cast has had its fair share of hookups. Every roommate has made out with another roommate at some point on the show, including Angelina Pivarnick. Fans might be shocked to learn that Pivarnick has kissed every one of her Jersey Shore roommates — except for one. 
Find out which Jersey Shore star Pivarnick hasn't kissed.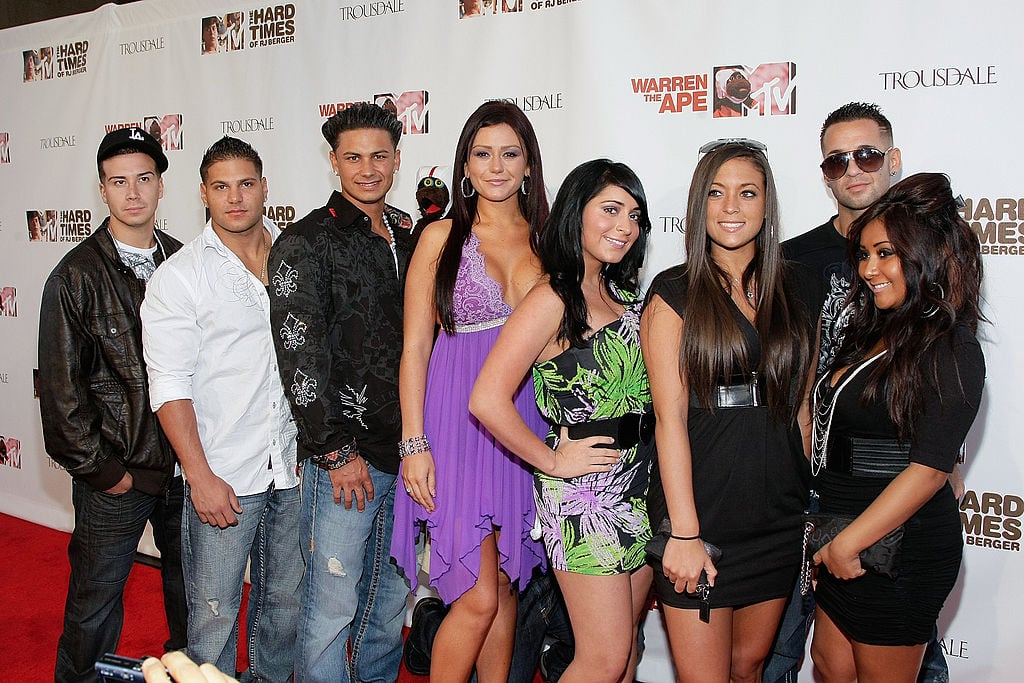 Hookups aren't uncommon on 'Jersey Shore' 
Before the cast became as close as they are today, they were friends living in a shore house. Part of the appeal of spending a summer at the Jersey Shore was the opportunity to meet new people — and subsequentially hook up with them. "If you want to make out with me, just ask," Nicole "Snooki" Polizzi says. "I will say yes."
Despite having cameras on them at all times, not every hookup makes it to the final edit of the show — including many of Pivarnick's.
A match made in 'Jersey Shore' heaven
Fortunately for fans, Pivarnick's hookup with Vinny Guadagnino was documented on Jersey Shore. During a cab ride back from a Miami club, Pivarnick laid across Gudagnino's lap and kissed him. Ronnie Ortiz-Magro, Pauly DelVecchio, and Mike "The Situation" Sorrentino watch in awe as the two Staten Island natives lock lips. 
When they arrive back at the house, Guadagnino brings Pivarnick to his bedroom. DelVecchio interrupts, saying: "Explain to me what's going on here?" At this point in the series, Guadagnino and Pivarnick dislike for each other is evident. "Me and Angelina need some privacy," an intoxicated Gudadnino replies, resulting in one of Jersey Shores most epic hookups to date.
Angelina and Vinny share a special bond 
To this day, Guadagnino's past with Pivarnick remains an inside joke among the roommates. Throughout Jersey Shore: Family Vacation, the two have been picked on for their flirtatious tendencies. Thanks to DelVecchio — the ultimate pot-stirrer — Pivarnick is frequently gives in to Guadagnino's taunting. In a hilarious scene from Family Vacation, the two wrestle together on a bed. After a night of drinking, Guadagnino knows how easy it is to push Pivarnick's buttons. Despite DelVecchio's jokes, the relationship Guadagnino and Pivarnick share is strictly familial at this point! 
Angelina used to hook up with 'The Situation' 
According to a former producer on the show, Pivarnick and Sorrentino used to hook up prior to Jersey Shore becoming a success. "He actually suggested her to casting originally!" the ex-field producer shared on Reddit. "And during a promotional trip — it was either in LA or New York, but I think it was LA — [Angelina] hooked up with Pauly as well." This alleged hookup reportedly occurred around the time of the season 1 reunion. 
Fans are curious why these hookups were never on the show. "I think all of this could have made a great storyline," the former producer said, adding: "But it just never had any legs. What happens in LA, stays in LA apparently." 
Ronnie and Angelina have never hooked up
Despite Ortiz-Magro being Pivarnick's new favorite roommate ("I love this man!"), the two have never had any romantic relationship. Most likely, the two never hooked up because one or both of them were in relationships when Pivarnick returned to the series. Regardless of the reasoning, Ortiz-Magro is the only male roommate Pivarnick hasn't hooked up with.