'Jersey Shore' Cast Banned From Doing This While Filming Season 4 in Florence, Italy
Jersey Shore Season 4 took place in Italy. The cast was excited to visit the motherland, but most of the country didn't want the reality TV stars roaming the streets. Find out what the cast of Jersey Shore was asked not to do by Italian government while filming. Ironically, the country's ban forced producers to limit a major part of the show.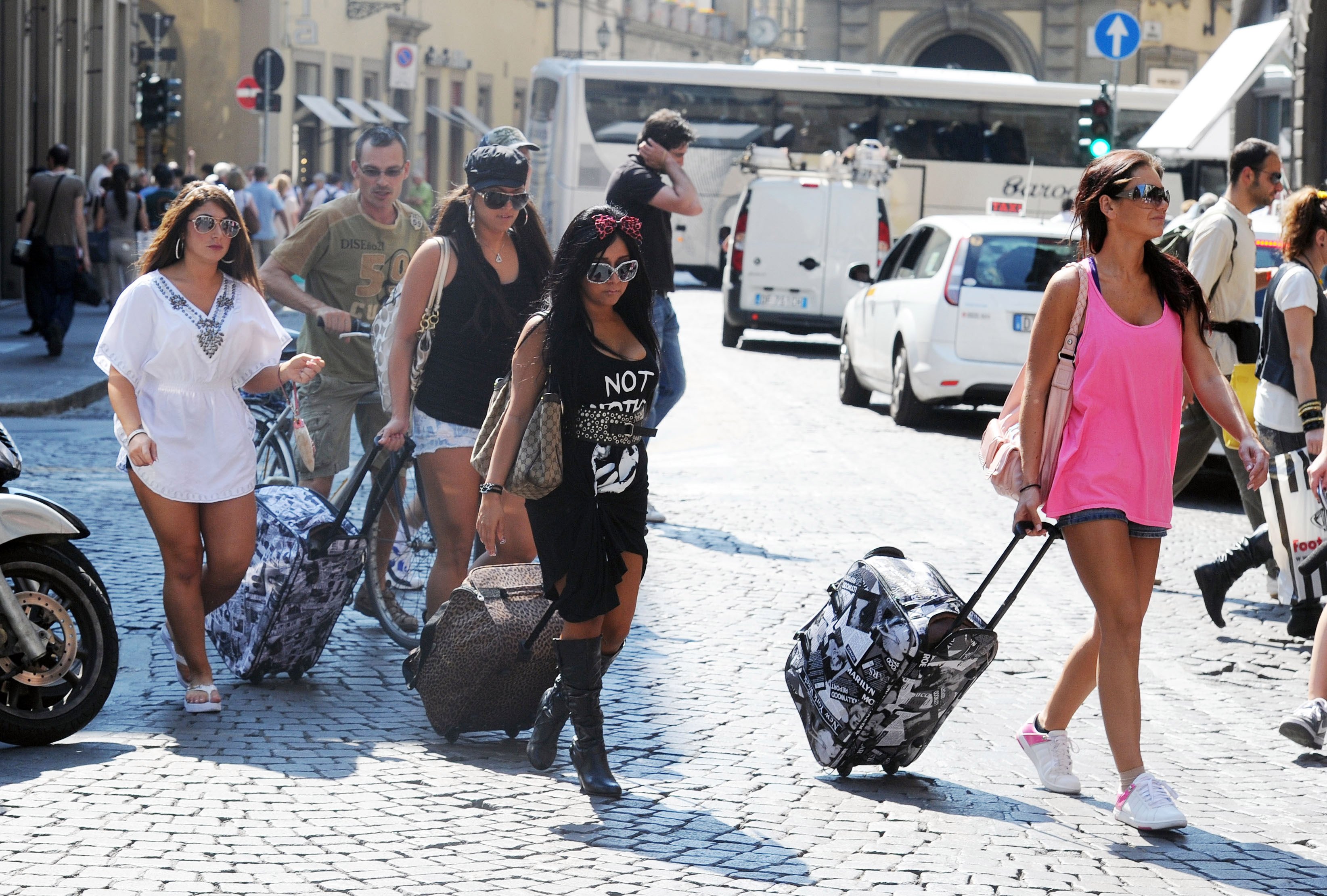 Drinking is a significant part of 'Jersey Shore' 
As with most reality TV shows, drinking is one of the only activities the cast has to do while filming. That was no different for the cast of Jersey Shore. Living in a house with no books, television, or cell phones but access to plenty of alcohol equates to a lot of drinking.
"They partied A LOT," says a former story producer on Reddit. "It was all that they could do. Partying was their only form of entertainment." 
'Jersey Shore' cast couldn't drink in public while filming in Italy
When the Jersey Shore cast went to Italy, Matteo Renzi, the mayor of Florence, asked that the cast avoid drinking in public. He didn't want Florence to become known as a drinking town, so his ban required that the show not depict it as such. This greatly limited the acceptable footage MTV could gather.
According to the Italian press (via The Hollywood Reporter), Mayor Renzi prohibited MTV from filming the cast drinking in public or spending time in bars and clubs that serve alcohol. Instead, Renzi wanted the reality TV series to "emphasize the city's history of culture and good food."
'Jersey Shore' Season 4 couldn't film inside historical buildings 
Filming the Jersey Shore cast in their element at bars and nightclubs isn't the only thing Mayor Renzi asked of production. The MTV crew wasn't allowed to film inside historical buildings, either. Producers were allowed to capture footage of the Jersey Shore cast outside of historical buildings, which is why fans see them walking through the streets of Italy a lot in season 4. 
Filming in Italy made it hard to find housing
Finding a location for the roommates to live while filming in Italy presented another challenge for SallyAnn Salsano's 495 Productions. "We couldn't find a place that could house us…that had outdoor space," Salsano told Bustle in 2019. "That location [we filmed in was] actually a bank." 
The Italian bank did not have a kitchen or showers, so it needed modifications for the Jersey Shore cast. "Some walls that were layout walls — like the one Mike rammed his head into — were concrete walls that couldn't move," says Salsano. "But the truth of the matter is, we had to take that entire place and lay it out." 
Season 4 house customizations 
Once they had a location to live, production had to find unique ways to make the space a hangout. After all, no Jersey Shore pad is complete without a patio deck. So, producers created one out of scaffolding for the Italian bank.  
"None of that was there," Salsano adds. "We built scaffolding in the inside of the building to make it seem like there was a courtyard up there. In the hallway, there was a window, and we built stairs going up to the window like it was normal. If you look at it now, you'd be like, 'Oh my god, that was such a window.'"
Fans can spot the window Salsano is talking about in the supercut from season 4 above around the 53-minute mark. "If you go back and you watch them actually walking down the hallway and how they got outside, that was not a door they were going to; it was a f****** window," Salsano concludes.