'Jersey Shore' Cast Blame Angelina Pivarnick for Death Threats After the Wedding
Angelina Pivarnick's Jersey Shore: Family Vacation wedding may be in the past, but the drama surrounding it lives on. Allegedly Deena Cortese, Jenni "JWoww" Farley, and Nicole "Snooki" Polizzi received death threats from viewers and are still upset with Pivarnick lingering on the past drama.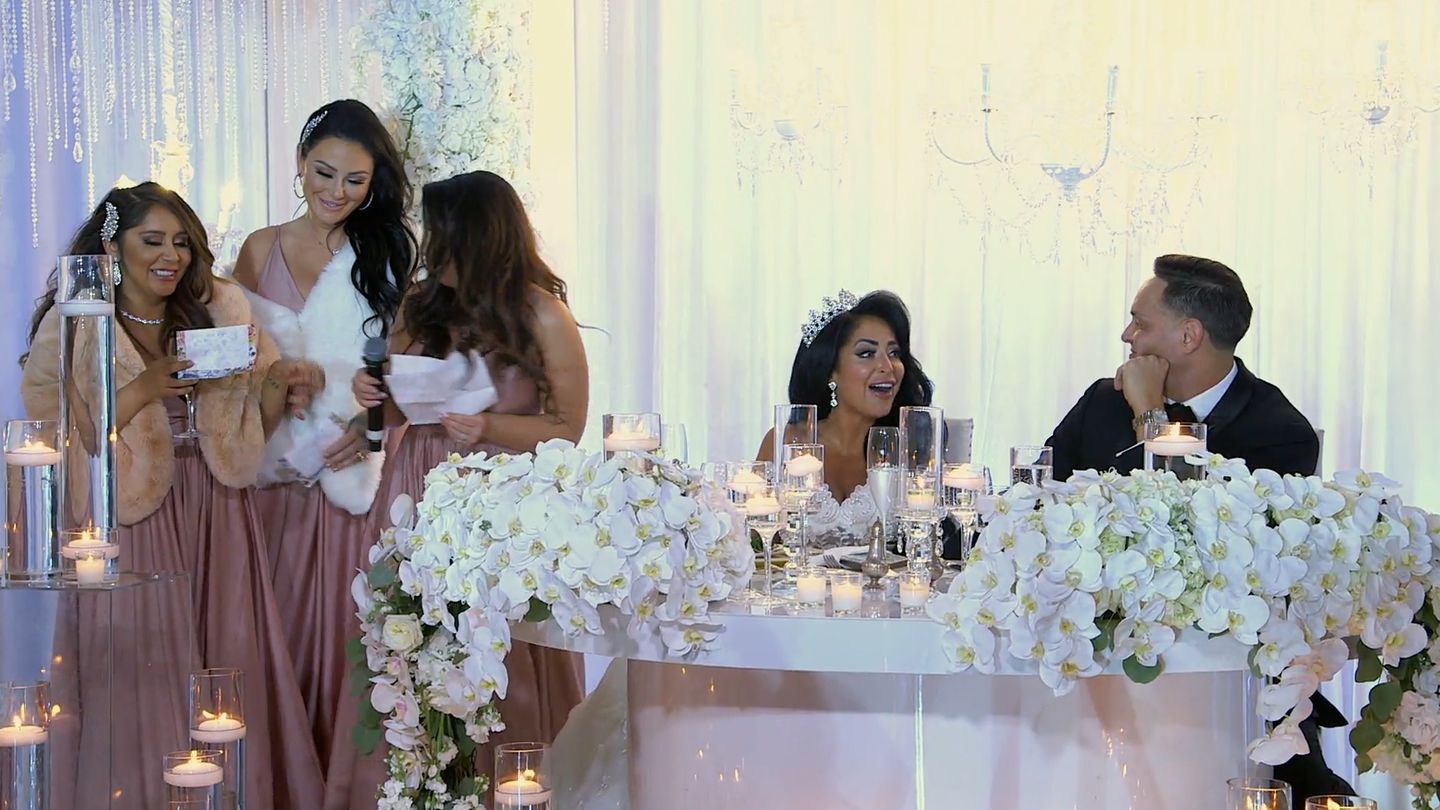 Angelina's wedding was a disaster 
Throughout season 3 of Jersey Shore: Family Vacation, the hype surrounding Pivarnick's wedding kept many fans glued to their televisions. When the wedding episode aired, fans finally heard the speech that had been teased all season. Cortese, Polizzi, and Farley put together a toast that deeply offended Pivarnick, referring to her as "the dump to [their] island." Visibly upset, Pivarnick stormed out of her wedding and demanded cameras stop recording. 
Regardless of the drama that ensued at her wedding, Pivarnick will return for another season of Jersey Shore: Family Vacation. Contrary to what her recent Instagram posts implies, Pivarnick isn't leaving the cast just yet. 
Angelina has a rocky relationship with Deena, 'Snooki,' and 'JWoww' 
Once the wedding episode was made public, all of the roommates took to social media to express how they felt. Farley was one of the first roommates to speak out. "I watched my best friend quit because she couldn't handle the stress," she tweeted. "I stayed up so many nights hearing Deena cry over being called names she didn't deserve. All while Angelina basked in the attention she was given. 7 months I waited for tonight."  
In self-defense, Pivarnick replied in a Tweet: "I wasn't going to say anything, but do you really want me to show the world the group chat that you guys didn't know I was in talking sh*t about me the night of my wedding? And you wonder why I couldn't let things go."
Now, it seems like she still hasn't moved on. Pivarnick and Cortese recently got into another discussion on Twitter about what happened at the wedding, with Cortese revealing that she received death threats.
Deena claims she received death threats for what she said in the wedding speech 
After an Instagram Live from Mike "The Situation" Sorrentino's birthday dinner, Cortese came under fire from a Pivarnick fan account. "[Deena] tugging at Mike as if she told him to say, 'Should we go outside and flip out?' I do not understand this," the fan account tweeted. Seemingly aggravated, Cortese responded. 
"I got threats for MONTHS from people when the one part of the wedding speech leaked," she added in another tweet. "Me, Nicole, and Jenni were thrown to the wolves for MONTHS with no help from anyone. There's much more important things in the world going on then a wedding speech. Time to move on." 
Cortese allegedly received threats against her son, Christopher John, too. After a clip of the speech leaked, Cortese wrote since-deleted Instagram post: "Listen, I understand you're all upset about our speech, but we also included nice things in it as well," (via E! News). "Angelina always says, 'I never take myself seriously.' [But] wishing bad on my son — how are you any better?"
Angelina has been receiving death threats for over 10 years 
A source close to Pivarnick told Celeb Magazine that she's a "tough girl" and not a quitter. As such, Pivarnick responded to Cortese's tweet, saying she has been receiving death threats for more than 10 years because of her actions on the show.
Pivarnick does not believe she is at fault for the way people reacted to the wedding speech. Unfortunately, it seems like Pivarnick and Cortese no longer have a relationship. Additionally, it doesn't look like Cortese will return for season 4 of the MTV reality series.