'Jersey Shore' Cast was Nervous About Mike 'The Situation' Sorrentino's Return
Jersey Shore: Family Vacation is back and so is Mike "The Situation" Sorrentino. After eight long months in prison, Sorrentino was so excited to get back to the real world. He was also delighted to be reunited with his family and wife, Lauren Pesce. Of course, Sorrentino's roommates were happy to welcome him home, but a few of them were a little nervous, too. Find out why some of the Jersey Shore cast were worried about Sorrentino's comeback.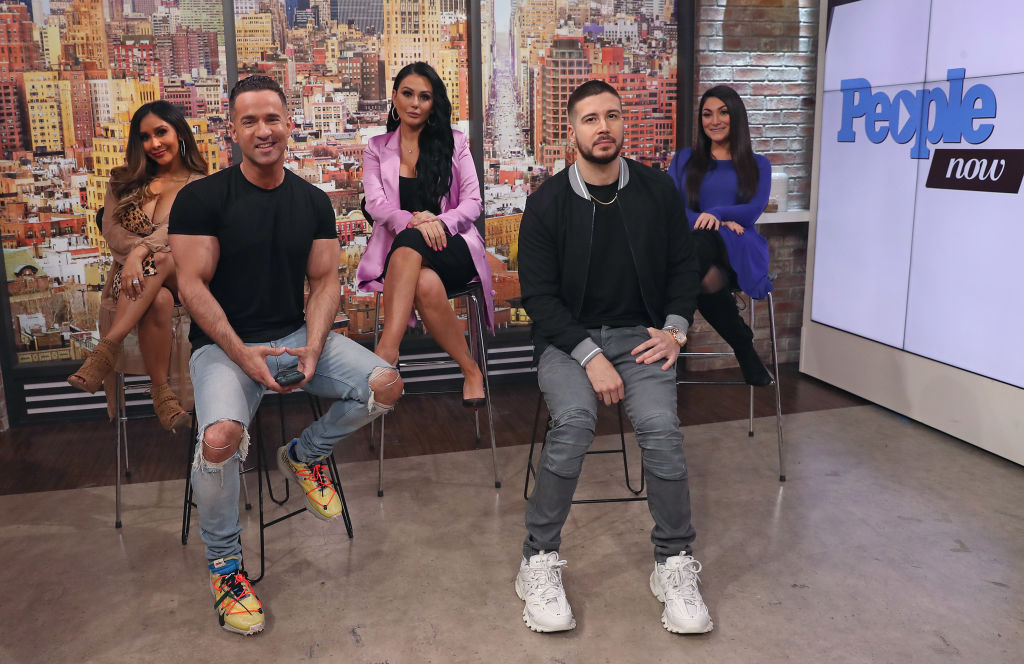 Mike opens up about his time in prison
Sorrentino told Decider fans will get a glimpse at his life in prison during the new season of Family Vacation. He also mentioned how grateful he was for the people rooting for him in and out of prison. Fortunately, Sorrentino said his fellow inmates were Jersey Shore fans and "fans of [his] transformation."
Sorrentino went on to explain he spent his entire sentence daydreaming about his release. Ready to get back to filming with his friends, Sorrentino recalled when the MTV crews picked him up from prison:
The day that I got out was the day that MTV picked me up and we just hit the ground running. I'm excited every time we have a season because once we all come together everyone's personalities mix together.

Mike Sorrentino, Decider
The roommates were nervous about the return of 'The Situation'
Throughout last season of Jersey Shore: Family Vacation, it was clear the roommates missed Sorrentino. Many a tear was shed longing for his return. When the time finally came for Sorrentino to make his return, Jenni "JWoww" Farley and Nicole "Snooki" Polizzi admitted they "had butterflies" thinking about it.
Farley likened the feeling to "second date" nerves. Knowing Sorrentino but having not seen him for a long time created this kind of nervous excitement that was captured on camera. "We screamed and ran, it was amazing. We knew he was coming but we didn't know when or what time," Polizzi recalled. Farley discussed the many questions they pondered waiting for Sorrentino to arrive, including a concern for his post-prison physique: "Is he gonna eat good food or is he gonna eat bad food?"
According to Sorrentino, prison life was all his roommates could ask him about when they reunited. From what he ate to how he slept and his workout routine, the roommates left no stone unturned. "I explained everything to them and had a lot of funny stories and a lot of interesting stories through my experience in prison and I think it made for good TV," Sorrentino said.
'The Situation' is 'better than ever'
During early seasons of the show when Sorrentino was abusing painkillers and drinking to excess, he created multiple rifts between himself and his cast mates. After years of distancing himself from the group, Sorrentino has transformed into the cornerstone of the Jersey Shore family.
Vinny Guadagnino was particularly excited for Sorrentino's release, regardless of feeling unsure who he would be coming out. That's understandable, considering the drastic change Sorrentino experienced in terms of his daily routine. "I don't know what that does to you when you go there," Guadagnino said, going on to explain, "You'll see obviously everything's great, he's better than ever. Our relationship has never been stronger. We've been through so much with him since he's been out."
Pauly DelVecchio echoed Guadagnino's positivity, calling Sorrentino a "rehabilitated man" who "took the sentence like a G. He just held his head high, used it to his advantage. He came out, lost all that weight and he's just a pleasure to be around."
Fortunately, Big Daddy Sitch is back and reunited with his Jersey Shore family. Tune in to Family Vacation on "Jerzdays" to see his triumphant return and learn more about Sorrentino's time behind bars.