'Jersey Shore': The Reasons Why Each Roommate Was Cast for the Show
The cast of Jersey Shore is an eccentric bunch. Before becoming the family they are today, these guidos and guidettes were strangers looking to enjoy a summer at the Jersey Shore. Find out what each Jersey Shore roommate did to impress casting directors to get on the show.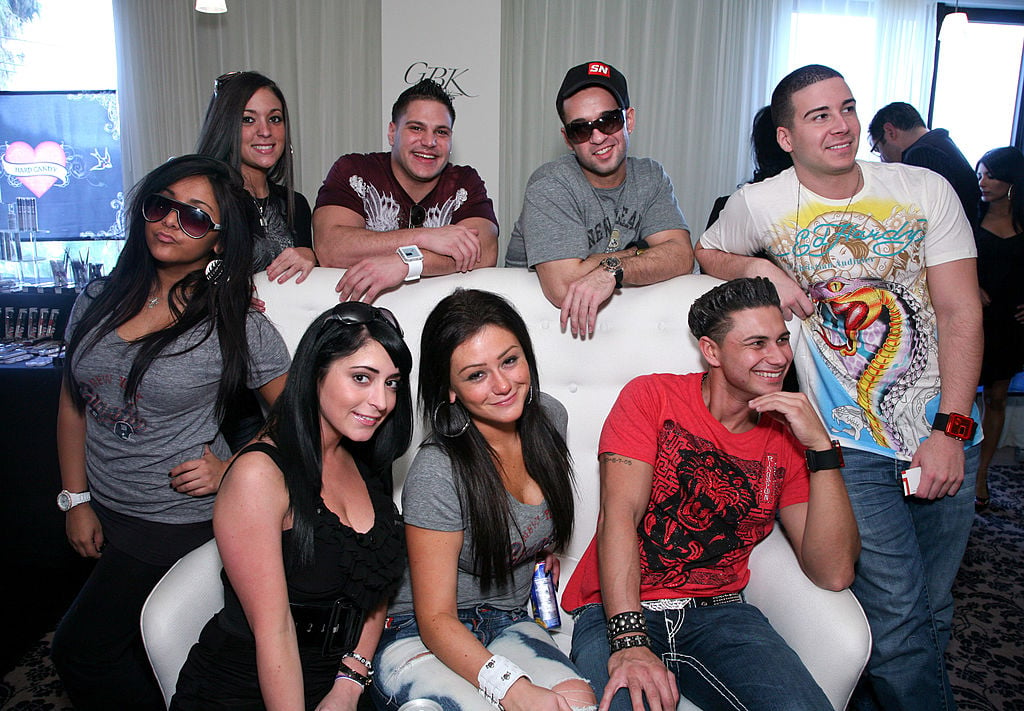 'Jersey Shore' was originally going to be a competition  
Before Jersey Shore became a reality series, it was a VH1 project that was "originally conceived as an all-male competition show," according to Vulture. Casting directors were looking for male "gym rats and fist-pumpers." The original concept for the reality series was similar to The Challenge. 
Shelly Tatro, a VH1 executive, initially reached out to casting director Doron Ofir about the project. "She [showed] me a stock-footage tape called 'America's Biggest Guido,' the origins of which I can't remember," Ofir recalled. "It was hilarious." Later, Tatro introduced the idea to SallyAnn Salsano. "[She] called me and was like, 'S.A., you're the biggest guido I know," Salsano said. Together with Ofir, they sought out to find the most eccentric guidos around.
'The Situation' was one of the first to be cast
As an aspiring underwear model, Mike "The Situation" Sorrentino was an obvious choice. "Someone told me that VH1 was trying to do a show about guidos from the East Coast," Sorrentino told Vulture. "It was supposed to be a Challenge-type show at first. I did the pilot." 
DJ Pauly D's lifestyle put him at the top of the list 
With Sorrentino locked down, Ofir turned his sights to Pauly DelVecchio. "What put Pauly D at the instant top of the list was that he owned his own tanning booth at his own house," Ofir said. 
DelVecchio remembered getting a message on MySpace. "I was in Rhode Island, DJing away," he said. "They said they liked my look for a potential show." When production wanted to film a day in DelVecchio's life, naturally he took them to the gym, tanning, and then to the club.
Ronnie was in the right place at the right time 
Ronnie Ortiz-Magro was already at the shore when casting was on the hunt for talent. He recalled being approached in a Belmar nightclub. "[A lady came up to me and] was like, 'Listen, you fit the criteria of somebody that we're casting for a show. Would you like to try out?'" Ortiz-Magro "acted like a complete crazy person" in his audition, taking his shirt off and fist-pumping — something that appealed to casting immediately. 
Being the antithesis of a guido got Vinny cast
Vinny Guadagnino stuck out because he was different. He initially filled out the application as a joke, but it caught the attention of casting! "I filled [the application] out, like, 'Listen, I like to go to the Jersey Shore, but I don't look like your typical guido.'" When he got a call back a year later, his life changed forever. 
Women weren't in the game plan
As mentioned earlier, the original concept of the show was an all-male competition series. Eventually, Ofir felt an all-male cast didn't offer enough drama. "I kept saying, 'Look, the boys preen' — you know, they're peacocks — 'but the girls fight,'" he said. So, casting started looking for females.
'Snooki' used alcohol and acrobatics to get noticed
Nicole "Snooki" Polizzi showed up to her audition drunk in a miniskirt. "I saw an audition posting on Facebook for a show called Guidos and Guidettes," Polizzi explained. "I went there drunk, because it was at a bar, and the rest is history." Ofir knew she was right for the show when she started to do cartwheels and flips. The smudged bronzer on her application helped a bit, too. 
Angelina's 'raunch' helped her stand out
Angelina Pivarnick was approached for Jersey Shore in a nightclub. "[Someone in casting] goes, 'Listen, I've been watching you for half an hour, and I think you're amazing,'" Pivarnick recalled. She sealed the deal when she was asked what she would do living in a house with "four hot, tan guidos." Crews loved her answer: "I'd put whipped cream all over their bodies and lick it off." 
'JWoww' auditioned for 'Jersey Shore' as a joke 
At the time Jersey Shore was casting, Jenni "JWoww" Farley was working at a nightclub in Long Island. "We held casting calls all the time," she said. "They were casting for a VH1 show called Paris Hilton's My New BFF, and my best friend wanted to be on it so bad." When her friend's prior auditions didn't work out, Farley encouraged him to try out at her club so she could try out, too. "They called me a couple [of] weeks later, [saying,] 'We really think we would love you for this Number One Guido show,'" she said.
As they say, the rest is history! These guidos and guidettes have made a name for themselves, both in the reality TV world and the hearts of Jersey Shore fans everywhere.