'Jersey Shore': Did Pauly D Confirm His Hookup With JWoww?
The highlight reel for this season of Jersey Shore: Family Vacation looks wild. From the drama that will inevitably unfold at Angelina Pivarnick's wedding to a divorce party for Jenni "JWoww" Farley, there's a lot for fans to digest.
In the trailer for the new season, it looks like Pauly DelVecchio and Farley may rekindle their old flame. Fans can also hear DelVecchio commenting about his desire to hook up with Farley, going as far as to say "we are going to hook up." Read on to find out if Farley and DelVecchio will take their friendship to the next level on this season of Family Vacation.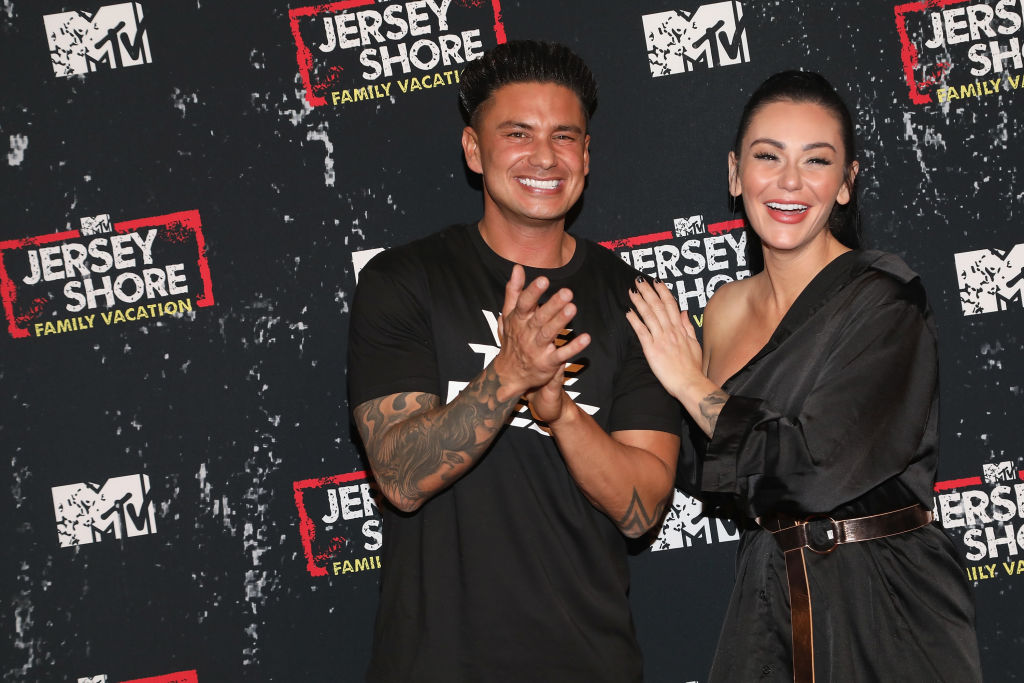 The early days of 'JWoww' and Pauly D
Since the beginning of the series, DelVecchio and Farley have had chemistry. Back in 2009, a group of strangers were united in shore house in Seaside Heights, NJ. By the end of the summer, they had become like a family, but not without a few drunken arguments and hookups.
During the first season of Jersey Shore, it became evident that DelVecchio and Farley were into each other. They eventually hooked up, cuddled close in his twin size bed as Farley marveled at DelVecchio's body piercing.
Despite their hot-and-heavy hook up, a relationship never formed between the two. Instead, Farley spent the summer grasping at straws with then-boyfriend Tom Lippolis, while DelVecchio went on to have plenty of other hookups in Seaside.
Jenni's divorce party on 'Family Vacation'
Farley married Roger Mathews in Oct. 2015. Together, they have two children, Meilani and Greyson. Unfortunately, their relationship didn't work out and after almost three years together, Farly filed for divorce.
In the trailer for this season of Family Vacation, Farley receives confirmation that her divorce has been finalized. "I'm officially divorced," Farley said. To celebrate, the family throws her a divorce party complete with a tiara for Farley and plenty of alcohol.
After a night out, there's a clip of DelVecchio and Farley in bed together, sharing what appears to be a kiss. Does this kiss lead to "smushing," or is it just another one of the show's playful edits?
While this is only a sneak peek for the season, it's almost undeniable that DelVecchio and Farley share some sort of moment with each other. Whether or not the two rekindle the spark is still up in the air, but DelVecchio certainly seems to think so.
Did Pauly D confirm his hookup with 'JWoww'?
In the trailer for the new season, DelVecchio said "When I get the green light … me and Jenni, we are going to hook up." Farley and DelVecchio love each other like family, but has it blossomed into something more? Pivarnick is heard in the teaser saying "[Pauly] has feelings for you." Fans are dying to know just how deep those feelings go.
Despite what DelVecchio said, the two probably don't end up in a relationship. After so many years together in a family-like relationship, it would be a little odd for the two to start dating. Plus, Farley rekindled her relationship with boyfriend Zack "24" Carpinello, despite the drama that unfolded on last season of Family Vacation.
Find out if Farley and DelVecchio finally "smush" or simply share an innocent kiss — tune in to Jersey Shore: Family Vacation Thursday nights to see how their relationship plays out.
Related: Jenni "JWoww" Farley Blames 'Jersey Shore' for Her Breakup