'Jersey Shore: Family Vacation': Angelina Pivarnick Says Nicole 'Snooki' Polizzi 'Basically Had One Foot Out the Door Already'
Nicole "Snooki" Polizzi is no longer filming for Jersey Shore: Family Vacation. Polizzi chose to move on from the MTV reality series after the drama that played out at Angelina Pivarnick's wedding. Now, Pivarnick is saying Polizzi was always planning on leaving the show. Pivarnick believes Polizzi had "one foot out the door already."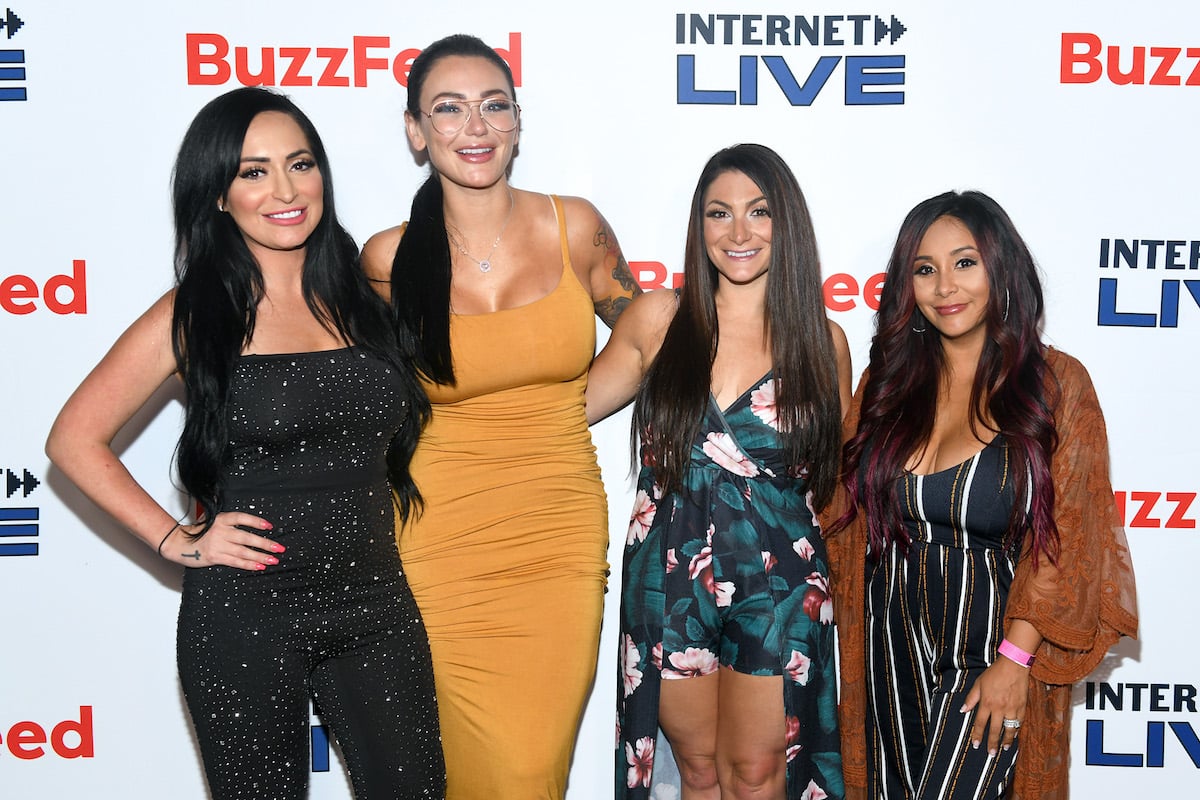 The speech from Angelina Pivarnick's wedding divided the family 
Pivarnick married Chris Larangeira in November 2019. Just days after their wedding ceremony, the audio from Polizzi, Jenni "JWoww" Farley, and Deena Cortese's speech leaked online. 
There was outrage among Jersey Shore fans, many of whom couldn't believe the roommates would say such terrible things about Pivarnick unprovoked. As it turns out, Pivarnick's manager, Rob Spano, leaked the audio for reasons unknown. In doing so, he caused an uproar in the Jersey Shore community, leaving fans to terrorize the other women — Polizzi especially.
"[Polizzi's] birthday was spent on the phone with the town hall making sure that her store wasn't going to be shut down," Farley revealed during an interview with Jenny McCarthy. "She was getting hundreds of Google reviews and police calls saying her store was infested [with cockroaches]." 
"If you would have let [the wedding] play out nine months later for the [fans] to see [on television,] none of this would have happened," Farley said of Pivarnick's manager leaking the audio. "But because you chose to feed into it and say that you needed a wedding redo — all this bullsh*t, none of the fans would have known. You pre ejaculated all over this sh*t is what you did." 
Ultimately, the situation from Pivarnick's wedding inspired Polizzi to remove herself from the show.
Nicole 'Snooki' Polizzi is no longer part of 'Jersey Shore: Family Vacation' 
In December 2019, two months after Pivarnick's wedding, Polizzi announced she wouldn't return to Jersey Shore: Family Vacation. 
"Don't hate me for my decision, but I have to do what's best for me at the moment," Polizzi said on her podcast, It's Happening With Snooki and Joey. "I am retiring from Jersey Shore. I am not coming back for season four if there is one." 
During an interview with HelloGiggles Polizzi said she wasn't "in the mood to do [the] drama with Angelina anymore, and I just want to be happy and positive, and film fun shows." 
Despite Polizzi's statements, Pivarnick said Polizzi was already planning to leave the show — even before the wedding. 
Angelina Pivarnick says 'Snooki' had 'one foot out the door' 
While she recognizes her role in Polizzi's decision to exit the show, Pivarnick doesn't think it's entirely her fault. 
"That was Nicole's own doing because she always had one foot out the door basically anyway," Pivarnick told McCarthy. 
Farley disagreed, but Pivarnick insisted that Polizzi "kind of did" already have the desire to leave the show before the wedding drama played out. "Honestly, I haven't even seen her," Pivarnick admitted, continuing:
I would like to sit down with her but she's like, 'I'm not going back because of Angelina!'

I just feel like her one foot was out the door, and that's just the truth. But if she wants to blame this all on me, then she can do that. That's fine.
On the other hand, Farley believes if Pivarnick hadn't fed her fans information in the form of the leaked audio, things might have been different between the roommates. 
Polizzi has been supportive throughout season 4 of Jersey Shore: Family Vacation. At this time, it is unclear if she and Pivarnick have spoken.