'Jersey Shore: Family Vacation' Cast React to 'Worst Talent Show Ever'
Jersey Shore: Family Vacation Season 4, Episode 26 shows reality TV fans a side of Nicole "Snooki" Polizzi they haven't seen in a while — "Dren." Plus, Lauren Sorrentino puts Angelina Pivarnick at ease by revealing what happened at the Significant Others dinner, and Vinny Guadagnino proves he has what it takes to do stand-up comedy. Find out what the Jersey Shore: Family Vacation cast thought of the episode.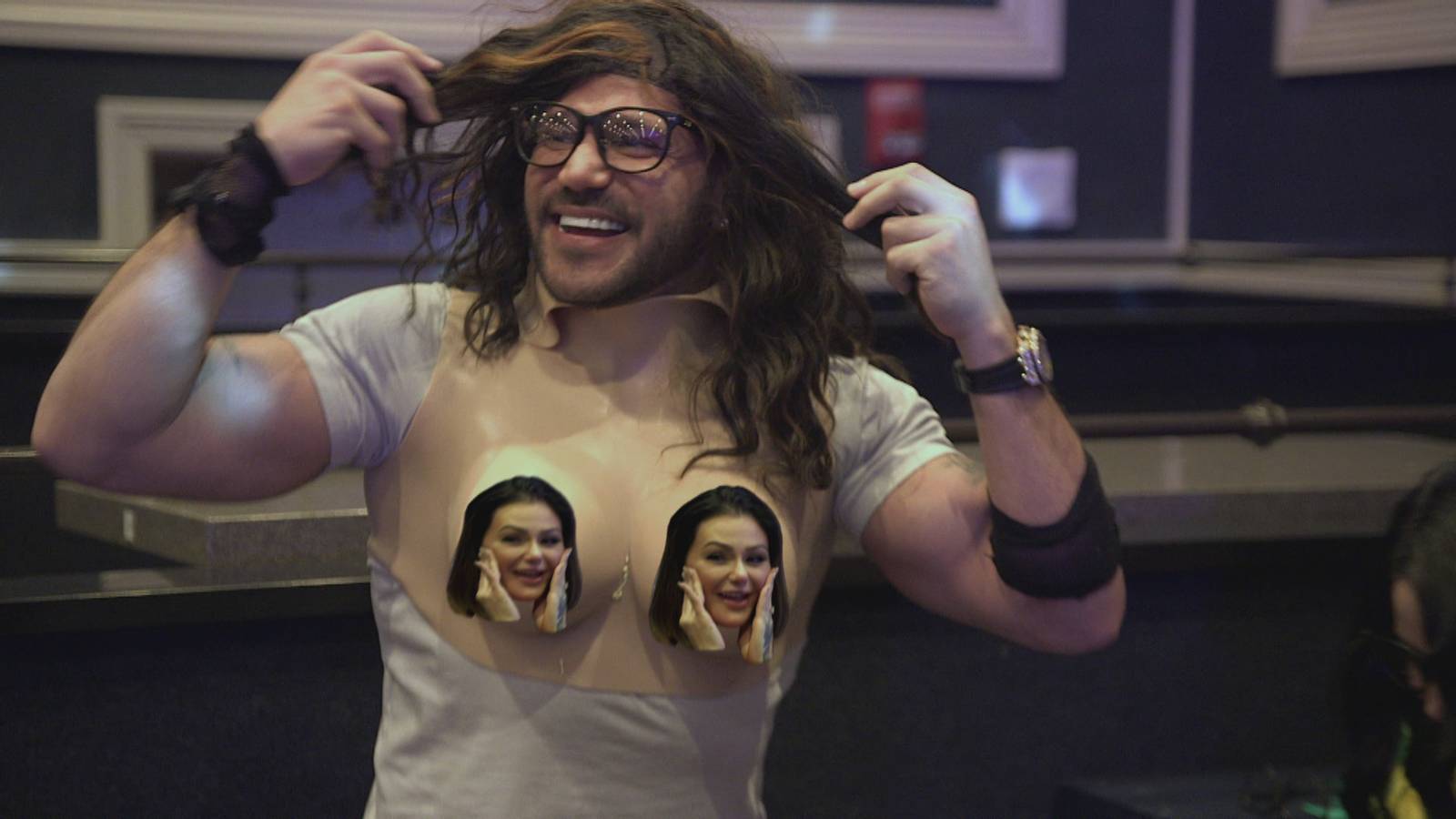 Angelina Pivarnick says Chris Larangeira should 'stop addressing other people' regarding their marriage
Some serious tension built up between Pivarnick and Sorrentino in "Surprise! It's a 'Snooki.'" In episode 26, Pivarnick finally finds out what her husband, Chris Larangeira, and Sorrentino talked about during the Significant Others dinner. 
"I want to know from Lauren's mouth what happened at this dinner," Pivarnick tells cameras, feeling like Sorrentino was "nosey." Sorrentino reveals she and Larangeira talked about how the couple started dating before Jersey Shore: Family Vacation began. 
Larangeira opened up to "Mrs. Situation" about getting engaged during that time, but said things began to change when Pivarnick started doing the show again. "Part of him was a little resentful toward it," Sorrentino tells Pivarnick. "Part of him wishes it didn't come around because it's changed everything." 
Pivarnick was confused as to why Larangeira would tell Sorrentino these things and not her. "If that's really how Chris feels, he should address me — his wife — and stop addressing other people," she tells cameras. "He should have [come] to me first." As Pivarnick revealed on Twitter Aug. 5, she "didn't know [Larangeira] felt that way about [her] fame and life."
Nicole 'Snooki' Polizzi's alter ego 'Dren' comes out to play 
With limited time to spend in the Poconos, Polizzi started drinking upon her arrival. Soon, "Snooki" came out to play. "I made the best out of my one day in the Poconos," she says on Twitter. As Ronnie Ortiz-Magro describes it, there are levels to Polizzi's drunkenness. 
It starts with Nicole then moves on to "Snooki." From there, we go to "Snickers," "Snookers," then "Snackers." Finally, the dreaded "Dren" arrives. "Never look Dren in the eyes," Farley suggests in the episode. 
But Dren has other plans. Throughout Farley's birthday celebration, "Dren" pokes at Pivarnick, attempting to rehash past drama from their previous shore trips. Knowing "Dren" isn't speaking from Polizzi's heart, Pivarnick lets it slide — despite "Dren" throwing food at her.
"We need to put Dren to bed before this doesn't end well," Jenni "JWoww" Farley tweeted during the episode. Polizzi agreed, adding: "She's trash and in time out awaiting an exorcism" on Twitter. 
Like the rest of her roommates, Pivarnick is usually active on Twitter when new episodes air. But last night, she only tweeted once, sharing a fan tweet saying how she and Polizzi are "the best of friends." 
Vinny Guadagnino roasts his 'Jersey Shore: Family Vacation' roommates 
Part of Farley's birthday surprise in the Poconos is a talent show. Each of her roommates contributes something special, with Guadagnino serving as the master of ceremonies. 
Guadagnino opens the talent show by roasting every roommate, as this is their "love language." No one was safe from Guadagnino's jokes — including Mike "The Situation" Sorrentino's protein business and the significant others. 
"Jenni brought everything here," says Guadagnino. "Her therapist, her babysitter, her personal assistant…but enough about Zack [Carpinello]." Guadaganino also makes hilarious jokes about Larangeira and Saffire Matos in his routine. He epically roasted Pauly DelVecchio and his girlfriend Nikki Hall by calling them "Jerk Chicken Parm." 
There's only two episodes left of Jersey Shore: Family Vacation Season 4B. Tune in next week to see DJ Pauly D come to life and hear Pivarnick's speech for "JWoww."