'Jersey Shore: Family Vacation': Deena Cortese Reveals What Really Happened After Angelina Pivarnick's Apology Post
Since Angelina Pivarnick's wedding, there has been a lot of drama between the women of Jersey Shore: Family Vacation. During the premiere of season 4, Deena Cortese finally shed some light regarding her and Jenni "JWoww" Farley's feud with Pivarnick.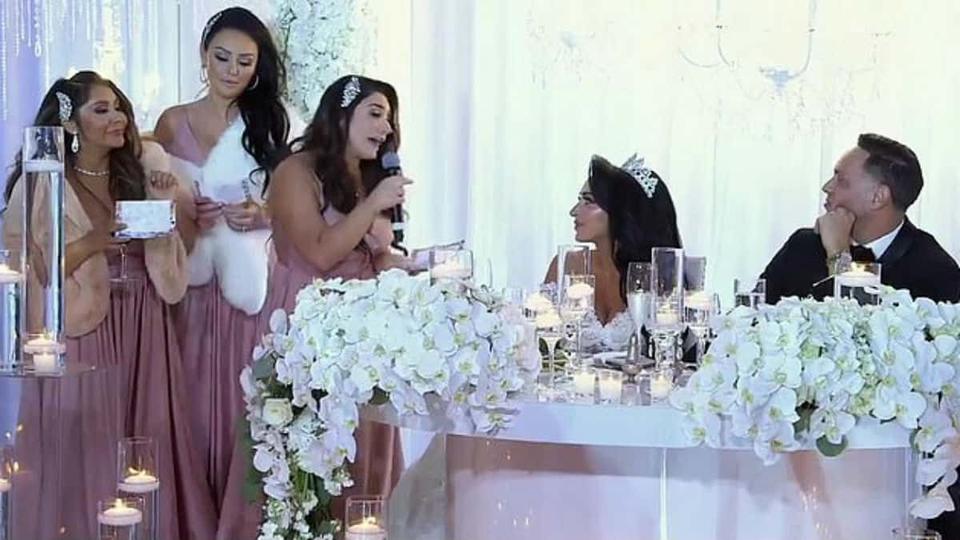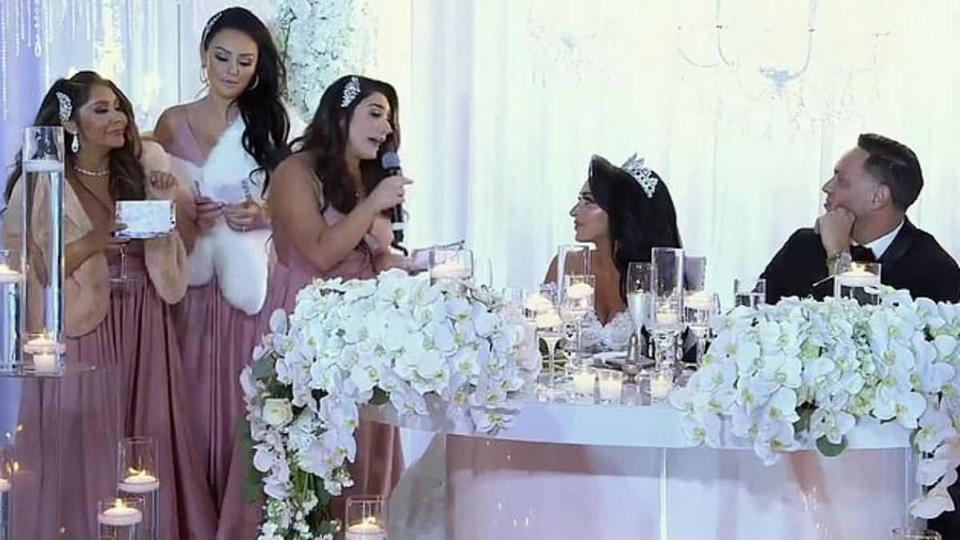 The 'Jersey Shore' family fell apart after Angelina Pivarnick's wedding
Jersey Shore: Family Vacation Season 3 left the roommates in turmoil. After Farley, Cortese, and Nicole "Snooki" Polizzi delivered their bridesmaid's speech, tensions were at an all-time high. Pivarnick wanted MTV cameras to stop filming. Cortese said she never wanted to film with Pivarnick again. And Polizzi decided to leave the show because it "wasn't fun anymore." 
Many Jersey Shore fans were confused about what went so wrong at Pivarnick's wedding. During the speech, she seemed to be laughing along. When the episode aired, Pivarnick clarified on Twitter how she "was in shock." 
For a while, Jersey Shore fans had to rely on the "he said, she said" discussions the cast was having on social media. Now, thanks to the season 4 premiere, there's more clarity on what really happened in the days after Pivarnick's wedding. 
Angelina Pivarnick broke the silence between the roommates after her wedding 
At the suggestion of Mike "The Situation" Sorrentino — who now goes by "The Mediation" — Pivarnick decided to extend an olive branch to her roommates. That came in the form of a public apology on Instagram. However, the since-deleted post only seemed to make things worse between Pivarnick and her roommates.
In the post, Pivarnick mentioned forgiving the women for the bridesmaid's speech. She also mentioned how she wasn't going to let their jokes "ruin what [they] have rebuilt over the last couple of years."
Ironically, Pivarnick's social media post didn't fix anything. Cortese and Farley were upset that Pivarnick chose to publicly address them instead of communicating in a more personal way.
Deena Cortese claims she tried apologizing to Angelina Pivarnick after the wedding 
"Just so everyone knows — I TRIED apologizing to Angelina numerous times after the wedding and got shut out," Cortese tweeted during the season 4 premiere of Jersey Shore: Family Vacation. "I felt like she fed into the drama and online sh*t we were going through. Hope they show me explaining why I was where I was at that point." 
In another tweet, Cortese explained how Pivarnick denied contact with her after creating that social media post. Pivarnick's refusal to speak to Cortese made her feel like "she did it all for social media" and therefore not a genuine apology. 
Are Deena Cortese and Jenni 'JWoww' Farley friends with Angelina Pivarnick? 
During the premiere, Farley, Cortese, and Pivarnick are still visibly upset with one another. Sorrentino seems to have worked tirelessly to "get the band back together," but as Vinny Guadagnino pointed out, what they needed was time — and a lot of it. 
It's hard to say whether or not the women consider each other friends still. Throughout Farley's conversations with the press to promote the new season, she referred to Pivarnick as a co-worker — someone she had to get along with to do her job. 
Fans will have to tune in to Jersey Shore: Family Vacation to find out how their relationships play out in the rest of season 4.