'Jersey Shore: Family Vacation' Fans Are Calling This Roommate the New 'Villain'
Jersey Shore: Family Vacation is nearing the halfway point of season 4. With most of the drama from Angelina Pivarnick's wedding resolved, some Jersey Shore fans are experiencing a shift in perspective. Many fans no longer consider Pivarnick the "villain" of the reality series. Instead, some Jersey Shore viewers are awarding that title to Jenni "JWoww" Farley.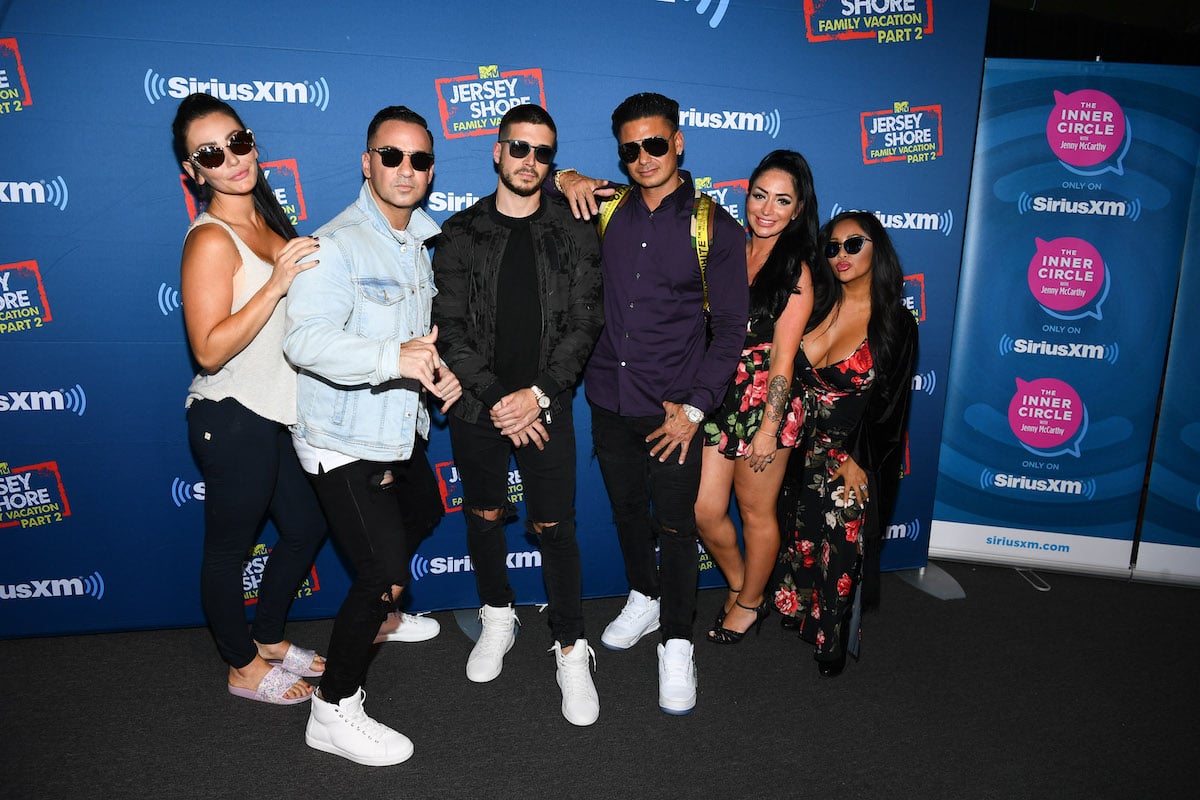 'Jersey Shore' used to be Angelina Pivarnick versus everyone else 
Pivarnick had a rough start in the world of reality television. In season 1 of Jersey Shore, there was a clear divide between her and the rest of the house. Ultimately, Pivarnick decided to pack her bags and leave season 1 because she had a boyfriend back home, not to mention feeling alienated. 
When Jersey Shore Season 2 rolled around, Pivarnick put herself together and returned to not-so-welcoming arms. Despite trying to make a name for herself amongst the Jersey Shore crowd, she once again left the show — this time, for good. It wasn't until Jersey Shore: Family Vacation that Pivarnick made her triumphant return to MTV.  
'The speech' caused a divide between 'Jersey Shore: Family Vacation' fans 
Jersey Shore: Family Vacation fans are well aware of the issues Farley, Deena Cortese, and Nicole "Snooki" Polizzi's speech caused. Pivarnick's wedding took place more an a year ago, but the damage from the speech is still being unpacked on new episodes of Jersey Shore: Family Vacation. 
So far in season 4, Pivarnick and Cortese were able to move on from the speech. It's unclear whether or not Farley and Pivarnick will be able to do the same. 
Some fans think Jenni 'JWoww' Farley is 'Jersey Shore's new 'villain'
Jersey Shore fans are relentless on Reddit. Because the forum is anonymous, many fans aren't afraid to speak their minds. This was the case in a recent discussion about who the villain is on Jersey Shore: Family Vacation. 
"The show's villain vs. the actual villain *Change my mind*," one fan shared with a side-by-side photo of Pivarnick and Farley. In this fan's opinion, Pivarnick is the villain according to the show's edit, but Farley is the true villain. 
Many fans are displeased with the way Farley has come off this season. Most fans were distraught when Farley texted Cortese and asked her to "stand her ground" and avoid sitting down with Pivarnick. But at the end of the day, this is reality television, and the show is edited in a most entertaining way — not necessarily based on what happened. 
Does 'Jersey Shore: Family Vacation' have a 'villain'? 
Fans are entitled to their opinions, but they remain just that — fan opinions.
"Depends how you view it all," one fan commented in the reddit thread accusing Farley of being the villain. "I don't think any of them genuinely like Ang. I think they all love Jenni as a sister."
This fan also thinks the roommates may never "love" Pivarnick the way they do Farley. But that's because Pivarnick doesn't make it easy to do so. 
"Ang literally fights [with] everyone in her life, severing relationships left and right over the years," they said of Pivarnick's inability to get along with her fellow cast. Still, other fans think Pivarnick is closer with the men because "she's like one of the guys, cool to hang with." 
Regardless of where Jersey Shore: Family Vacation fans stand, Farley and Pivarnick remain part of the show. Fans will have to tune in to the remainder of the season to find out if Farley and Pivarnick can squash their beef.