'Jersey Shore: Family Vacation' Fans Finally Know Who Sold the Audio From Angelina Pivarnick's Wedding
Angelina Pivarnick's wedding will go down in Jersey Shore history. The infamous wedding speech has been a hot topic amongst Jersey Shore fans since season 3 concluded. Now, Jersey Shore: Family Vacation fans finally know who leaked the audio of Nicole "Snooki" Polizzi, Jenni "JWoww" Farley, and Deena Cortese's speech.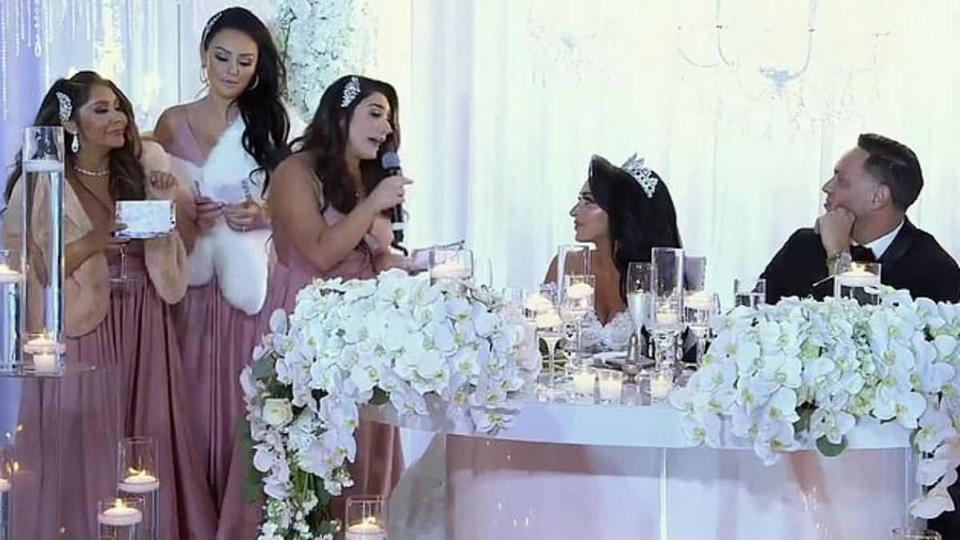 'Snooki,' 'JWoww,' and 'Deeners' wedding speech didn't go over well
The highlight of Jersey Shore: Family Vacation Season 3 was Pivarncik's wedding. Leading up to the event, she and her female roommates seemed to have formed a close bond. But that fell apart when Polizzi, Farley, and Cortese delivered their speech.
"It's good but funny," Cortese warned Pivarnick during the episode. At first, the speech seemed harmless. "Not only is Chris the lucky one, but so are we," Cortese said. Then, things turned sour.
"Angelina, you're the lice to my hair," Cortese said.
"You're the fly to our sh*t," said Polizzi.
"You are the dump to our island," Farley added.
Jersey Shore: Family Vacation fans thought they would have to wait for the new season to learn more about Pivarnick's wedding. But that wasn't the case.
'Jersey Shore' fans heard the audio before the wedding episode aired
Days after Pivarnick's November 2019 wedding, the audio from the speech was all over the internet.
"I legitimately would've been raging with tears if this was said at my wedding, they humiliated her," a fan said on Reddit.
"This is beyond disgusting and horrible," said another. "This has completely changed my attitude towards Nicole, JWoww, and Deena."
The outrage from fans continued to pour in, forcing the women of Jersey Shore: Family Vacation to open up about the speech. Now, thanks to a recent interview from Farley, fans have a better understanding of why the speech was as raunchy as it was.
'JWoww' says the bridesmaid speech was based on the women's relationship with Angelina Pivarnick
As Farley explained on Jenny McCarthy's Sirius talk show, Pivarnick wanted the roommates to "roast her the way [her] brother-in-law [was going to]." Farley explained how she has a "raunchy, weird, period-sh*tting type of relationship" with Pivarnick — and that's the vibe she went for in her speech. 
RELATED: 'Jersey Shore: Family Vacation': Why Angelina Laughed During 'Snooki,' 'JWoww,' and Deena's Wedding Speech
Unfortunately, their decision to make the speech raunchy didn't go over well with Pivarnick or fans.
"For it to go the way that it did for like, six to nine months after — so many things were affected," Farley explained to McCarthy. "My best friend isn't on the show because of [the drama that ensued after the wedding] and that hurts."
Angelina Pivarnick's manager leaked the audio
During a heated conversation with Pivarnick, Farley mentioned how Pivarnick's manager, Rob Spano, was responsible for leaking the audio of the speech. "If you didn't post or sell the audio —" Farley said, but was interrupted.
"I didn't sell the audio," Pivarnick said. "Your manager did," Farley clarified.
"If you would have let it play out nine months later for the [fans] to see [on television,] none of this would have happened," Farley said of Pivarnick's manager's choice to leak the audio.
"But because you chose to feed into it and say that you needed a wedding redo — all this bullsh*t, none of the fans would have known," Farley added. "You pre ejaculated all over this sh*t is what you did."
It's unclear why Pivarnick's manager would do such a thing, but in doing so, he created a media frenzy and caused chaos in the personal lives of the Jersey Shore: Family Vacation cast.
'Jersey Shore' fans harassed Nicole 'Snooki' Polizzi after the audio leaked
Farley recalled a time Polizzi was calling exterminators because Pivarnick's supporters were reporting The Snooki Shop for being infested with cockroaches.
"Her birthday was spent on the phone with the town hall making sure that her store wasn't going to be shut down," Farley said. "She was getting hundreds of Google reviews and police calls saying her store was infested."
Pivarnick claimed she had no control over her fans' actions. Farley replied: "If you didn't post or sell the audio, none of this would have happened."