'Jersey Shore: Family Vacation' Fans Might Know the Name of Mike 'The Situation' Sorrentino's Son
Find out what name 'Jersey Shore' fans think Mike 'The Situation' and Lauren Sorrentino are going with for their baby boy.
Mike "The Situation" and Lauren Sorrentino's baby boy will arrive any day now. Jersey Shore fans are eagerly awaiting for Baby Situation to get here so they can finally know his name. In the meantime, many fans have their speculations. Could Lauren's jewelry be a clue as to what the Sorrentinos will name their son?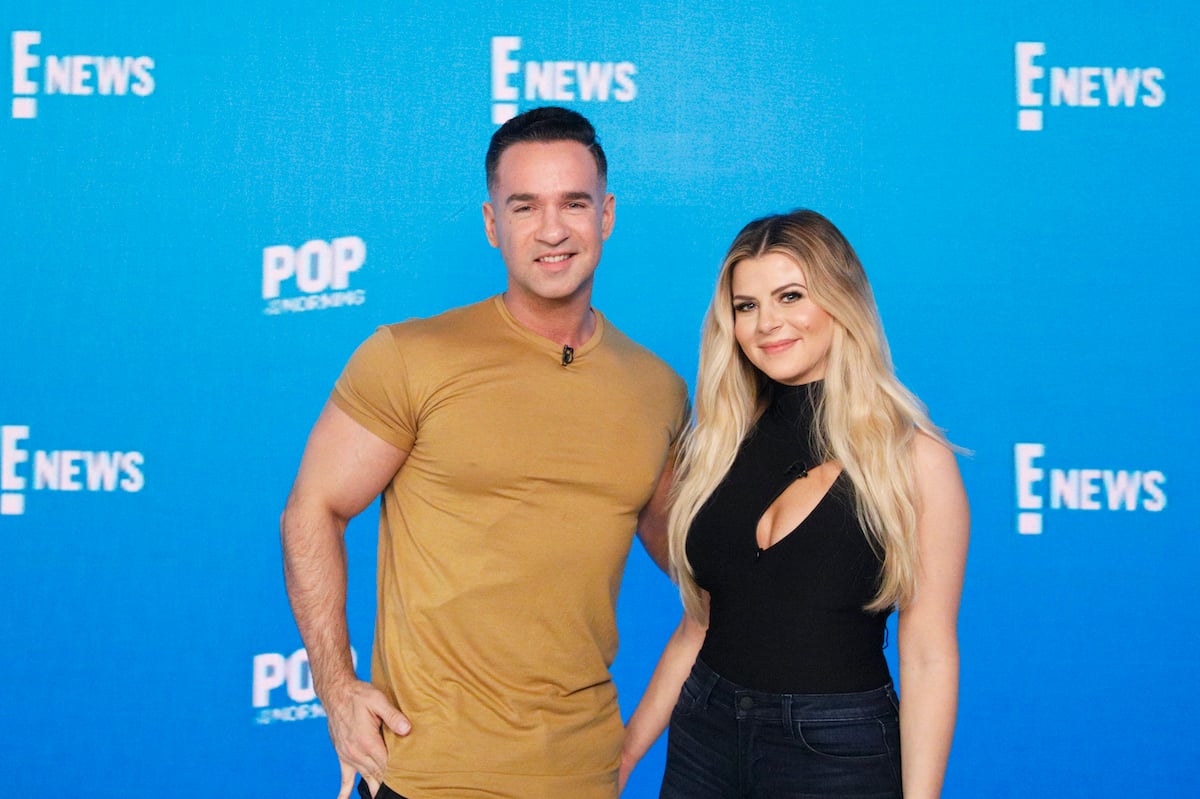 Mike Sorrentino's baby boy will arrive soon 
Many Jersey Shore fans were elated to find out "Big Daddy Sitch" and Lauren were expecting a child. Lauren has been keeping Jersey Shore fans updated throughout her pregnancy on the It's Baby Situation Instagram account. Her most recent post was a 37-week update.
"Baby Sitch is the size of a melon," the mother-to-be wrote. "I'm ready! Mosey is ready to meet his little brother! The nursery is almost ready [and] all the furniture and main pieces are in, all the clothes are washed and put away." 
The Sorrentinos have been busy preparing for their son's arrival. According to Lauren's post, the car seat, bassinet, play yard, swings, and diaper station are all set up, too. 
"All we need is baby boy!" she concluded. "We're patiently waiting for this guy's arrival." With a due date of May 2021, Baby Sorrentino could arrive any day now. 
Mike and Lauren Sorrentino have kept their son's name a secret
In December 2020, the Sorrentinos shared they were expecting a baby boy. Since revealing the sex of their baby, "The Situation's" fans have been speculating what his name might be. 
Early guesses included Frankie, Tony, or Marc, according to fans on Reddit. Others thought the Sorrentinos might name their son Luciano, Gino, Sal, or Joey. Mikey Junior was another early contender for Baby Sorrentino's name. 
Of course, Situation Junior was also on the table at the time. Despite the excitement surrounding the birth of their son, the Sorrentinos remain tight-lipped about his name. Now, fans are reading into a necklace Lauren wore in a recent social media post. 
Mike 'The Situation' Sorrentino's son might have a name that starts with an 'R'
In one of Lauren's recent Instagram posts, she's wearing a gold necklace with a small letter "R." Fans on Reddit think their son's name could start with that letter. 
One fan thinks the Sorrentinos might name their son Roman. "It's totally Roman," another agreed. "Mike said it means strong. I know I thought it was Leo or something but Roman is definitely on point for them, and a very cute name."
"So now the question is will he be Roman Michael after 'BDS' or Roman Christopher after Lauren's brother?" a fan asked. Lauren's brother Christopher Pesce died in October 2013. 
Another fan joked the baby's name could be Ryder after Nicole "Snooki" Polizzi's friend who made an appearance during the early days of Jersey Shore. Still, other fans think the name of Baby Sorrentino could be Rocky, Rocco, Romeo, Reginaldo, Riccione, or even Ronald after his "Uncle Ronnie Ortiz-Magro." 
Baby Situation should be arriving any day now! Stay tuned to Showbiz Cheat Sheet for updates. 
Will Mike 'The Situation' and Lauren Sorrentino get their own show after the baby comes? 
Mike and Lauren already have several business ventures outside of the MTV series, including their fashion lines and a brand of workout supplements. What's more, Lauren has created a social media account for Shop Baby Sitch. According to the account, it's a premium baby lifestyle brand that's coming soon.
With all of these businesses at play, could the Sorrentino's be planting the seeds for a spinoff series? Only time will tell.