'Jersey Shore: Family Vacation': Jenni 'JWoww' Farley's Fiancé Zack '24' Carpinello Shares a Surprising Fact About Her
There's something about Jenni 'JWoww' Farley many fans might not know — her fiancé Zack '24' Carpinello reveals a telling fact about the reality star.
Jenni "JWoww" Farley is one of MTV's biggest reality stars. Since 2009, Farley has been a staple on Jersey Shore.Today, she's an icon on Jersey Shore: Family Vacation. Ironically, the reality TV star's fiancé says she's "introverted" and hates watching recordings of herself. Find out what Farley is really like off-camera, according to Zack "24" Carpinello.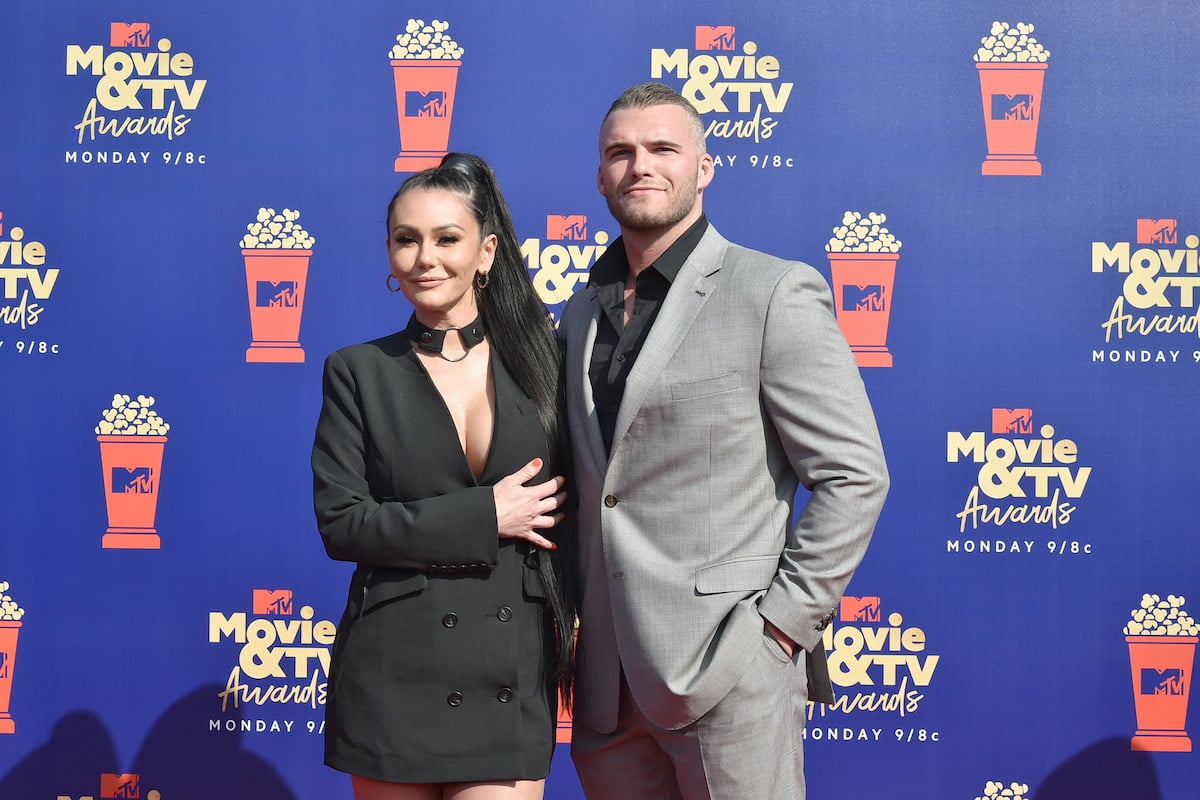 'Jersey Shore: Family Vacation' star 'JWoww' is an introvert according to '24' 
For as much as Farley is in the spotlight, her fiancé says "she is a very introverted person." As Carpinello explained to Wrestling Inc.: "Jenni hates cameras. She hates being the center of attention." 
During the pandemic, Carpinello would film promos in Farley's home — something Carpinello tried to involve Farley with, but she refused. Jersey Shore: Family Vacation used a small skeleton crew to safely film footage for the new season. This was good for Farley, as Carpinello says she can't film herself. 
RELATED: 'Jersey Shore: Family Vacation': Jenni 'JWoww' Farley Answers Our Rapid-Fire Questions
Related post url: 
"She hates it," he says. "She hates hearing her voice."
Carpinello understands the sentiment. "A lot of times I don't go back and watch episodes of things because I don't like watching myself either," he admits.
Jenni 'JWoww' Farley inspires Zack Clayton Carpinello's wrestler brand
Ironically, despite her tendency to be introverted, Carpinello says Farley has helped him create a brand with his career as a wrestler. "She has helped me a lot, especially branding [and] getting myself out there," the wrestler explains. He cited the many ways "JWoww" has used her platform as a reality TV star to turn herself into a brand. 
"I think she is the one from the Jersey Shore cast that has taken that and evolved it into so much more," Carpinello told Wrestling Inc. Farley uses her experience as a reality star to help Carpinello "tweak ideas and come up with new ways to do things." 
Carpinello wrestles under the name Zack Clayton. According to Cagematch.net, Carpinello has been wrestling in the ring since 2015. He currently wrestles for All Elite Wrestling (AEW), but has aspirations of joining the World Wrestling Entertainment (WWE). 
'JWoww' continues to evolve her brand, despite being an 'introvert'
For someone who Carpinello calls an 'introvert,' Farley hides it well. She always looks comfortable and confident in the content she shares on her social media.
From drink recipes to updates on her two kids, Greyson and Meilani Mathews, Farley always updates fans on the latest in her life. Plus, she remains a star on Jersey Shore: Family Vacation.
Jenni Farley wedding may or may not be part of 'Jersey Shore: Family Vacation' 
Carpinello proposed to Farley on her birthday in February 2021. "We got engaged," Farley announces in the teaser for new episodes of Jersey Shore: Family Vacation Season 4B. 
Since then, many fans wonder if Farley's marriage to Carpinello will be part of the MTV series. Considering what Carpinello says about her being introverted, their marriage could be a private event. 
At this time, we know very little about Farley and Carpinello's future wedding. Regardless of whether or not MTV cameras are present, fans can be sure most — if not all — of Farley's Jersey Shore: Family Vacation roommates will be in attendance. That includes Angelina Pivarnick and possibly even Sammi "Sweetheart" Giancola.