'Jersey Shore: Family Vacation': Lauren Sorrentino Explains Angelina Larangeira's Misfire During Baby Sorrentino's Pocono Reveal
Leave it to Mike "The Situation" Sorrentino to go big or go home — after revealing the sex of his and Lauren Sorrentino's baby in December 2020, "The Situation" wanted to do another reveal during their trip to the Poconos with the Jersey Shore: Family Vacation roommates. During the festivities, Angelina Larangeira set off a powder cannon in her husband, Chris' face. Now, thanks to "Laurens" we know there's more to the story.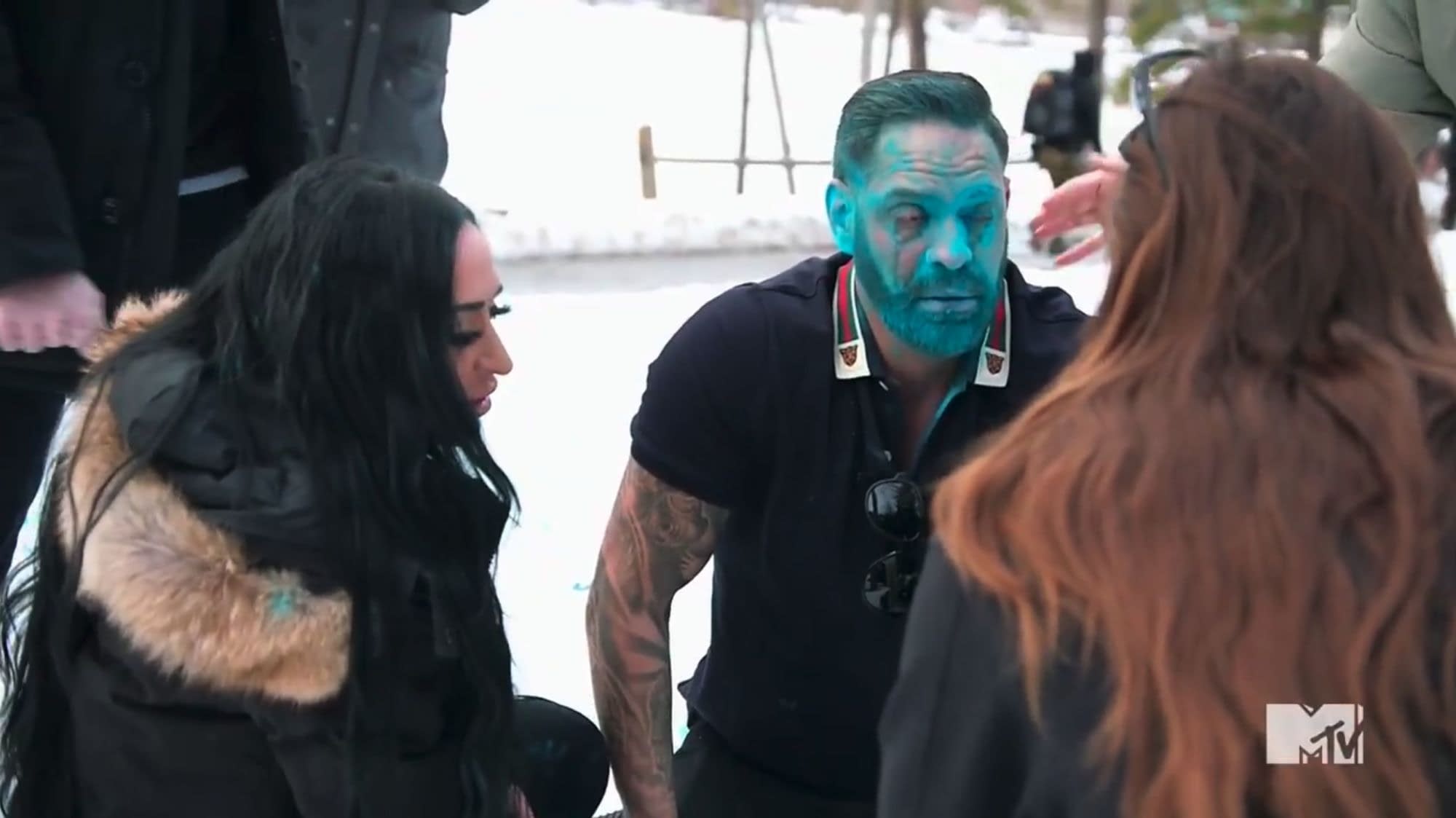 Baby Situation's sex reveal part 2
During the big reveal for Baby Sorrentino, the roommates all had cannons full of colored powder to blast off after Mike ran through the "wall." In a brief moment of error, Angelina aimed a cannon directly into Chris' face as it went off.
"Dam, did I just shoot my husband in the eye with a canon???" she tweeted during the episode. Many Jersey Shore: Family Vacation fans felt Angelina aimed the cannon at Chris purposefully.
But executive producer SallyAnn Salsano and Lauren both say there's more to the story. Now, we know the details about Angelina's accident.
Angelina Larangeira was helping Lauren Sorrentino during the 'Jersey Shore: Family Vacation' moment
As discussed in the Here's the Sitch podcast episode "Handling Haters," Lauren says she gave Angelina her cannon to fire. Feeling tired and very pregnant, Lauren says she didn't have the energy to fire the cannon herself.
Ironically, Lauren says Chris was teasing her right before the cannon powder hit him in the face. "Chris was making fun of me [saying], 'You look like a little Smurf,'" Lauren explains. Suddenly, the cannon went off in Chris' face and he was the same Smurf blue.
"It all happened so fast," Lauren adds, expressing the worry they all felt. "We were all concerned for him. We had a medic on staff; they came in pretty quickly and handled it."
In the end, Chris was OK. "We were all happy he was fine," Lauren says.
'Jersey Shore: Family Vacation' special has more details about Angelina and Chris in the Poconos
There's still more to the Angelina/Chris cannon saga. In a teaser for the "Meatball Day Wrap-Up Special," Angelina, Deena Cortese, Jenni "JWoww" Farley, and Nicole "Snooki" Polizzi talk about the debacle.
"You almost murdered your husband," Nicole tells Angelina before a producer interrupts their reminiscing. "We have a whole segment about that later," says the producer.
RELATED: MTV Video Music Awards 2021: Who Is Nominated and How to Watch
"Wrapping up another season of #JSFamilyVacation calls for one thing: A proper meatball celebration!" reads a tweet from the show's account. During the episode, the roommates will look back their "favorite fam memories from this year." For more details, tune in to the "Meatball Day Wrap-Up Special" on MTV at 8 PM EST.
'Jersey Shore: Family Vacation' will return with 4 more seasons, according to the Sorrentinos
Mike and Lauren celebrated a big milestone in the same episode of the Here's the Sitch podcast. Jersey Shore: Family Vacation will return with four more seasons over the next few years — as long as ratings remain consistent. Stay tuned to Showbiz Cheat Sheet for updates on future seasons of Jersey Shore: Family Vacation.