'Jersey Shore: Family Vacation': Pauly D Admits to Creating Drama Between Angelina and Vinny
For more than 10 years, the cast of Jersey Shore has been like a family. And like any family, the group has had its fair share of fights.
No one has been involved in more drama on the show than Angelina Pivarnick. There isn't a single cast member Pivarnick hasn't crossed at some point or another, but Vinny Guadagnino is hands down the roomie Pivarnick argues with the most — and now we know why.
Pauly DelVecchio is to blame.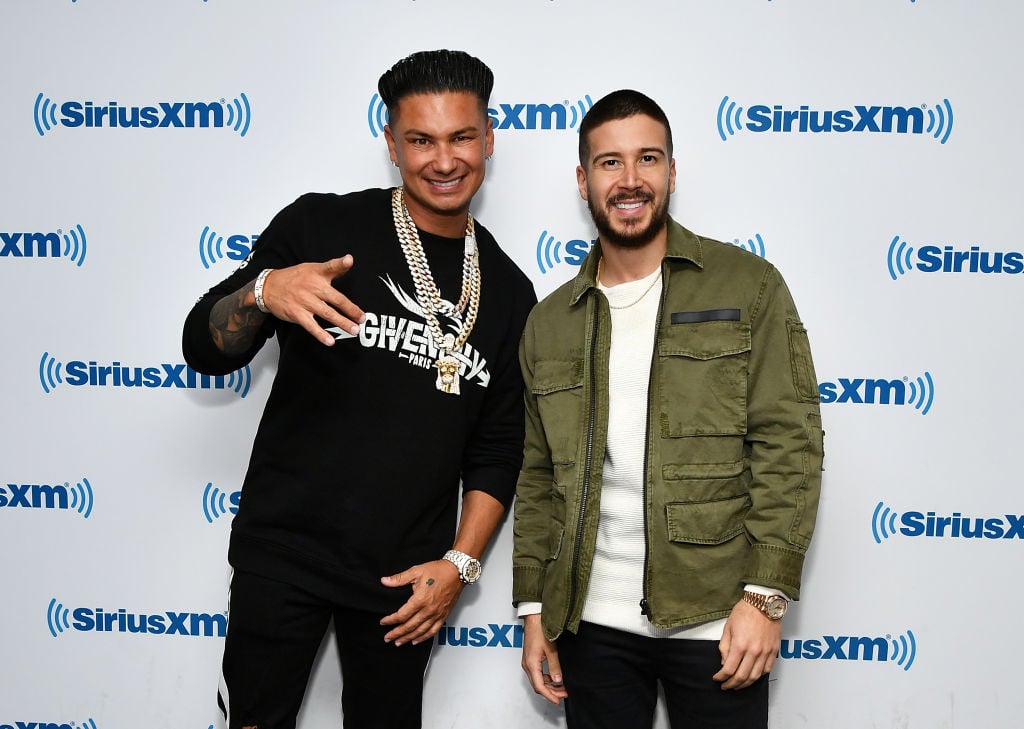 Angelina and Vinny's history
Guadagnino has had some pretty memorable shore house hookups, but none as memorable as the nights he shared with his two roomies. The Keto Guido hooked up with Pivarnick and Nicole "Snooki" Polizzi on separate occasions.
Guadagnino and Pivarnick's relationship began pre-Jersey Shore. The two frequented the same social circles in high school, according to Pivarnick. It wasn't until they reconnected in Seaside Heights that "Angelinny" was born. During the second season of Jersey Shore, Pivarnick and Guadagnino were briefly on the same page, spending a drunken night together hooking up.
Ronnie Ortiz-Magro and Sammi "Sweetheart" Giancola weren't the only roommates to have a tumultuous relationship. For "Angelinny," things started to go downhill when Guadagnino referred to Pivarnick as "the Rob Kardashian of Staten Island."
From what we've seen on Jersey Shore: Family Vacation, Pivarnick and Gudagnino still have it out for each other, but for the most part, they've set aside their differences and consider each other family.
Pauly D admitted to stirring the pot
Jersey Shore fans can thank DJ Pauly D for the hilarity that ensues on the show. The prank war champion knows how to entice a good time out of his roomies.
In an interview with Decider, DelVecchio admitted that he's often the cause of the drama between Pivarnick and Guadagnino. "The drama to me is so entertaining for myself, that's like my television. I watch these guys' drama and I might amp it up a little bit," DelVecchio explained.
When it comes to pushing Pivarnick's buttons, DelVecchio has it all too easy. "I will say something to Angelina that's somewhat mean but she'll get mad at [Vinny] for it," he said. Hot-headed and ready to go, Pivarnick's personality creates the perfect storm for a good laugh.
How does DJ Pauly D get away with it? "No one can get mad at Pauly," Guadagnino said. "Everybody loves him. He's worse than anybody, but he's a saint so no one cares when Pauly does it."
Vinny hopes Pauly's prank wars continue forever
Guadagnino feels the same way many fans do — he hopes Jersey Shore continues for years and years to come. "I always said I hope Jersey Shore lives on," Guadagnino said.
As the roommates get older, their Family Vacation location may have to change. "I hope we can be in a nursing home doing Jersey Shore. I'm sure there would be drama at that age, me and Pauly would still be single, hitting on nurses and stuff," he joked.
That could only work if the nursing home provided a gym, tanning, and laundry services.
Related: The Cast of 'Jersey Shore: Family Vacation' Has No Time for Internet Trolls