'Jersey Shore: Family Vacation': Will Sammi 'Sweetheart' Giancola Be Invited to Jenni 'JWoww' Farley's Wedding?
Jersey Shore: Family Vacation fans can't wait for more details to emerge regarding Jenni "JWoww" Farley and Zack "24" Carpinello's wedding. Farley recently opened up about her wedding plans. She mentioned inviting former Jersey Shore roommate Sammi 'Sweetheart' Giancola, but only under one condition. Find out who is likely to be at Farley's wedding, whenever that may be.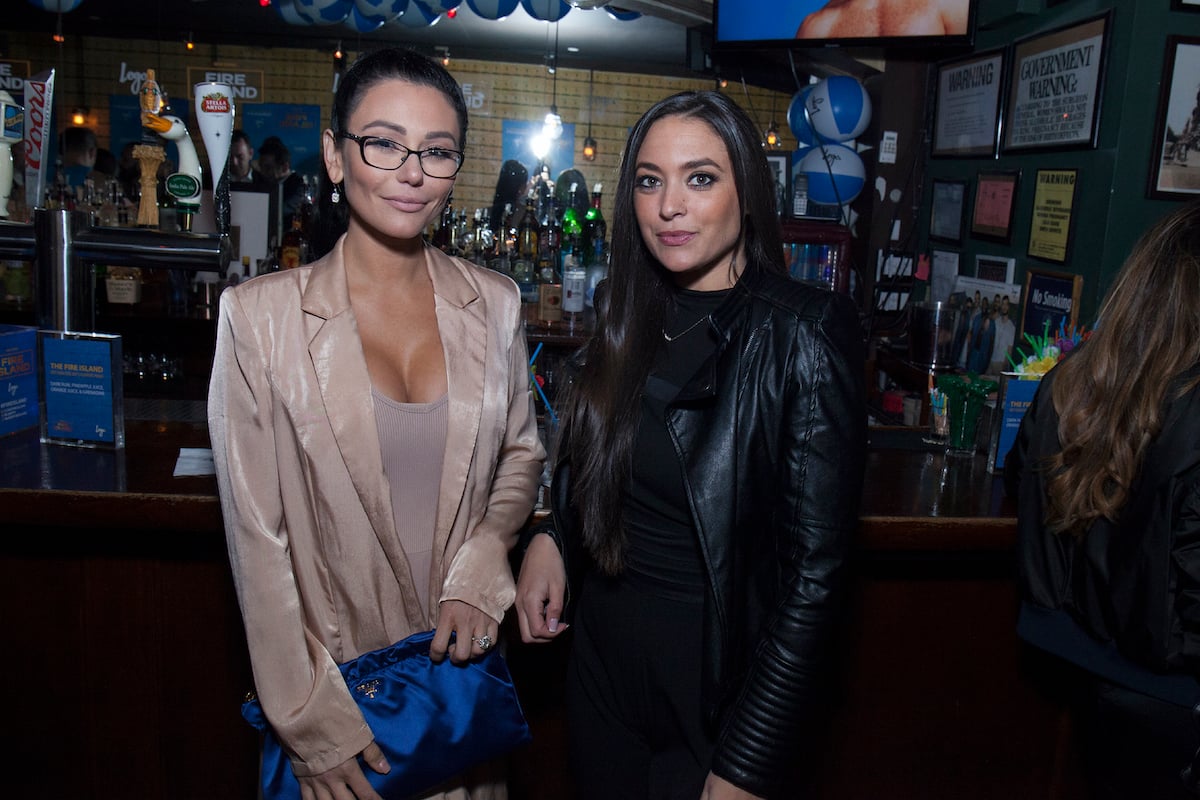 Jenni 'JWoww' Farley and Zack' 24′ Carpinello got engaged in February 2021
Carpinello proposed to Farley on her birthday this year. Per the teaser for Jersey Shore: Family Vacation, the show will highlight their engagement in new episodes of season 4B. But many fans hope other wedding details are discussed, like the guest list and when the wedding will take place. 
Jenni 'JWoww' Farley's wedding guest list 
The biggest determining factor is whether or not Farley will allow MTV cameras to record the wedding for the show. Regardless, Farley's Jersey Shore family will likely be in attendance — including Angelina Pivarnick and possibly even Sammi "Sweetheart."
Sammi 'Sweetheart' Giancola and Jenni Farley 'talk often'  
Farley spoke with In Touch Weekly about inviting Giancola to her upcoming wedding. "We talk often," Farley told the outlet. "She's very sweet [and] does respond on some of my pictures and posts." 
When asked if Giancola will receive an invite to her wedding, Farley said she would invite her under one condition. "I don't think I'll invite her if I do have it on camera," the reality star said. "I'll respect her wishes that she doesn't want to be on camera anymore." 
After the final season of Jersey Shore, Giancola left reality TV. She did not return for Jersey Shore: Family Vacation to avoid "toxic situations." 
Sammi 'Sweetheart' was planning a wedding of her own
In March 2019, Giancola and long-time boyfriend Christian Biscardi got engaged. She told In Touch Weekly how "exciting" it was to be engaged to someone who lives out of the spotlight. 
"He's no one in the business, it's just somebody," Giancola told the outlet. "I'm learning to keep my relationship stuff a little more private — so that's all I'm gonna say about it." 
Giancola and Biscardi's original wedding date was unknown, even to the Jersey Shore: Family Vacation cast. But now, some fans think Biscardi and Giancola have called off the wedding altogether. 
The couple has removed mentions of each other on their social media accounts. Plus, Biscardi's relationship status is allegedly set to single now. At this time, their breakup is unconfirmed, but that hasn't stopped fans from making assumptions based on Giancola's social media activity. 
Sammi 'Sweetheart' now focused on her new business Sweetheart Coast 
For the last few months, Giancola has been teasing her latest business venture on social media. Now, Sweetheart Coast is open on the Ocean City, New Jersey boardwalk. 
Like Farley and Nicole "Snooki" Polizzi, Giancola owns a brick-and-mortar store where fans can shop hand-selected fashions from the reality star. "I've been working so, so hard on [Sweetheart Coast]," Giancola announced on YouTube. 
"It's time that I branch off into some other fun, fashionable things that I enjoy and love," she continued. "Sweetheart Coast is a fun fashionable clothing, accessories, home decor, gifts boutique." Many Jersey Shore fans are happy to see Giancola pursuing her passions. 
As for whether Farley will include Giancola in her wedding plans, fans will have to tune in to new episodes of Jersey Shore: Family Vacation to find out more. Watch new episodes every Jerzday at 8 PM EST only on MTV.