'Jersey Shore: Family Vacation' Season 3 Drama Surrounding Leaked Wedding Speech Audio Resurfaces Amid Angelina Larangeira's Divorce
The speech from Angelina's wedding is making waves among the 'Jersey Shore: Family Vacation' cast again.
The Sun is causing a major stir about the leaked speech from Jersey Shore: Family Vacation Season 3. After publishing a headline about Angelina Larangeira allegedly leaking the audio of the speech from her 2019 wedding to purposefully make her MTV castmates look bad, Nicole "Snooki" Polizzi, Jenni "JWoww" Farley, and Deena Cortese took to Twitter to address the matter.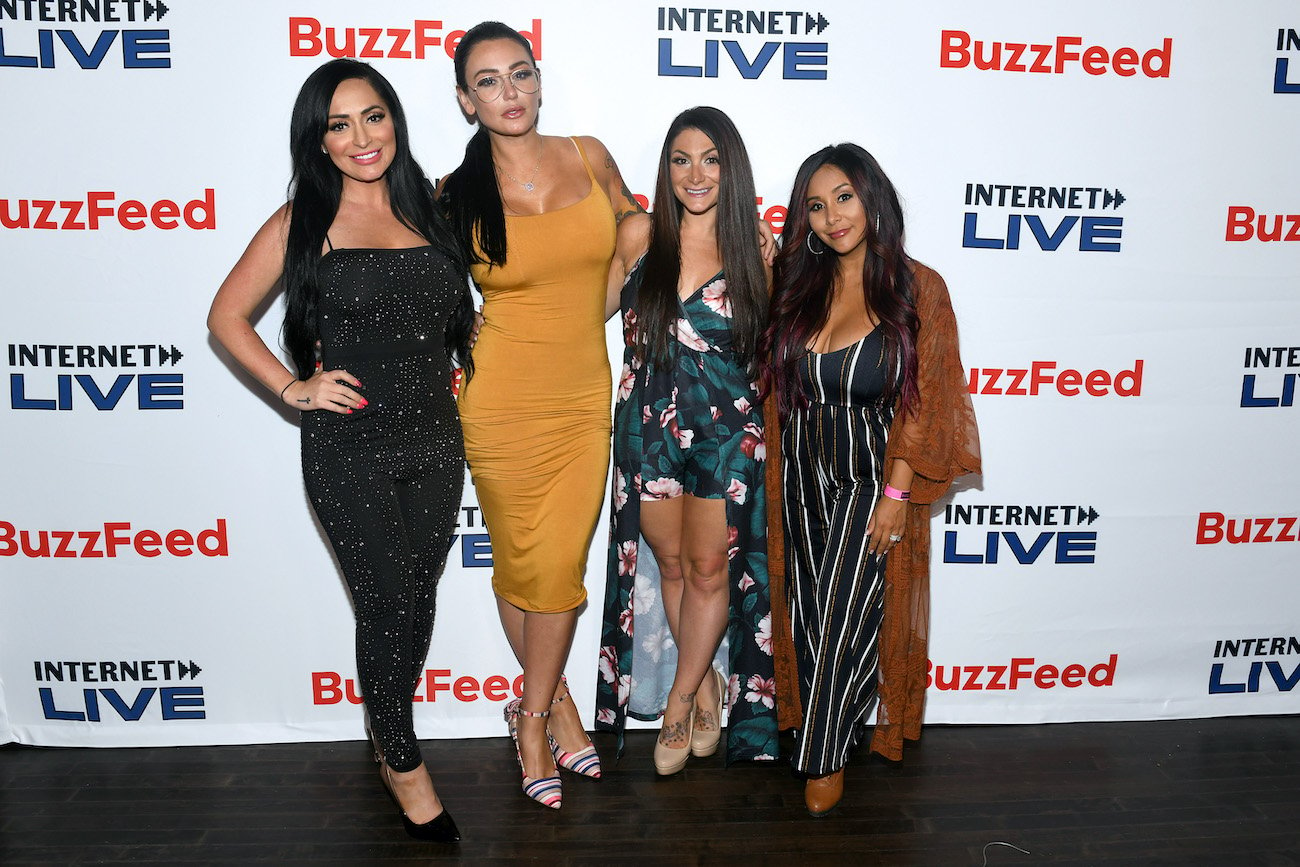 'Snooki,' 'JWoww,' and Deena address the leaked speech from 'Jersey Shore: Family Vacation' on Twitter
After the headline started circulating, Larangeira's co-stars addressed the reality star on Twitter. "Just stop @angelinamtvjs," Farley said. "Your own husband told us you did this … please just stop." Mike "The Situation" Sorrentino replied to the tweet with a GIF of himself removing sunglasses in shock from Jersey Shore Season 2. 
Polizzi, who briefly left the show because of the drama surrounding the speech, also addressed the article in a tweet. "Damn this hurts," she started.
"I had to take a mental break from this show because I truly thought I ruined her wedding and hurt her. We've all been there for her trying to make things right and this s*** hurts."
Once again, Sorrentino replied with another GIF of himself from the MTV series. In a since-deleted tweet, Cortese also addressed the article: 
"To think she swore on her animals' lives she didn't leak it. I feel like this friendship we have has been based on a lie. I've been there for her and now I know she deliberately did something to hurt me. Makes me sad. Unfortunately I know the source [and] know it is in fact true." 
'A source' says Angelina told Chris Larangeira she leaked speech 
Per The Sun's reporting, "according to a source, Angelina told her now estranged husband Chris Larangeira that she was the one who secretly shared audio" of the wedding speech
Per the source: "Angelina and Chris had a heads up about what these speeches were, and the general content of them. Everyone was totally on board with what was set to be said."
'Jersey Shore' star Angelina Larangeira claims Chris is the source
Jersey Shore fans are curious about who The Sun's source was. Some think it could be Chris. 
"Who was your source her bitter ex-husband," a Twitter user replied to The Sun. Larangeira retweeted their message, adding: "U can say that again." 
Chris filed for divorce in January 2022. It's unconfirmed whether he's the source who spoke to the outlet. 
Angelina Larangeira's manager allegedly leaked the speech audio before. the'Jersey Shore: Family Vacation' episode aired
According to The Sun, the Jersey Shore: Family Vacation cast believed a guest at the wedding leaked the audio — until now. But in November 2020, Farley and Larangeira discussed how the Jersey Shore star's manager leaked the audio on Jenny McCarthy's Sirius XM show.
During their conversation, Farley mentioned how Larangeira's manager, Rob Spano, was responsible for leaking the audio \. "If you didn't post or sell the audio —" Farley said, but was interrupted by Larangeira.
"I didn't sell the audio," Larangeira said. "Your manager did," Farley clarified, continuing:
"If you would have let it play out nine months later for the [fans] to see [on television,] none of this would have happened. But because you chose to feed into it and say that you needed a wedding redo — all this bulls***, none of the fans would have known."
It's unclear how the new drama surrounding the leaked audio will impact future episodes of JSFV, if at all. New episodes of Jersey Shore: Family Vacation Season 5 air on MTV every Thursday at 8 p.m. ET.