'Jersey Shore: Family Vacation' Season 4 Episode 17: What Angelina Pivarnick Has to Say About the Security Doorbell Video Footage
In Jersey Shore: Family Vacation Season 4, Mike "The Investigation" Sorrentino seeks to learn more about Angelina Pivarnick's marriage to Chris Larangeira. Thanks to his investigative board, the Jersey Shore roommates think the couple is headed for divorce. Things take a turn in "The Streets Are Talking" episode when Lauren Sorrentino gets word of security doorbell footage.
Sorrentino's source claims they have damning evidence that proves Pivarnick is allegedly cheating on her husband. The footage also shows Pivarnick "throwing her garbage and chicken nuggets [at] everyone outside."
Now, all many people want is to see the video doorbell footage. But is the security footage authentic, or was it concocted for the reality series like some fans think? Here's what Pivarnick has to say.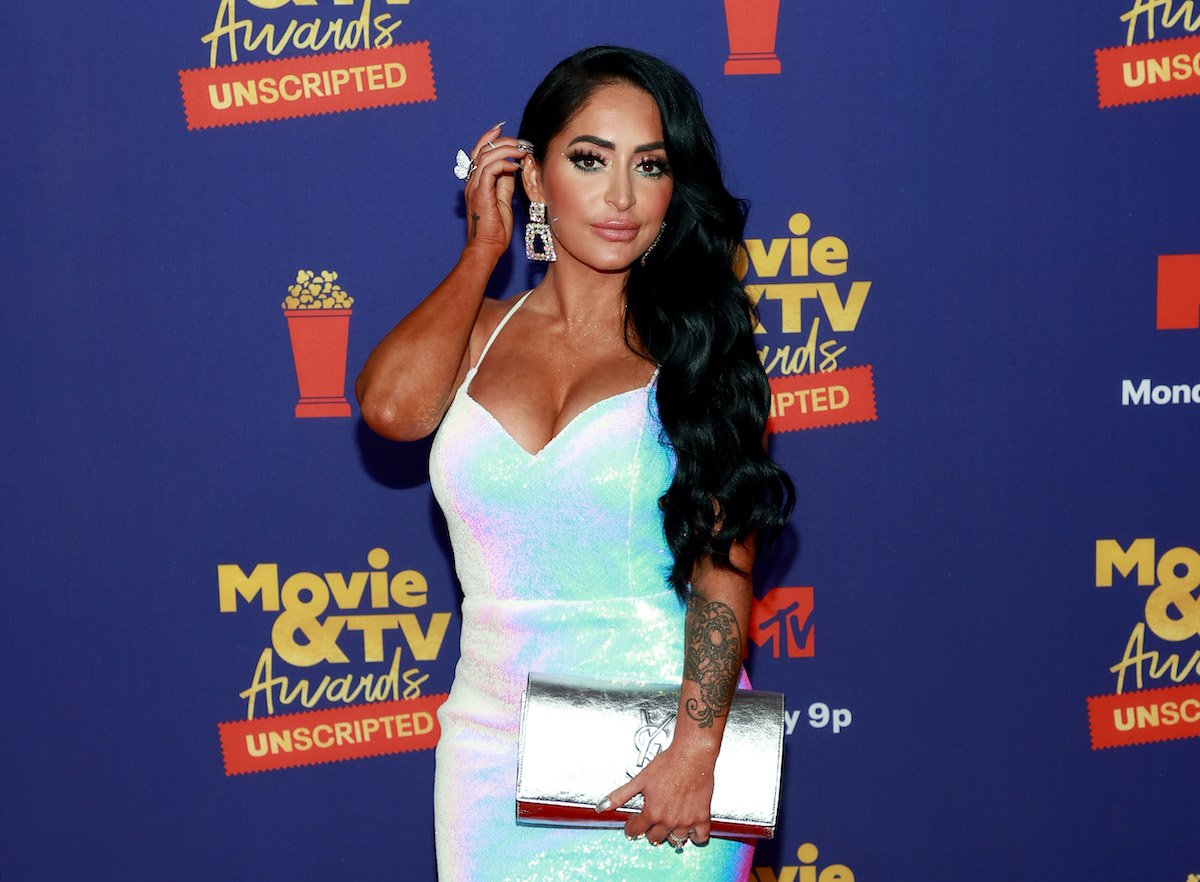 Angelina Pivarnick allegedly cheats on Chris Larangeira and gets caught
Pivarnick and Larangeira's marriage is the main narrative in season 4 of Family Vacation. In the first three episodes of the new season, fans learned Pivarnick and Larangeira were going through a rough patch. 
During the June 17 episode, the Sorrentino's get news from a family member regarding Pivarnick's alleged behavior. "Angelina has been going to her neighbor's house," Lauren reads from a text. 
[She] keeps parking in the spot in front of her house, and she is allegedly cheating on her husband with this girl's neighbor. Angelina is 'throwing her garbage and chicken nuggets [at] everyone outside.'
Later, when Jenni "JWoww" Farley presents this information to Pivarnick, she is in disbelief. "There's nothing in the videos except me walking in and out," the reality star Tweeted as the episode aired. "I'm being typical Angelina."
RELATED: 'KUWTK': Did Kim Kardashian Quote Mike 'The Situation' Sorrentino in the Series Finale?
"I don't even eat tendies," Pivarnick says. As it turns out, the Jersey Shore: Family Vacation star is more of a Whopper kind of person. 
'Jersey Shore: Family Vacation' fans want to see the Angelina Pivarnick doorbell footage 
"Where's the footage?" a fan asked on Reddit during the June 17 episode of Jersey Shore: Family Vacation. "I can't find this alleged cheating footage online. Are we supposed to believe that -if it actually does exist- it wasn't leaked? I really just want to know if this is a storyline (what I initially believed) or real events."
The footage is real, considering how Farley views it in the episode. According to the roommates, it is Pivarnick in the video. It's unclear whether or not MTV will show the footage on the show.
What the security doorbell footage of Angelina Pivarnick shows 
After searching in the deepest corners of the internet, Jersey Shore: Family Vacation fans still can't seem to find the footage of Pivarnick. But according to the reality star, the footage doesn't prove anything about her cheating on her husband.
"The videos are of me and my girl and with my guy friend with us and some with me walking out alone lol," Pivarnick says in a tweet. "I can't have friends that I chill with? Right away I gotta be f—— my friends lolll girl needs to get a serious life. There's nothing to the videos at all." 
Pivarnick also says the woman who originally obtained the footage no longer lives in the same community. "That girl's lucky she got evicted for not paying her rent and that she was pregnant lol," Pivarnick writes on Twitter. "She better hope I never see her ass anywhere."
RELATED: 'Jersey Shore: Family Vacation's Vinny Guadagnino Explains Why He Doesn't Have a Girlfriend
According to Pivarnick, the entire story surrounding the video was fabricated. Fans will have to stay tuned to new episodes of Jersey Shore: Family Vacation to see if the show ever airs the footage of Pivarnick.