'Jersey Shore: Family Vacation' Season 4, Episode 24: Angelina Pivarnick Comments on Chris Larangeira's Feelings About Her 'Fame and Life'
Jersey Shore: Family Vacation fans aren't the only ones tuning in to new episodes every Jerzday. The roommates watch the show and share their reactions on social media. Find out what Angelina Pivarnick thinks about the things her husband Chris Larangeira shares during the significant others' dinner in the Jersey Shore: Family Vacation episode "Surprise! It's a 'Snooki.'"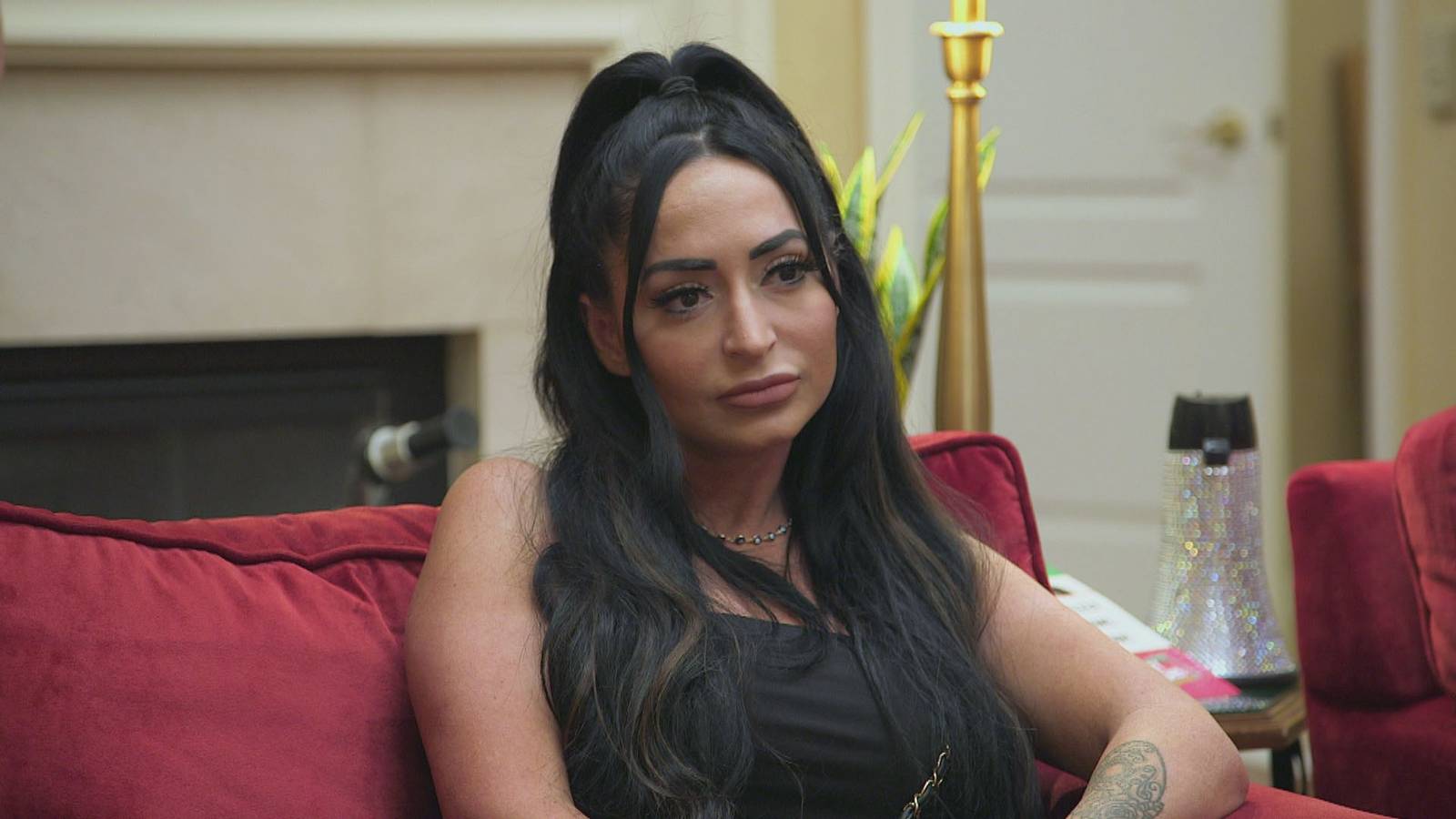 Mike 'The Situation' Sorrentino finally reveals his investigation board on Angelina Pivarnick's marriage
Mike "The Situation" Sorrentino has become "The Investigation" in Jersey Shore: Family Vacation Season 4B. After learning about Pivarnick's presumed infidelity in Old Bridge, New Jersey, Sorrentino took it upon himself to create an investigation board featuring the social media posts and news articles about Pivarnick to try and get to the bottom of what happened. 
In reality, Pivarnick was visiting a friend. But that didn't stop fans from assuming she was cheating on her husband. At the time, Pivarnick and her husband were separated. In the beginning of season 4, Larangeira was living with his mother. 
During that time, Pivarnick filed for divorce after less than two years of marriage. She never served Larangeira with the divorce papers.
Now that Pivarnick has had a chance to share her side of the story with the roommates, Sorrentino feels it's only fitting to share his investigation board with her. He does so during a "Family Dinner," and Pivarnick takes the presentation with a smile. 
'Jersey Shore: Family Vacation' casts' significant others have a dinner 
While Sorrentino shares his investigation board with Pivarnick, Lauren Sorrentino, Chris Buckner, Nikki Hall, Zack "24" Carpinello, and Larangeira had dinner together. Each shared details about what it's like to be with someone in the public eye, but no one opened up more than Larangeira. 
Thanks to Lauren's questions, Larangeira was able to talk about his and Pivarnick's brief separation and the current state of their marriage. He also admitted he never wanted a life in the public eye. 
As Larangeira explains in the episode, he's known Pivarnick for some time. "We first became friends before she was even on Jersey Shore," he tells the significant others. "We were planning on a regular family without all this." 
Larangeira also says if it weren't for Pivarnick's career in reality TV, they would have likely already had a child. "Sometimes I think without the fame, without the money, it would be a little easier," he admits. "I didn't sign up for the fame and fortune. I signed up for love with Angelina." 
"You have to find what works for you," Lauren advises Larangeira regarding life in the public eye. Regardless, the roommates think Larangeira is putting a lot of effort into working things out with Pivarnick, and she should do the same. 
Angelina Pivarnick found out how Chris Larangeira felt during the episode 
While Larangeira was opening up to the significant others, Pivarnick was in another location of the Pocono resort. According to Pivarnick's Twitter, she was unaware of how her husband felt about her life until the episode "Surprise! It's a 'Snooki'" aired. 
"I was having a moment," the reality star writes. "[Lauren] didn't ask [Larangeira] anything bad actually. She actually opened Chris up a little which is cool cause I didn't know he felt that way about my fame and life." 
Are Angelina Pivarnick and Chris Larangeira still together?
As the Jersey Shore roommates noticed during their trip to the Poconos, Pivarnick and Larangeira's relationship was in a good place. But Pivarnick feared leaving the Poconos and going home would lead them to fight again. 
On the contrary, it seems Pivarnick and Larangeira are happy together. "Right now, we're just living life," Pivarnick told In Touch Weekly on June 2. "That's all I can say right now." 
Communication has been a big focus for the couple. "If you don't have that, sometimes sh*t hits the fan," she adds. Tune in to Jersey Shore: Family Vacation Thursdays at 8 PM EST on MTV to see more from Pivarnick and Larangeira.