'Jersey Shore: Family Vacation' Season 4, Episode 25: Lauren Sorrentino Reminds Angelina Pivarnick 'This Isn't High School' on Twitter, Fans React
Angelina Pivarnick doesn't like when people meddle in her relationship with her husband Chris Larangeira — especially her Jersey Shore: Family Vacation roommates. In the "SS Side Piece" episode of season 4, Pivarnick had a lot to say about what Lauren Sorrentino said to Larangeira.
As the episode aired, "Mrs. Situation" stood up for herself regarding Pivarnick's comments. She also encouraged Pivarnick to talk with her directly instead of asking the other roommates for information because "this isn't high school."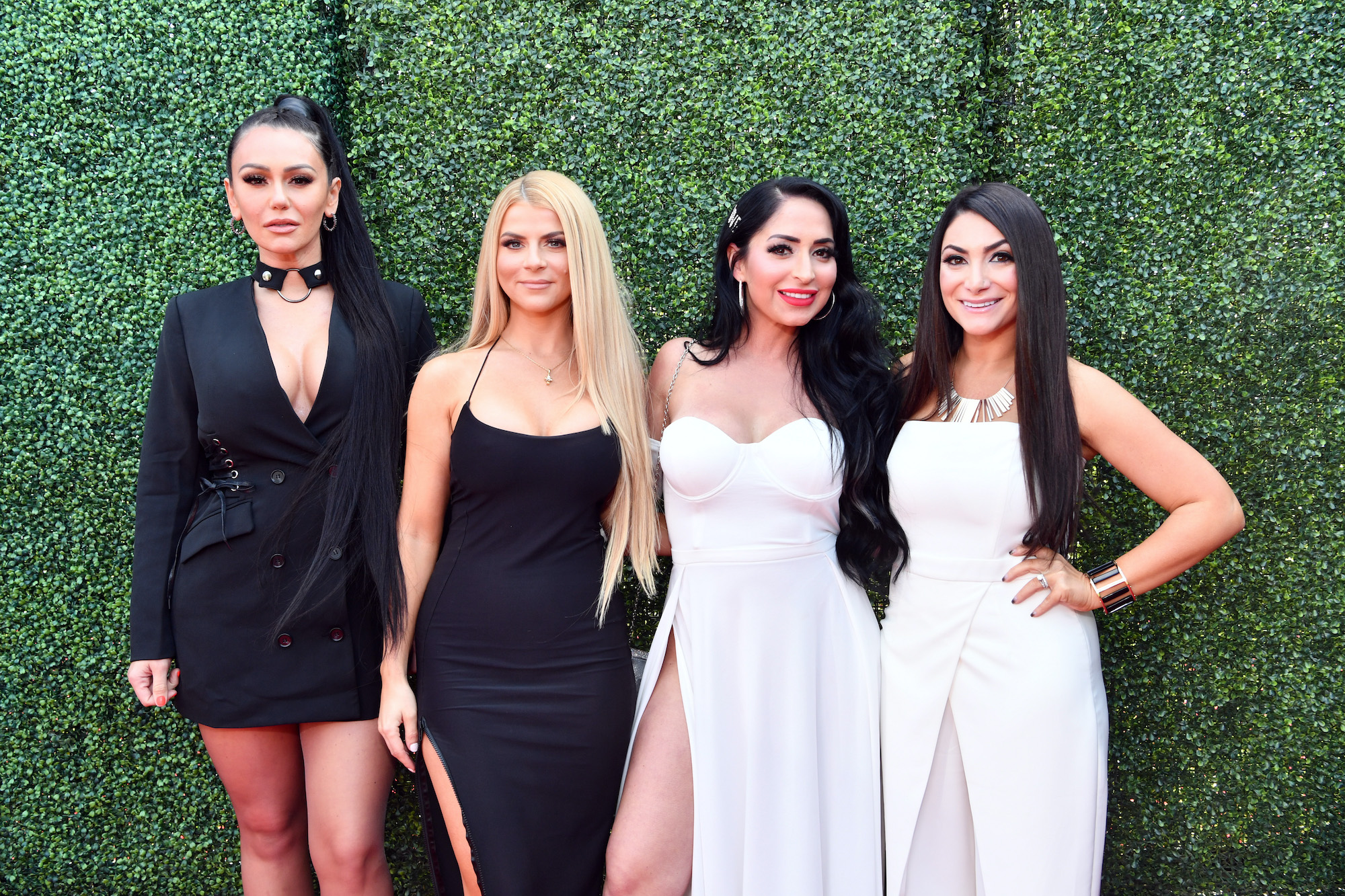 Angelina Pivarnick wonders what Lauren Sorrentino asked Chris Larangeira during the 'Significant Others' dinner
During the "It's a 'Snooki!'" episode of Jersey Shore: Family Vacation, the roommates broke off to have a family dinner. Meanwhile, their significant others dined elsewhere and formed a special bond. 
Larangeira opened up about his and Pivarnick's marriage. At the beginning of 2021, Larangeira and Pivarnick were separated. She filed for divorce but never served her husband with the papers. Today, it seems the couple is still together and working on their relationship. 
Sorrentino and the significant others listened to Larangeira, asking questions about his relationship with the reality star. Larangeira shared as much as he felt comfortable, and overall, the significant others seemed to solidify their friendship during that meal. 
But Pivarnick felt differently about the dinner. Unsure of the questions Sorrentino asked her husband, Pivarnick began to think Sorrentino was inserting herself into their marriage. 
"I just wanna know if Lauren was getting a little too involved," Pivarnick tells Pauly DelVecchio's girlfriend Nikki Hall in the "SS Side Piece" episode. "Sometimes I do feel like she gets involved a little too much — I'm just saying." Hall advised Pivarnick to speak directly with Sorrentino if she truly felt that way.
Lauren Sorrentino speaks out on Twitter regarding Angelina Pivarnick's comments on 'Jersey Shore: Family Vacation' 
As with every episode of Jersey Shore: Family Vacation, the cast is extremely active on social media when they air. Like fans, this is the first time they're seeing the edited footage. When Sorrentino saw Pivarnick's concern about her conversation with Larangeira, she took to Twitter to clear the air. 
"[Hall] told me about this convo!" Lauren tweeted during the episode. "I love Nikki; I feel like she's the most similar to my personality when we're all together on these trips! Love her being there."
Hall defended Sorrentino in another tweet. "I'll be the first to address someone I heard talking about me…not with the he said she said," Hall wrote during the episode.
"Come to me direct with that!" Sorrentino adds. "This ain't high school."
In another tweet replying to fans, Sorrentino explains: "We are on a reality show. There is no script. We get paid to talk about everyone's relationships good, bad, or indifferent, including mine. I think that's an important aspect not to forget. Also, I wouldn't be a friend if I wasn't trying to get to the bottom of some of her problems." 
RELATED: Nicole 'Snooki' Polizzi Says She Choose 'Not Being Famous' if She Could
'Jersey Shore: Family Vacation' fans react to Lauren Sorrentino's behavior 
Despite Sorrentino's explanations on social media, some fans are still disappointed with the way she handled Pivarnick's business in the episode. One fan on Reddit thinks Sorrentino was "kinda shady to Angelina for no reason."
This fan also thinks Sorrentino "laughed" at Pivarnick's personal life. But as many Jersey Shore: Family Vacation fans often forget, the show is edited for television. "This is Lauren's first time having not the best edit," one fan points out. "I would definitely just drop it."
"I think Lauren just needs to take the L on this and turn it into a lesson," another fan commented. The roommates still have to work together regardless of what went down on social media during this season 4 episode. 
According to recent Instagram Stories, the women of Jersey Shore: Family Vacation have been filming together for what could potentially be season 5 of the show. Stay tuned to Showbiz Cheat Sheet for updates.