'Jersey Shore: Family Vacation' Season 5: Angelina Larangeira Shares Details About Her Marriage to Chris in New Clip
Angelina and Chris Larangeira's marriage has been a hot topic on Jersey Shore: Family Vacation. It looks like that trend could continue in JSFV Season 5, thanks to a new clip.
After watching Angelina and Chris' relationship problems publicly unfold, Jenni "JWoww" Farley sits with Angelina to figure out if divorce is imminent. Here's what Angelina had to say about her marriage.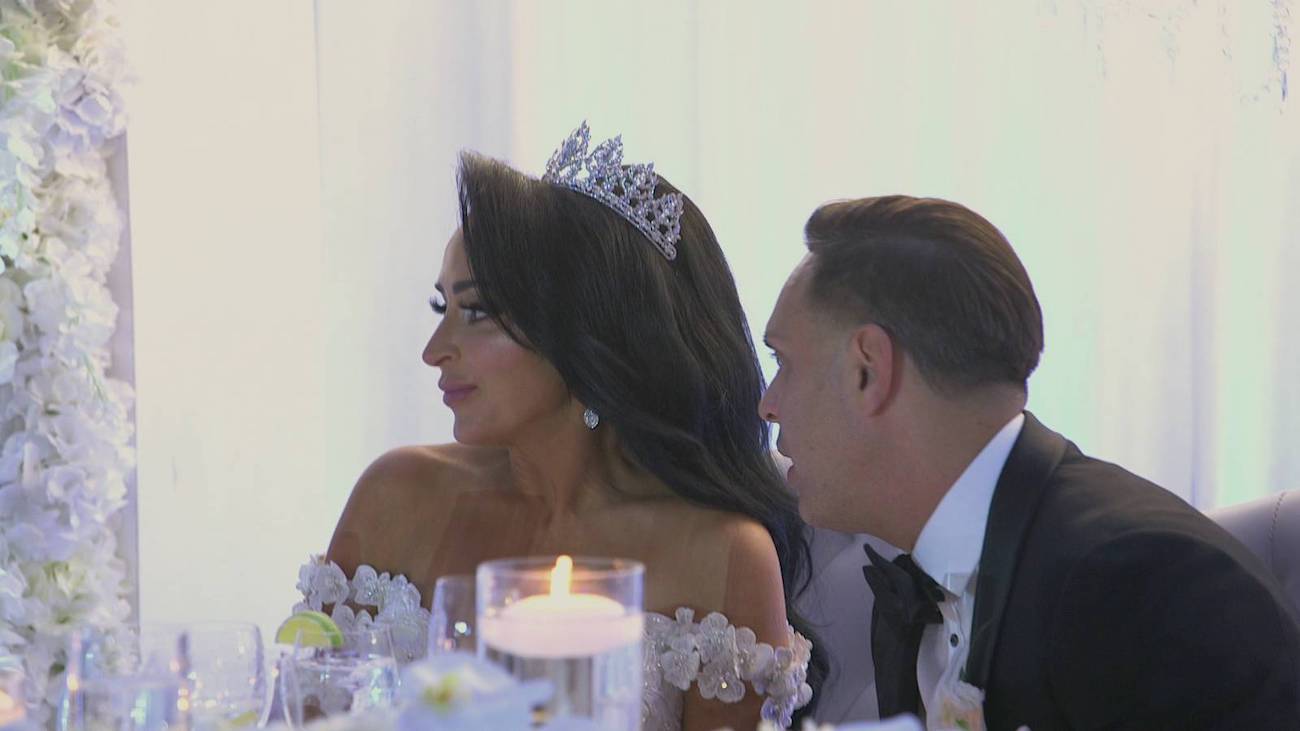 Angelina and Chris Larangeira's marriage in season 4 of 'Jersey Shore: Family Vacation' 
The Larangeira's marriage was a major theme in Jersey Shore: Family Vacation Season 4. At the beginning of the season, Mike "The Situation" Sorrentino worked with Angelina to understand what was going on between her and her husband. But when the roommates discovered security doorbell footage of Angelina, allegations about her cheating on Chris were thrown around. 
Ultimately, Angelina clarified she wasn't cheating. Later, she and Chris joined the roommates in the Poconos. There, Chris opened up to the significant others about being married to someone with a career in the public eye.
During the second half of Jersey Shore: Family Vacation Season 4, news broke about Angelina filing for divorce. A family court representative confirmed the January 2021 filing, but Angelina never served Chris the papers. By the end of season 4, Angelina mentioned going to therapy with her husband and the possibility of freezing her eggs to start a family one day. 
Angelina's relationship with Chris gets tested in season 5 
At this point, Angelina and Chris are still married. But the cast description for Angelina on MTV's website alludes to her marriage being a theme in season 5. "Angelina is at a crossroads," her bio reads. 
"Things with Chris aren't any better since the gender-reveal powder-gun mishap in the Poconos. She wants to make her marriage work, though, and is setting their second anniversary as a make-it-or-break-it deadline." 
In a teaser clip from season 5, "JWoww" asks Angelina to list five things that are "good" about Chris. "He's good to the animals," Larangeira starts. "He does the laundry." 
Farley deems the qualities Larangeira is listing are "mediocre at best," then prompts her: "Is he a great communicator? Do you have great sex?"
"Those two things are non-existent," Larangeira admits. "I can basically walk around the house with no makeup on and he won't judge me," Larangeira adds after thinking for a beat, but she corrects herself — "75% [of the time] he doesn't judge." 
Her list continues with "he's funny," but the clip ends before Larangeira can add a fifth quality. Tune in to the premiere of Jersey Shore: Family Vacation to find out what else Larangeira has to say about Chris' good qualities.
'Jersey Shore: Family Vacation' Season 5 starts on Jan. 6 — how to watch  
Jersey Shore: Family Vacation returns to MTV on Jerzday, Jan. 6, 2022, at 8 PM ET. Fans can watch the episodes live on the network or stream new episodes on MTV.com. Jersey Shore: Family Vacation can also be streamed through Philo, Hulu Live, fuboTV, YouTube TV, or AT&T's TV service.