'Jersey Shore: Family Vacation' Season 5 Confirmed: Everything We Know so Far
"Party's here!" Jersey Shore: Family Vacation fans, get excited. Season 4 of the MTV series may be over, but the network just made a huge announcement — the reality series has been confirmed for season 5. Here's everything we know about the upcoming season of Jersey Shore: Family Vacation.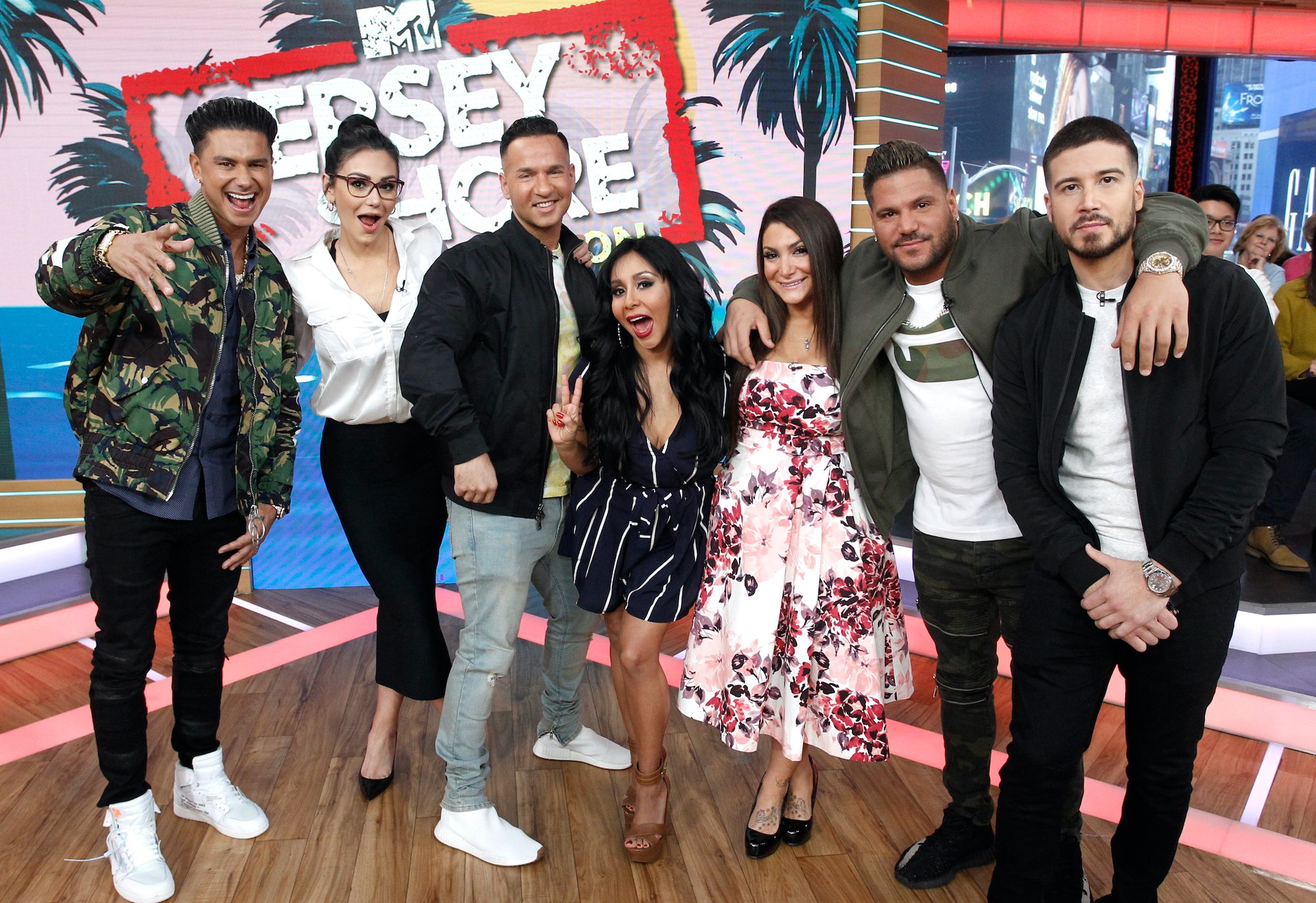 Nicole 'Snooki' Polizzi teased a new season with her castmates
In July 2021, Nicole "Snooki" Polizzi and her castmates started teasing the new season of Jersey Shore: Family Vacation on social media. "Making TV outside until baby Romeo is ready for visitors," Lauren Sorrentino wrote in her Instagram Stories over a picture with a small camera crew (via Reddit). She and Mike "The Situation" Sorrentino welcomed their son, Romeo Reign Sorrentino, in May 2021.
Polizzi verbally confirmed she was filming new episodes of the show on her podcast It's Happening With Snooki & Joey. "I just filmed — we're filming for next season," Polizzi says in "Bye Bye Poppers."
"The show's coming back you guys," Polizzi continues. "There's no more drama anymore. Well, there's drama here and there, but it's not going to take over the show. The party's back, and it's going to be a good-ass time."
MTV officially confirms 'Jersey Shore: Family Vacation' Season 5 and the return of 'Snooki'
MTV announced another season of the pop-culture phenomenon on Sept. 2. The network also confirmed Polizzi's return to the cast. Jersey Shore: Family Vacation Season 4B concluded the same day.
At this time, it's unclear if Ronnie Ortiz-Magro will return to the series in season 5. In August 2021, he told TMZ he hopes to come back for the new season.
"Hopefully the end of season 5 [I'll be back]," Ortiz-Magro told the outlet. "All the fans love me and I love them too, so I'll give them what they want."
A release date for Jersey Shore: Family Vacation has not been announced. Until then, there's plenty of Jersey Shore-related content for fans to enjoy on MTV. New episodes of Double Shot at Love will air every Thursday beginning Sept. 16.
'Jersey Shore: Family Vacation' cast expected to return in season 5
Ortiz-Magro's return is unknown at this time. However, given Polizzi and Angelina Pivarnick's reconciliation in the season 4B finale, fans can likely expect the whole family to be together again in the new season. "Snooki" had limited time in the Poconos during season 4, which meant a lot of drinks consumed in very little time. This caused her alter-ego "Dren" to make an appearance.
RELATED: DJ Pauly D Has an Instagram Account Not Many Fans Know About
Fortunately, nothing can break this family. Polizzi and Pivarnick had a conversation during the dual baby shower for Sorrentino and Deena Cortese. "I'm not trying to fight with you," Pivarnick said during the episode.
"Me neither — 'Dren' is a d—," Polizzi said. "I honestly can't explain it and I'm so sorry. I'm in the wrong."
With all of the beef between the roommates squashed, everyone should reunite in season 5. Who knows — maybe Uncle Nino will even make an appearance. Stay tuned to Showbiz Cheat Sheet for cast announcements and updates on the new season of Jersey Shore: Family Vacation.