'Jersey Shore: Family Vacation': The Most and Least Valuable Roommates, According to Fans
For more than 10 years, the Jersey Shore roommates have entertained the masses. Throughout Jersey Shore and Jersey Shore: Family Vacation, the cast has changed, with new roommates being added and old ones returning to the series.
Regardless of these changes, devoted fans feel strongly about certain roommates. Find out which Jersey Shore roommates fans find to be the most and least important.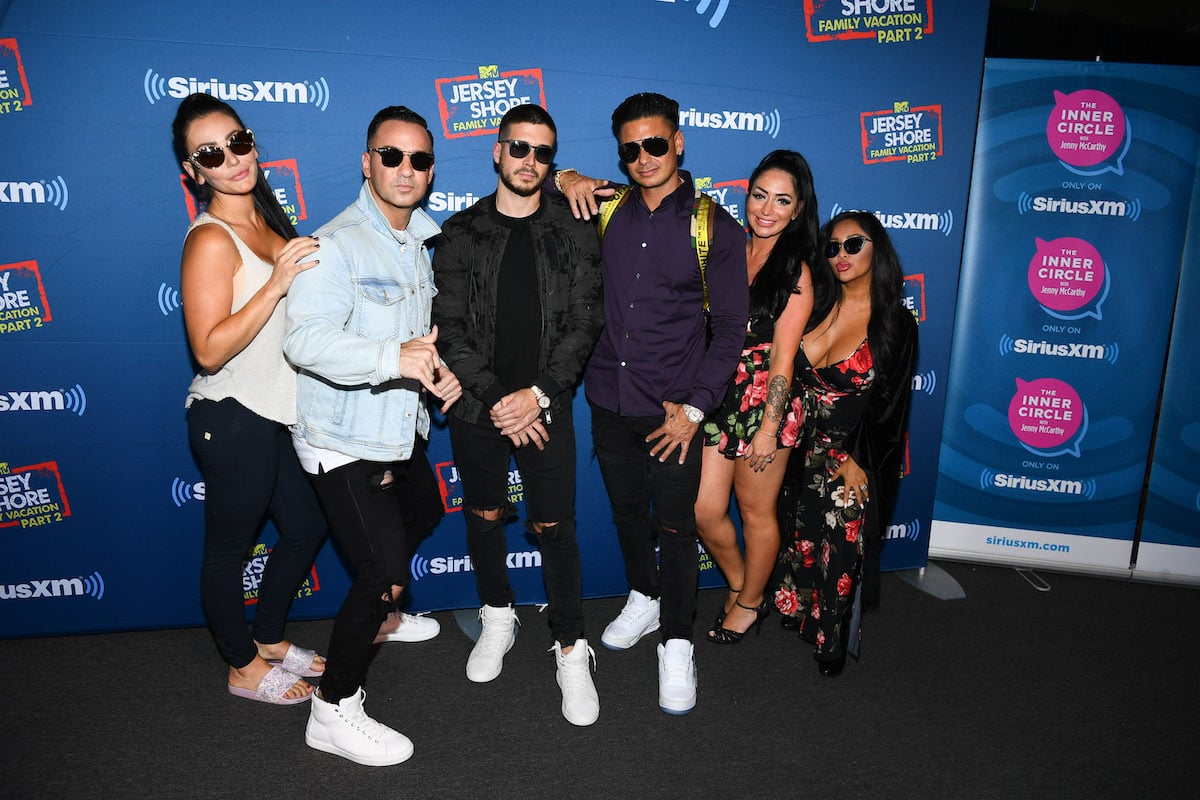 'Jersey Shore' fans discuss the best and worst of the roommates 
One fan on Reddit posed a two-part question: Who is the most valuable Jersey Shore castmate? And who is the most expendable and least important castmate? Jersey Shore fans took to the comments to discuss their answers and their resons for choosing the roommates they did. 
Fans think Pauly DelVecchio and Mike 'The Situation' Sorrentino are the most valuable roommates 
Mike "The Situation" Sorrentino and Pauly DelVecchio hold a special place in the hearts of Jersey Shore fans. After all, they make up more than half of "MVP."
"MVP has to be Pauly or Mike," one fan commented. "Might even be any of the guys." 
"Mike and Pauly really keep the show alive," another said. 
One fan pointed out how Sorrentino holds the family together. "Sitch has always been the one who cooks, holds fam together…even in original JS," they wrote. 
Another fan echoed that sentiment, writing: "Most valuable/important? Mike. He's got it all — a redemption story, he's funny, he's able to bring cast mates together, he has multiple storylines to look back on and he has multiple storylines to offer going forward."
Many fans can take 'Jersey Shore' without Deena Cortese 
Cortese originally auditioned for season 1 of Jersey Shore, but casting decided to go in a different direction. She officially joined the cast after Angelina Pivarnick left (again) in season 2. 
It could be because Cortese joined the cast after the original roommates already formed a bond, but many fans find Cortese to be the least important roommate on Jersey Shore. 
"Deena definitely adds no value to the show," one fan said. But just because fans think the show could go on without Cortese doesn't mean they don't love and appreciate her. "As much as I love Deena she's the most expendable," another added. 
"Deena for most expendable," another fan said. "Shes a total sweetie, but, not exciting per se anymore. I'd be bummed without the original cast."
Some 'Jersey Shore' fans think the show is better off without Angelina Pivarnick
Other fans saw Pivarnick as the least important castmate on Jersey Shore. "Least [important] is Angelina," one fan said. "I laughed so much at Thursday's ep and realized it's prob bc Angelina was barely even in it."
A few fans mentioned Ronnie Ortiz-Magro as the least valuable castmate. Shockingly, no one included Nicole "Snooki" Polizzi in their ranking of the roommates. 
"No ones mentioned SNOOKI!?!?!" a fan questioned. 
Many fans likely didn't consider Polizzi as an option since she removed herself from Jersey Shore: Family Vacation. 
Regardless of what these fans think, each of the Jersey Shore cast brings something unique to the show. After all, there wouldn't be a reality series without these guidos and guidettes!