'Jersey Shore: Family Vacation': Vinny and Angelina's Feud Continues, Mike 'The Situation' Plans a 'Blessification' in 'Meatballs Don't Hike'
The feud between Angelina Larangeira and Vinny Guadagnino consumes the family in 'Meatballs Don't Hike.'
Angelina Larangeira's feud with Vinny Guadagnino is front and center in the Jersey Shore: Family Vacation Season 5 episode "Meatballs Don't Hike." After Jenni "JWoww" Farley makes it to Los Angeles, Guadagnino takes his castmates on a 24-hour journey through the city — Larangeira included. But when Guadagnino gets wind of Larageira's conversation with her husband Chris, their feud worsens.
Plus, Mike "The Situation" Sorrentino gets some troubling news about his religious papers. Here's what happened in episode 4 of Jersey Shore: Family Vacation.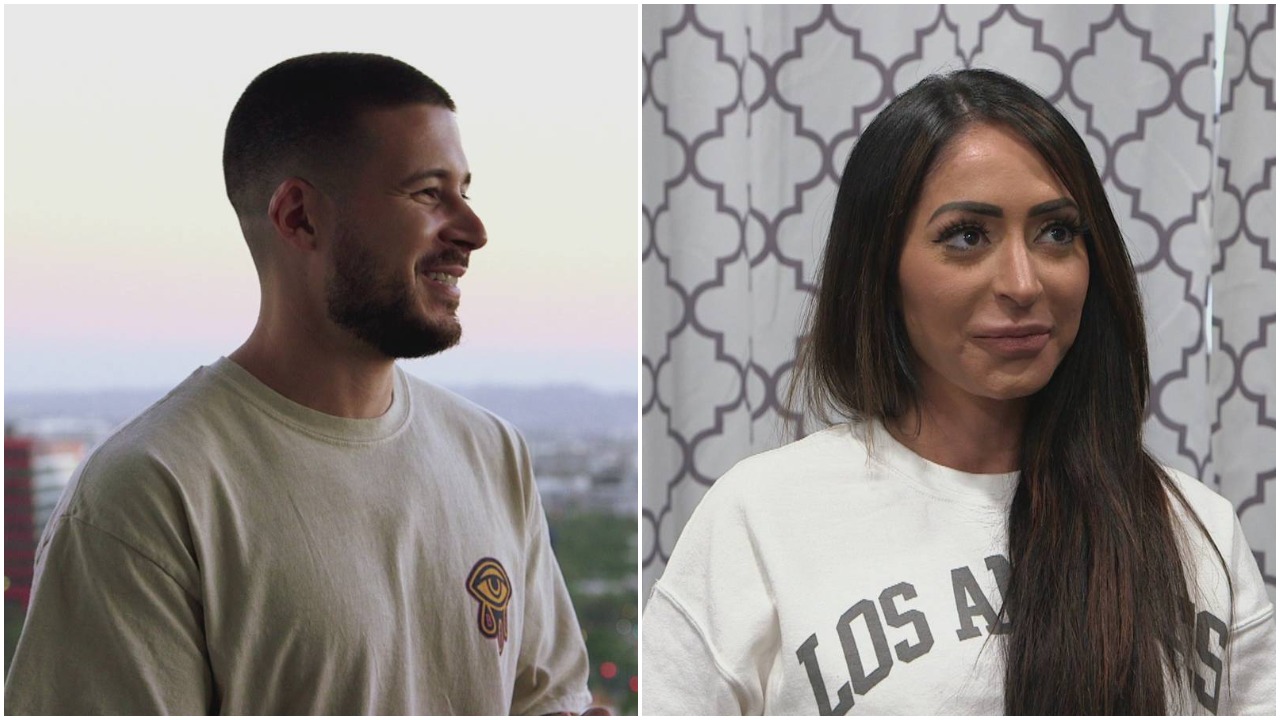 Vinny Guadagnino and Angelina Larangeira still aren't on good terms 
Since the Larangeiras started a rumor about Guadagnino getting a girl pregnant, he hasn't been happy with his roommate. "Angelina and Chris lost me as a friend for making up lies about me," Guadagnino told cameras in "Meatballs Don't Hike." 
Guadagnino makes the best of Larangeira, Farley, and Deena Cortese's final hours in LA despite his feelings about the situation. Together, they sight to see, stop at Guadagnino's freshly sold house, and even go for a "hike." 
To clarify, "JWoww" parked her rental car, everyone got and walked 100 feet, took selfies, and left. Amidst their 24-hour journey through LA, Guadagnino managed to get his jabs in at Larangeira. "Hey Siri, talk about Angelina," he says at one point, prompting the response:
"Angelina sucks. I hate her so much. She looks like an iguana; please get me the f*** away from her. She's whack as f***." 
Vinny Guadagnino is 'done' with Angelina Larangeira in 'Meatballs Don't Hike' 
As Guadagnino admitted in the episode, he's not ready to "just smile and shake it off" with Larangeira's rumor.
"The word isn't mad," he tells Farley of his feelings about his co-star. "It's done." 
"I don't have beef with Chris," Guadagnino tells Larangeira later in the episode. "What you did was a bad move, and I don't have s*** with you anymore."  
Chris Larangeira comments on the Vinny Guadagnino situation 
Frustrated with Guadagnino calling her a "snake," Larangeira calls her husband. "He's a little p****, put him on the phone," Chris said, referring to Guadagnino as a "skinny little p****."
"I wish I was there to f****** smack him," Chris continued. "From now on, don't talk about me or my wife anymore." Later, Farley admitted she thought Larangeira's call wasn't helping the situation, but stirring the pot.
"He's on the other side of the country," Farley told cameras. "He can't do s*** about this." 
Mike 'The Situation' Sorrentino prepares for a 'Jersey Shore' 'Blessification' 
Meanwhile, the Sorrentinos were preparing to have Baby Romeo baptized in episode 4 of Jersey Shore: Family Vacation Season 5. But when Lauren informed her husband about the necessary paperwork required of their church, "The Situation" faced a situation. 
"Staten Island has been unable to locate Big Daddy Sitch's sacraments," he tells cameras. "If we can't find my sacraments, we can't baptize Romeo." 
So the Sorrentinos come up with a plan to redo "The Situation's" baptismal sacrament, which they're referring to as the "Blessification." 
Jenni 'JWoww' Farley brings up Vinny Guadagnino's love life in 'Meatballs Don't Hike' 
With 135 minutes left in LA, Farley tells Guadagnino: "Meilani always asks why Vinny hasn't found a girlfriend." Cortese corrected her: "He actually has a little bit of a girlfriend." 
"I've been smashing just her," Guadagnino admitted. "That's why when [Larangeira] spread the rumor, I knew that it wasn't true." It's unclear who the woman Guadagnino is talking about. 
Once again, tensions were at an all-time high when "Meatballs Don't Hike" ended. Tune in new episodes of Jersey Shore: Family Vacation every Jerzday at 8 PM ET on MTV to see how this feud between Guadagnino and Larangeira plays out.